देहिनोऽस्मिन्यथा देहे कौमारं यौवनं जरा |
तथा देहान्तरप्राप्तिर्धीरस्तत्र न मुह्यति || 13||
dehino 'smin yathā dehe kaumāraṁ yauvanaṁ jarā
tathā dehāntara-prāptir dhīras tatra na muhyati
dehinaḥ—of the embodied; asmin—in this; yathā—as; dehe—in the body; kaumāram—childhood; yauvanam—youth; jarā—old age; tathā—similarly; deha-antara—another body; prāptiḥ—achieves; dhīraḥ—the wise; tatra—thereupon; na muhyati—are not deluded
Translation:
Just as the man in this body passes through the various stages of boyhood, youth, and old age, like so, he passes into another body after death. The wise know it and are not deluded.
Commentary:
---
Boyhood, youth, old age, and migrating into another body – these four stages are inevitable for the embodied being.
In the body: It is made clear that these changes affect the body and not the Atma. When from boyhood one passes to youth, and from youth to age, he does not grieve. No one grieves when the seed dies as it is giving birth to the plant. And so, the Lord questions why one should grieve when the body falls and another is taken up by the individual being. The wise who know the secret remain firm when these changes overtake the body. The first three stages are seen and known by all, but the fourth change is unseen and so it is looked upon with a feeling of awe and wonder. But the Lord points out that even this change is just like the former and not in the least different from them. So he exhorts everyone to know the truth and be fearless. It should however be remembered that the Jnani whose 'karmic' force is already exhausted has no need to take another body. The common man is subject to the law of rebirth till the last when he too becomes free.
Cycle of the body :
Boyhood – Youth – Old Age – Rebirth.
The cycle rotates inevitably so long as the karma force works. When it is destroyed by knowledge, the man is freed from the cycle of birth and death. This is liberation (Moksha).
Question: What are the changes for the embodied being?
Answer: Boyhood, youth, old age, and rebirth in a different are the changes.
Question: Who is the man of courage?
Answer: He is the man of courage who does not grieve when these modifications overtake the body, when man dies and passes into another body.
See also: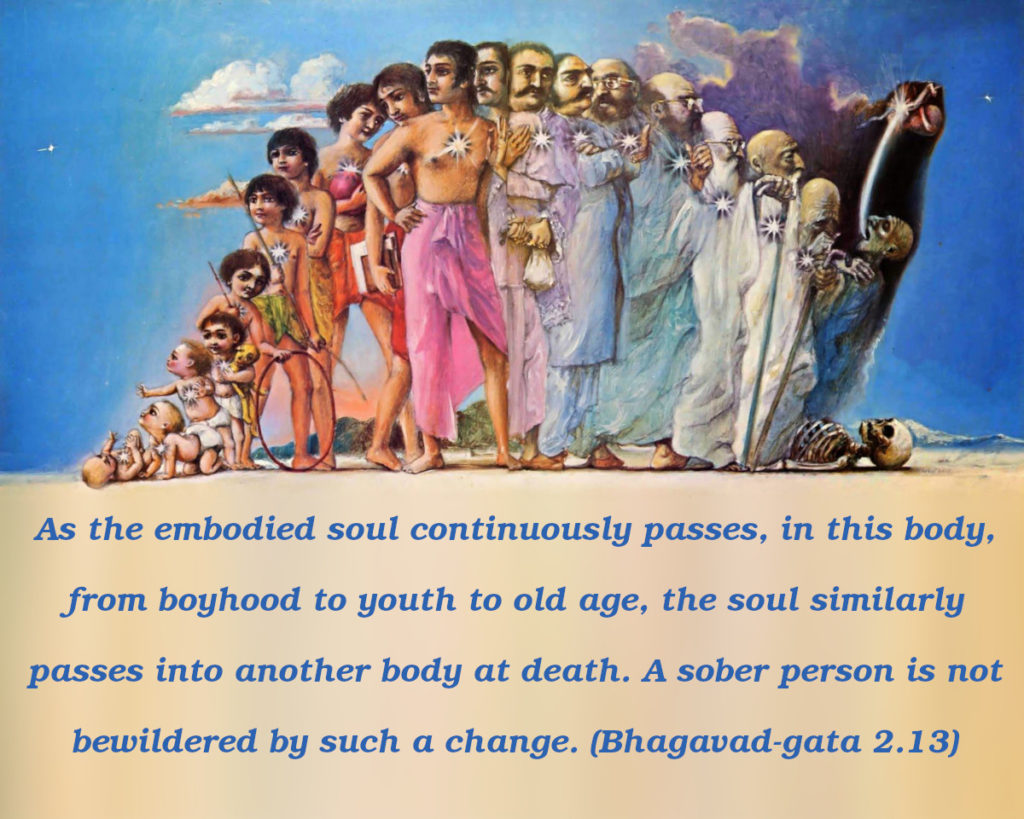 ❮ Previous
Next ❯