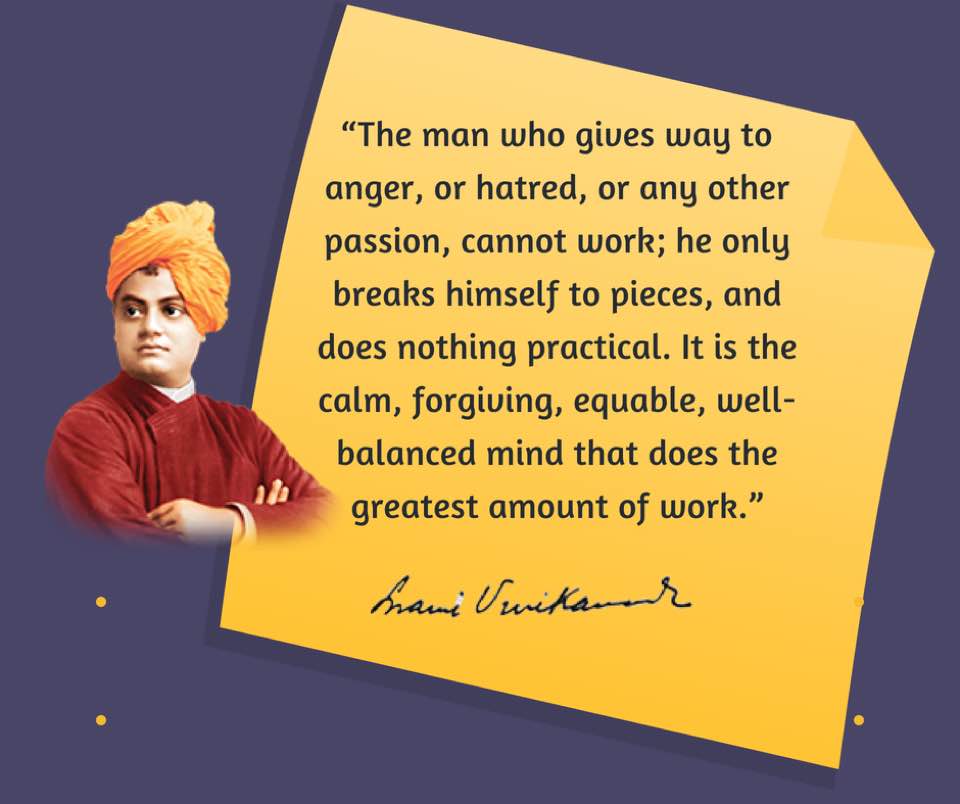 In this website we are making collections of Swami Vivekananda's quotations on different human emotions. Now it is time to make a collection of Swami Vivekananda's quotations on anger.
As soon as we react, we become slaves. A man blames me, and I immediately react in the form of anger. A little vibration which he created made me a slave.[Source]
Chastity, non-injury, forgiving even the greatest enemy, truth, faith in the Lord, these are all different Vrittis. Be not afraid if you are not perfect in all of these; work, they will come. He who has given up all attachment, all fear, and all anger, he whose whole soul has gone unto the Lord, he who has taken refuge in the Lord, whose heart has become purified, with whatsoever desire he comes to the Lord, He will grant that to him. Therefore worship Him through knowledge, love, or renunciation.[Source]
Do you recall the story of the young Yogi in the Mahâbhârata who prided himself on his psychic powers by burning the bodies of a crow and crane by his intense will, produced by anger?[Source]
Don't you find that in a weak physique it is difficult to control the sex – appetite or anger?[Source]
Evil company is always to be shunned; because it leads to lust and anger, illusion, forgetfulness of the goal, destruction of the will (lack of perseverance), and destruction of everything. (Narada Bhakti Sutra)[Source]

ध्यायतो विषयान्पुंसः संगस्तेषूपजायते ।
संगात्संजायते कामः कामात्क्रोधोऽभिजायते ॥
क्रोधाद्भवति संमोहः संमोहात्स्मृतिविभ्रमः ।
स्मृतिभ्रंशाद् बुद्धिनाशो बुद्धिनाशात्प्रणश्यति ॥ (Bhagavad Gita 2.62-63)

Swami Vivekananda's note: By thinking about sense objects, attachment to them is formed. From attachment comes longing, and longing breeds anger. From anger comes delusion, and from delusion, confused memory. From confused memory comes the ruin of discrimination; and from the ruin of discrimination, a man perishes.[Source]

Every wave of passion restrained is a balance in your favor. It is therefore good policy not to return anger for anger, as with all true morality.[Source]
Give up all self, all egotisms get out of anger, lust, give all to God. "I am not, but Thou art; the old man is all gone, only Thou remainest." "I am Thou." Blame none; if evil comes, know the Lord is playing with you and be exceeding glad.[Source]
God is the one goal of all our passions and emotions. If you want to be angry, be angry with Him. Chide your Beloved, chide your Friend. Whom else can you safely chide? Mortal man will not patiently put up with your anger; there will be a reaction. If you are angry with me I am sure quickly to react, because I cannot patiently put up with your anger. Say unto the Beloved, "Why do You not come to me; why do You leave me thus alone?" Where is there any enjoyment but in Him? What enjoyment can there be in little clods of earth?[Source]
Good works are continually being undone by the tons of hatred and anger which are being poured out on the world.[Source]
He in whose mind is no anger, hatred, or envy, who never loses his balance, dies, or is born, who is he but God?[Source]
"I am neither man nor angel. I have no sex nor limit. I am knowledge itself. I am He. I have neither anger nor hatred. I have neither pain nor pleasure. Death or birth I never had. For I am Knowledge Absolute, and Bliss Absolute. I am He, my soul, I am He!"[Source]
I could not for my soul distinguish ever the distinction between "religious anger" and "commonplace anger", "religious killing" and "commonplace killing", "religious slandering and irreligious", and so forth.[Source]
If I am immune against all anger, I never feel angry.[Source]
If you are angry, and then happy, the next moment the anger passes away. Out of that anger you manufactured the next state. These states are always interchangeable. Eternal happiness and misery are a child's dream.[Source]
Is it freedom to be a slave to the senses, to anger, to jealousies and a hundred other petty things that must occur every day in human life?[Source]
It is a retarding element creating hatred and anger, and causing people to fight each other, and making them unsympathetic.[Source]
Let us work without desire for name or fame or rule over others. Let us be free from the triple bonds of lust, greed of gain, and anger. And this truth is with us![Source]
Our religion teaches that anger is a great sin, even if it is "righteous".[Source]
The devil comes in many guises—anger in the form of justice—passion in the form of duty. When it first comes, the man knows and then he forgets. Just as your pleaders' conscience; at first they know it is all Badmashi (roguery), then it is duty to their clients; at last they get hardened.[Source]
The man who becomes angry never does a great amount of work, and the man whom nothing can make angry accomplishes so much.[Source]
The man who gives way to anger, or hatred, or any other passion, cannot work; he only breaks himself to pieces and does nothing practical. It is the calm, forgiving, equable, well-balanced mind that does the greatest amount of work.[Source]
There is no such thing as "righteous" anger or justifiable killing.[Source]
Through the senses, anger comes, and sorrow comes.[Source]
Titikshâ, the most difficult of all. It is nothing less than the ideal forbearance — "Resist not evil." This requires a little explanation. We may not resist an evil, but at the same time we may feel very miserable. A man may say very harsh things to me, and I may not outwardly hate him for it, may not answer him back, and may restrain myself from apparently getting angry, but anger and hatred may be in my mind, and I may feel very badly towards that man. That is not non-resistance; I should be without any feeling of hatred or anger, without any thought of resistance; my mind must then be as calm as if nothing had happened.[Source]
Well has the Lord said in the Gita:

ध्यायतो विषयान्पुंसः सङ्गस्तेषूपजायते ।
सङ्गात्संजायते कामः कामात्क्रोधोऽभिजायते ॥

—"Thinking of objects, attachment to them is formed in a man. From attachment longing, and from longing anger grows."

[Source]

Whom anger chains, can ever pass thro' Maya's gates.[Source]
With everything we do in life we identify ourselves. Here is a man who says harsh words to me. I feel anger coming on me. In a few seconds anger and I are one, and then comes misery. Attach yourselves to the Lord and to nothing else, because everything else is unreal. Attachment to the unreal will bring misery. There is only one Existence that is real, only one Life in which there is neither object nor [subject]. …[Source]
You have no more anger when you are all love, bliss, infinite existence. . . .[Source]
Commentaries on Patanjali's Yoga Aphorisms
Excerpts from Swami Vivekananda's notes on Patanjali's Yoga Aphorisms. (An ebook on "Patanjali's Yoga Aphorisms" is available at the "books" page)—[Source]
The Chitta-Vrittis, the mind-waves, which are gross, we can appreciate and feel; they can be more easily controlled, but what about the finer instincts? How can they be controlled? When I am angry, my whole mind becomes a huge wave of anger. I feel it, see it, handle it, can easily manipulate it, can fight with it; but I shall not succeed perfectly in the fight until I can get down below to its causes. A man says something very harsh to me, and I begin to feel that I am getting heated, and he goes on till I am perfectly angry and forget myself, identify myself with anger. When he first began to abuse me, I thought, "I am going to be angry". Anger was one thing, and I was another; but when I became angry, I was anger. These feelings have to be controlled in the germ, the root, in their fine forms, before even we have become conscious that they are acting on us. With the vast majority of mankind the fine states of these passions are not even known — the states in which they emerge from subconsciousness. When a bubble is rising from the bottom of the lake, we do not see it, nor even when it is nearly come to the surface; it is only when it bursts and makes a ripple that we know it is there. We shall only be successful in grappling with the waves when we can get hold of them in their fine causes, and until you can get hold of them, and subdue them before they become gross, there is no hope of conquering any passion perfectly. To control our passions we have to control them at their very roots; then alone shall we be able to burn out their very seeds. As fried seeds thrown into the ground will never come up, so these passions will never arise.

. . . . . .

Meditation is one of the great means of controlling the rising of these waves. By meditation you can make the mind subdue these waves, and if you go on practising meditation for days, and months, and years, until it has become a habit, until it will come in spite of yourself, anger and hatred will be controlled and checked.

. . . . . .

To obstruct thoughts which are inimical to Yoga, contrary thoughts should be brought.
That is the way to practise the virtues that have been stated. For instance, when a big wave of anger has come into the mind, how are we to control that? Just by raising an opposing wave. Think of love. Sometimes a mother is very angry with her husband, and while in that state, the baby comes in, and she kisses the baby; the old wave dies out and a new wave arises, love for the child. That suppresses the other one. Love is opposite to anger. Similarly, when the idea of stealing comes, non-stealing should be thought of; when the idea of receiving gifts comes, replace it by a contrary thought.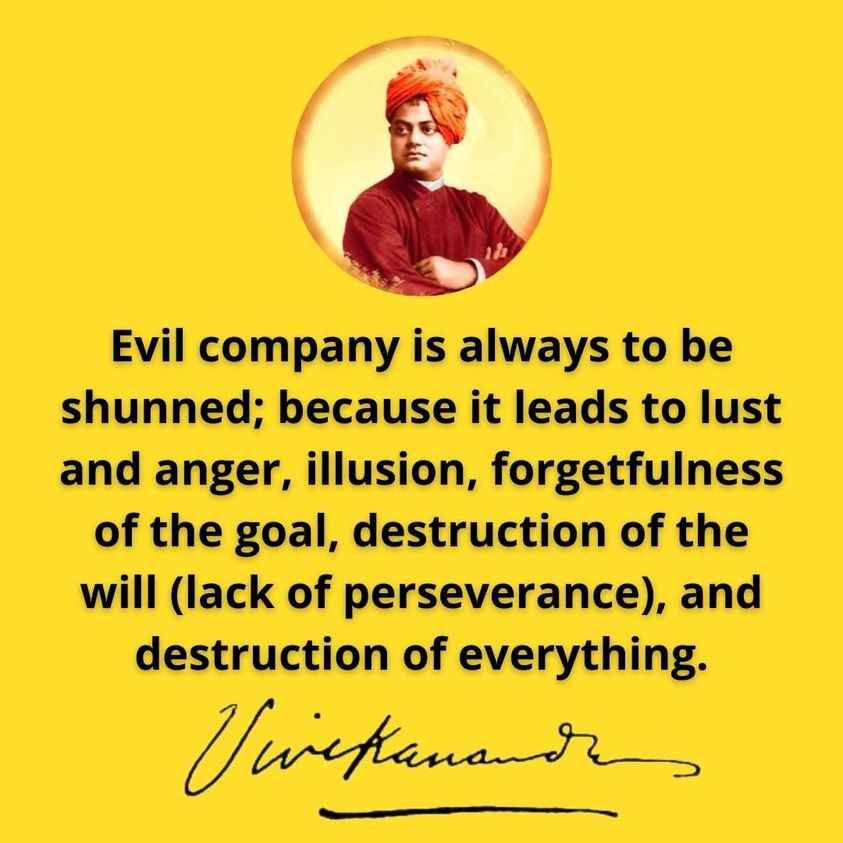 Related Articles: