It is a well-known fact that Ramakrishna, the master of Swami Vivekananda, was a worshiper of Hindu goddess Kali. Vivekananda also told in his later life that Kali worship was his "special fad".[Source]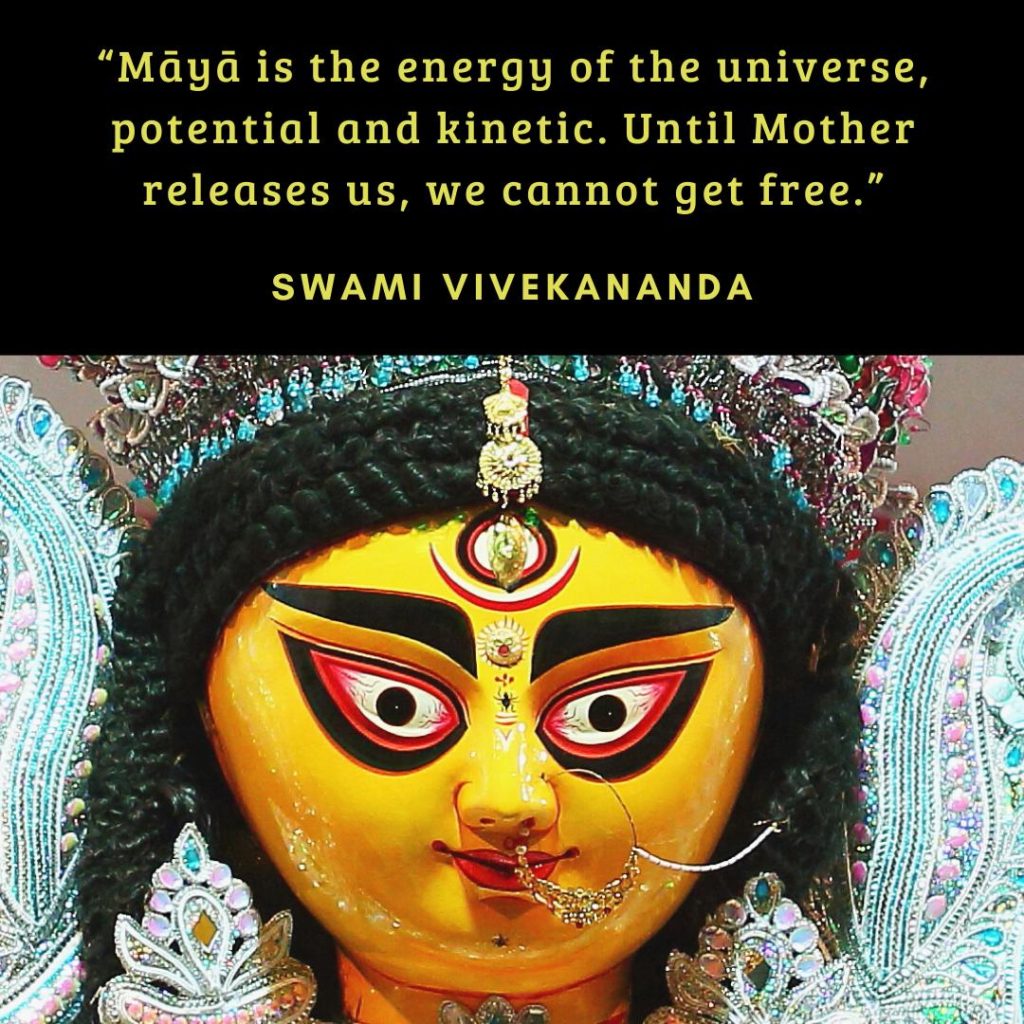 In the works of Swami-ji, we can't find any detailed discussion on Hindu goddess Durga, but he initiated the Belur Math's famous Durga Puja in 1901. The Puja is still continuing and is one of the most notable Pujas of West Bengal.
In May/June 1901, Swami-ji first expressed his desire to celebrate Durga Puja at Belur Math. Let's read from The Complete Works of Swami Vivekananda, Conversations And Dialogues—

(Swami-ji, to a disciple) This time I have a desire to celebrate the Durga Puja (worship of goddess Durga). If the expenses are forthcoming, I shall worship the Mahamaya. Therefore I have a mind to read the ceremonial forms of that worship. When you come to the Math next Sunday, you must bring a copy of the book with you.
Vivekananda wished to worship "the Mahamaya". The resolution to worship goddess Durga was taken in the name of Sarada Devi.
In October 1898, Swami-ji mentioned in a letter written to Haripada Mitra that he had not witnessed Durga Puja for last nine years.

. . .and I have not witnessed the Durga-Puja for the last nine years; so I am starting for Calcutta. . .[Source]
At the same time Swami-ji wrote to Ajit Singh of Ketri— [Source]

For the last ten years or so I have not seen the Puja of Shri Durga in Bengal which is the great affair there. I hope this year to be present.
We have done some studies and these studies show that in 1901, Durga Puja was observed from 19 October to 22 October. Here is a quick calendar view—
19 October, Saturday (1901): Maha Shahsthi
20 October. Sunday: Maha Saptami
21 October, Monday: MahaAshtami and Maha Navami
22 October, Tuesday: Viajaya Dashami or Dussehra
The arrangement of the Puja was done by Swami Brahmananda. The worship was done following Tantric rituals, but no animal sacrifice was done.
This was the first Durga Puja at Belur Math and this Puja "took place with great eclat at the proper time."[Source]
Later on 12 November (1901), Swami-ji wrote about Belur Math's first Durga Puja celebration in a letter—[Source]

We had a grand Puja here of Durga, lasting nearly four days; but, alas, I was down with fever all the time.