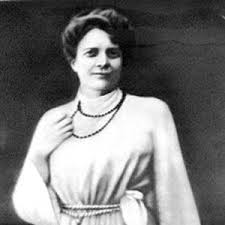 Nivedita and Christine's house located at 17 Bosepara Lane in Baghbazar had become a rendezvous of sorts for many eminent Calcuttans of the day. Rabindranath Tagore too closely interacted with Nivedita. During one of their initial meetings he requested her to take responsibility of teaching his daughter in the manner of the English. Nivedita rejected the idea and scorned at the idea of wanting to build her daughter's life on the foundation of foreign ideals. A Pestalozzian in her knew well that true education moves from familiar to unfamiliar and can be built only on one's own national ideals. Rabindranath, also offered her to conduct a school at the Tagore house, which she declined. In 1904, Nivedita with Bose, went to the Tagore's country home in Silaiadaha in East Bengal (now Bangladesh). She had learnt enough Bengali to be able to translate Tagore's 'Cabuliwala' into English – one of the first English translations of a Tagore short story.
Nivedita, Rabindranath, and a few other friends like the Boses and Jadunath Sarkar went together to Bodh Gaya in 1904. At Bodh-Gaya Nivedita seemed to have entered the spirit of the past experiencing  wonderfully intuitive insights about Indian history. She enthralled everyone with her powerful thoughts. At the time of leaving Bodh-Gaya, Nivedita become very emotional and wept all night thinking about the failure of the country in even being conscious of its past greatness and glory, and the present state of slumber in which it had fallen.
Tagore wrote a long tribute to Nivedita after her death.
I had felt her great power, but with all that I understood that her path was not for me. She was a versatile genius, and there was another thing in her nature – her militancy. She had power and she exerted that with full force on the lives of others. When it was not possible to agree with her, it was impossible to work with her.
While being aware of the differences in temperaments of both of them, Tagore clearly was deeply moved by her sterling humanism. He wrote :
He who had seen her has seen the essential form of a human being, the form of the spirit.  It is a piece of great good fortune to be able to see how the inner being of a person reveals itself with unobstructed and undiminished energy and effulgence, nullifying the obstruction of all outer material coatings or impediments. We have been blessed in that we have witnessed that unconquered nobility of a human being in Sister Nivedita…She was in fact a Loka-Mata (Mother of the People). We had not seen before an embodiment of the spirit of motherhood which, passing beyond the limits of the family, can spread itself over the whole country.
An area of her work during these years was to inspire the youth in the 'religion of nation-building'. She embarked on extensive lecture tours in different legs covering Bombay, Poona, Nagpur, Amraoti, Baroda, Madras, Patna, Lucknow and several other places. When in Calcutta she used to visit and lecture in various youth and civil groups like the Dawn Society founded by Satischandra Mukherjee, Vivekananda Societies, Anushilan Samity etc. After the appointment of the Universities Commission (1902) by Lord Curzon (leading to the Universities Act in 1904) several leading men in Bengal'spublic life embarked upon the course of a 'National Education'. The chief vehicle of this was, the Dawn Society, which was a meeting and moulding place for young intellectuals. Nivedita was a frequent visitor here and passionately addressed the youth. She engaged in discussions on what ingredients should an ideal National Education have and published extensively on the same – now compiled in her book, 'Hints on National Education in India'. These efforts and ideas led to the founding of the National College in Calcutta with Aurobindo Ghosh as its Principal. Aurobindo had been in touch with Nivedita ever since their first meeting in Baroda in 1902 when she had urged him to locate to Calcutta. Nivedita was also very active among the small scattered revolutionary societies and was a member of the committee which Aurobindo Ghosh organised for coordinating and integrating the efforts of all these groups. She inspired a large number of youth who became prominent in revolutionary activities like Aurobindo's younger brother Barindra Ghosh and Swamiji's younger brother Bhupendranath Dutta. Wherever she went the youth cheered her. She was a heroic figure to them. She paid for the bail of Bhupendranath, after the latter was released upon serving a one-year rigorous term of imprisonment owing to his key role in the revolutionary journal 'Yugantar'. She then arranged for his higher education in America.
She also inspired many young intellectuals to devote their future for serving the country and gave them concrete guidance. Prominent among them were Benoy Sarkar, later an eminent social scientist, and eminent historian Radhakumud Mukherjee to whom she gave the vision of working in the field of Indian history which he did splendidly. The long note that she wrote to Mukherjee is an intellectual treat and now a part of Complete Works of Sister Nivedita. His future work bore the mark of the seeds which Nivedita sowed in his young mind. She was definitely a sort of public intellectual of that time. Benoy Sarkar later said :
Nivedita was a humanist and a public worker in every field – patriotism, education, politics, nationalism, industry, history, moral reform, social service, feminism, and what not….During the glorious Bengali revolution (1905-1910), Nivedita was a name to conjure with in young Bengali. She was a colleague of almost everybody who was anybody in the movement of those days at Calcutta….If Vivekananda had not done anything but import Nivedita into the Indian sphere of activity his life-work would have still remained exceedingly epoch-making and fruitful. She was his discovery for India and grew into one of the profoundest treasures of the Indian people.
She worked closely and with Dineshchandra Sen (author of the masterly 'History of Bengali Literature') Nivedita helped to write and edit this book, sometimes overriding Sen's own views and prevailing upon him. When the work was complete she asked Sen not to mention her as a contributor in any way. Sen, after Nivedita's death movingly remarked that he had only heard of selfless work in the Gita, but not seen anywhere except in Sister Nivedita. She was a close friend of Ramananda Chatterjee, a doyen of Modern Indian journalism, and founder-editor of Prabashi (Bengali) and Modern Review (English). Even before meeting Chatterjee, Nivedita had hoped that he would not restrict his talents to Bengali reading public (as then he published only the 'Prabashi') and thus anticipated the publication of the nationally-read Modern Review which came later.
Other leading luminaries of Bengal – Rashbehari Ghosh, Surendranath Banerjee, B.C. Pal, P.C. Ray regularly interacted with her and held her in great respect. Dr Rashbehari Ghosh in the Memorial Meeting held at the Town Hall after Nivedita's demise said:
If the dry bones are beginning to stir, it is because Sister Nivedita breathed the breath of life into them. If our young men are now inspired with a burning passion for a new, a higher, a truer and nobler life the credit is in no small measure due to the lady who has been so prematurely called away from us. An India united in civic purposes, proud of its past achievements, proud of its contribution to the civilization of mankind, and destined to render still higher service to humanity was the ideal for which she worked. And who can say she worked in vain? Who can say she has not made the steps easier for those who will follow her?
A very powerful impact Nivedita had was on the legendary Tamil nationalist poet Subramaniam Bharati. Bharathi when 23 met Nivedita in Calcutta, and in that one meeting itself Nivedita stamped in his mind a great vision of Bharatvarsha. She also imprinted on his mind lofty ideals of conjugality and womanhood, which also made Bharati a champion of women's empowerment in his later life. Bharati retained and cherished this inspiration for whole of his life. He publicly acknowledged Nivedita as his Guru and described, while dedicating a volume of his verse to her, what he gained from that meeting: "As Lord Krishna revealed his mighty form to Arjuna and explained the state of Atman, the Guru showed me the form of Bharat Mata in its completeness and taught me to love my country. I dedicate this slender volume at the flowery feet of my guru.
That he was deeply moved by Nivedita is reflected in the verse he composed on her :
An offering to grace, a temple of love
As a sun that dispels the darkness in my heart,
As benevolent rain to my thirsty land,
As unbounded wealth to the destitute,
As a burning flame to the bondage of slavery,
Exists Mother Nivedita, at whose feet,
I bow in adoration.
Nivedita also contributed articles to 'Bala Bharatam', the journal edited by Bharati.
Abanindranath remembered an occasion which had created an indelible impression on her mind. "I saw her a second time at a party of the Art Society at Justice Homewood's house. The whole place was crowded with beautiful ladies were there. Nivedita came late in the evening. The same white dress, the rosary of Rudraksha beads round her neck and her brown hair tied in a high knot. When she came and stood there it seemed as if the moon had arisen among the stars. In a moment all the beautiful n women paled into insignificance."
Abanindranath Tagore had also once said about her, "I do not know whom you would call beautiful; to me she is the ideal." He had first conceived of an idea of creating 'Banga-mata' with his own daughter as inspiration. Nivedita inspired him to view and create it as 'Bharat Mata'. The painting became a landmark in the days of the nationalist movement.  She reviewed the works of the artists of the 'Bengal School' in 'Modern Review' and wrote extensive notes on them. She published on the art-work of great European masters too like Raphael, Michalengelo, Millet, Rossetti, Titian, Morris, Burne-Jones. She particularly gave the example of Puvis de Chavannes who made significant contribution in giving form to French history and traditions through his work. Nandalal Bose, Abanindranath Tagore, and Asit Haldar did the illustrations for Nivedita's book 'Myths and Legends of the Hindus and Buddhists' which she left incomplete due to her death. Coomaraswamy completed it and it was subsequently published in both their names.
Nandalal Bose, in particular, was deeply moved by Nivedita's death and generously acknowledged her mentorship :
The thought of progress of Indian artists always dwelt in her mind. I can never say enough about the encouragement I received from her. When she died it like being deprived of the presence of a guiding angel. It was Sister Nivedita who introduced me to the ideas of Ramakrishna-Vivekananda.
Nandalal himself pointed out the influence Nivedita had on Havell, and thus by extention of the whole group of artists training under him : "I do not know whether Havell has mentioned the name of Sister Nivedita anywhere in his books; but she made him understand the viewpoints of Indian aesthetics and philosophy of art."
Dinkar Kowshik, eminent painter and contemporary (indeed the best friend) of Satyajit Ray in the Fine Arts course at Santi Nikentan in his biography of Nandalal Bose writes :
Abanindranath was all praise for her commanding appearance. He was wont to say, that, when Sister Nivedita appeared in any social gathering she looked like Parvati incarnate, the legendary daughter of Mount Himalayas. So pure and so overpowering. The Sister was an able writer and for some years she provided extensive notes and guidance on the painting that appeared in Modern Review. These writings of critical appreciation helped to raise the level of aesthetic awareness and create a favourable audience for the artist community in general. Nandalal's meeting with the Sister left on him the impression of her single-minded devotion to a cause. Whenever possible, she would visit the art school and encourage the budding talents there. Nandalal looked forward to her comments and critical observations. He knew that for any young aspiring artist it was essential that his work should be seen, analysed and encouraged. Criticism did not wilt a talent when it had the inner will and urge to flower. Even observing her among them in her sprightly grace was an event for Nandalal. He sometimes referred to the source of his inspiration in creating images like Lima's Tapasya as being in Nivedita.
Much more direct, close, and personal was Nivedita's involvement with the career of Sir Jagadish Chandra Bose, arguably the earliest pioneering Indian stalwart in field of Modern Science. She not only acted as his chief motivator, but also for years organised financial support for all his work. Bose, even when he had built considerable reputation in late 1890s as one of the pioneers in radio transmission, was given a highly discriminatory treatment – getting a small fraction of the salary of what his English colleagues in the same service at Presidency College Calcutta got (in protest, he declined to accept any remuneration for his work until it was corrected), getting blocked out of paper publications in journals, and almost a total absence of facilities for conducting research. His subsequent work was pushing the boundaries between 'living' and 'non-living', between – in his own words – 'physics and physiology'.
Nivedita was quick to assess the man's genius and knew he was best-suited to raise the national prestige. Both Vivekananda and Nivedita were with Bose in Paris in 1899 when the latter made considerable impression in the international scientific fraternity by his findings. The Bose couple then stayed at Nivedita's home in Wimbledon in 1900 where her mother Mary Noble hosted them. Bose, then ill, spent a month in recuperation in care of Nivedita's family. It was when he was in England that Bose realised that he was up against a whole establishment bent upon crushing his advancement and spirit. In a letter written in 1902 from London to his fellow-Brahmo Rabindranath Tagore describes his state of mind :
You will not know what difficulties I have to face. You cannot imagine. The publication of my article on 'Plant Response', which I wrote in last May in the Royal Society, was stopped by the conspiracy of Waller and Sanderson. But my discoveries have been published by Waller in his own name in a journal last November. All these days I did not know about it.…..I am depressed. I wish to return now and regain the spirit of life by touching the dust of Bharata.
Ever since then till her death in 1911, Nivedita organised the required resources for Bose towards his research and laboratory, chiefly through the gifts from Sara Chapman Bull (wife of the Norwegian violin maestro Ole Bull, and a devoted disciple of Vivekananda, whom the latter addressed as Mother or 'Dhiramata'). Though nine years younger to Bose, Nivedita almost had a maternal feeling of protecting him. Indeed she often referred to him as 'Bairn' (child).
Nivedita was also fascinated by the theme of his work – which she saw was in line with the Vedantic idea of 'oneness of the entire existence'. When she realised the extent of discrimination Bose faced in publishing his research in the Western academic journals, she encouraged him to directly take his work to the world by way of books, something Bose too had thought of, but an enterprise he was too depressed to take up then. Recharging his faith and vigour, Nivedita actively helped him write four of his books—Living and Non-Living, Plant Response, Comparative Electro-Physiology, and Irritability of Plants, and editing them – indeed the language eminently bears Nivedita's mark, while not taking any credit for her efforts. She also revised his papers published in the journal 'Philosophical Transactions of the Royal Society'. She continuously wrote about him in newspapers and journals to attract wider attention to his extraordinary talent, tenacity and achievement. Bose was a daily visitor to 'House of the Sisters'and throughout most part of 1904 and 1905 they worked together almost every day on the books. Bose's wife, Lady Abala, as well his sister Labanyaprabha volunteered to teach in Nivedita's Girls' School conducted then in the house itself.
It was Nivedita's dream that India should have its own high-class research institute and very much wanted Bose to set up one. She had even arranged continuous stream of funding for Bose's work in the event of her death. It could not see the light of the day during Nivedita's lifetime but became a reality in 1917 – six years after she had passed away. In one of his letters after Nivedita's death he credited Nivedita's continuous inspiration as the force leading him to founding of the institute : "Sister Nivedita was also greatly interested in the revival of all intellectual advances made by India, and it was her strong belief in the advance of Modern Science accomplished by Indian Men of Science that led me to found my Research Institute."
At the Bose Institute is placed the bas-relief of a woman with prayer-beads and a lamp in her hand, designed by the Maharshtrian sculptor, Vinayak Pandurang Karmakar, modeled on the famous painting of Nivedita by Nandalal Bose (himself in many ways a protégé of Nivedita) – "The lady with the lamp". A portion of Nivedita's ashes is also kept there.
Nivedita also inspired many young men to take up the vocation of science with the aim of serving the country. One such person was young Basiswar (Boshi) Sen. She put him under the mentorship of Bose and helped him financially for expenses involved in his research. Boshi Sen later set up the Vivekananda Laboratory in Almora and became the country's leading agricultural scientist of his time. His researches contributed significantly to the Green Revolution, thus ensuring food-sufficiency in India. His laboratory in Almora is now know as 'Vivekananda Parvatiya Krishi Anusandhan Kendra' and is under the Indian Council of Agricultural Research. Boshi Sen in is later life gave immense credit to Nivedita for how his life shaped. "I owe my science to Sister Nivedita. It was she who placed me under Sir J C Bose. It is difficult for me to express in words what I feel about her. In my own little ways I try to express in life some of the dynamic ideas she used to radiate."