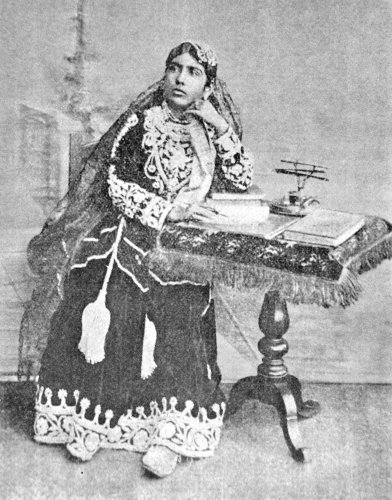 Tarasundari (1878? – 1948) – Famed actress of the Bengali stage, later favoured disciple of Swami Brahmananda. Holy Mother, deeply impressed by her performance in the title role of "Ramanuja" staged at Minerva Theatre, passed into samadhi moved by her portrayal of Ramanuja's sacrifice, seeking the salvation of others at the cost of his own (Shatarupe Sarada, pp. 282-83). When Tarasundari came to salute her at the end of the play, was only half-conscious and regarding her as "Ramanuja" himself, embraced her saying, "Come, my dear, come!" Visited Mother twice at her Udbodhan residence and entertained her by reciting dialogues from her roles on the stage. Accompanied actress Binodini to Belur Math and blessed by darshan of Swamis Brahmananda and Premananda and in time received the grace of the former. After her guru's demise renouncing her stage career withdrew to Bhubaneswar where she passed her last days in the shrine built by her as a memorial to her guru at "Rakhal Kunj", absorbed in meditation and prayers. At times danced in solitude before the Master's image, sometimes losing awareness of her surroundings completely. Brought to Calcutta for medical treatment, died there on 19.4.1948. Her autobiography published in the Udbodhan (24.5…).
Tara Tells Her Story
(Source: Swami Brahmananda as We Saw Him)
I was practically brought up in the theatre. Ever since I was a little girl I worked on the stage with Girish Chandra Ghosh and heard from him about Sri Ramakrishna. There was a photograph of Sri Ramakrishna in every theatre with which Girish Babu was connected, and the actors and actresses used to bow down to the Master's photograph before they appeared on the stage. I think this has now become a custom in every Bengali Theatre.
Many a time I wanted to visit the Belur Math. Once I asked Girish Babu if he would let me attend a particular celebration. I recall his answer perfectly. He said: 'Not yet. When the Lord wills, you will go.' And so, in spite of my wish, I did not then visit the monastery.
My first visit to the Belur Math took place many years later—about six years ago [1916]. I was then depressed and restless; life seemed unbearable to me. I began to seek out places of pilgrimage. In this unhappy state of mind I finally went to the Belur Math. Binodini, the finest actress of Bengal at the time, was with me. When I was seven years old she introduced me to the theatre and again it was she who introduced me to the monastery.
It was past noon when we came to the Math. Maharaj had finished his midday meal and was about to go to his room to rest. At that moment we arrived and prostrated before him.
Maharaj said: 'Hello Binode! Hello Tara! So you have come! You are too late; we have already finished our lunch. You should have let us know that you were coming.'
We could see how worried he was about us. He immediately ordered fruit prasad. And arrangements were made to fry luchis [thin unleavened dough fried in butter] for us. We went first to the shrine, then had our prasad, and afterwards were shown around the Math by a swami. Maharaj did not have his rest that day.
We were brought up to revere holy men. But along with respect and faith I felt much fear of them. I was impure—a fallen woman. And so when I touched the holy feet of Maharaj I did it with great hesitancy, afraid to offend him. But his sweet words, his solicitude and love dispelled all my fear.
Maharaj asked me, 'Why don't you come here often?' I replied: 'I was afraid to come to the Math.'
Maharaj said with great earnestness: 'Fear? You are coming to Sri Ramakrishna. What fear can there be? We all of us are his children. Don't be afraid! Whenever you wish come here. Daughter, the Lord does not care about externals: he sees our inmost heart. There should be no fear in approaching him.'
Swami Premananda was there at the time. He also was very gracious to us. He remarked: 'The Lord welcomes everybody.'
I had tea at the monastery in the afternoon and then returned home. When I said good-by to Maharaj he told me: 'Come here often. You were inconvenienced today. Come another time and take the regular prasad.'
This was my first visit to Maharaj—and this was the first time in my life that I received genuine love.
A few days later, Maharaj went to the theatre to see the play Ramanuja. (Tara took the part of Ramanuja, the famous philosopher, as a young boy.) After the performance I took the dust of Maharaj's feet. Maharaj blessed me and said, 'Very good! May you grow in devotion!'
The days passed. I was restless as before—burning within. I could find no refuge, no peace anywhere. Everything seemed empty, empty! I started on a pilgrimage to Puri, longing to see Lord Jagannath [the image of the Lord of the Universe]. On my way I stopped at an inn at Bhubaneswar. There I learned that Maharaj was then staying at the Bhubaneswar Monastery. So I went to visit him.
He welcomed me with the same solicitude and affection as before. He said: 'Oh, you look so tired. Why did you come in this hot sun? Where do you take your meals? From tomorrow on come to the Math for prasad every day. What do you like to eat? Well, daughter, of course you realize that we are monks and can't provide a feast, and delicacies can't be had in this little town.'
In this vein Maharaj spoke to me. I was surprised. What kind of a holy man was this? A worldly man would not feel such concern for his sons and daughters. Who was I? Where was my place in society? Down—down below! I had nothing to expect from the world but hatred and indifference. I had no friend, no relative. This big world seemed to me like a stranger's house. Nobody talked to me without a selfish motive; nobody looked at me without a selfish desire. There was none in this world whom I could call my own. Until today!
Swami Brahmananda, the spiritual son of Sri Ramakrishna, the all-renouncing sannyasin, revered and respected by all—that is Maharaj. And with what undeserved care and affection he made me his own! I never saw my father; he died before I was born. I thought to myself: 'Is this what a father's affection is like? Or is this something greater?'
I could not hold back my tears. My lifelong sorrow melted as the tears fell from my eyes, and I realized: Here is my refuge. Here is someone to whom I am not a sinner, I am not an outcast.
I am the daughter of Maharaj. He who has none is Maharaj's own. He is my Maharaj—my father, my heaven, my peace, my God.
What peace I found! Maharaj said many things—I can't remember them all. But what I remember is my treasure in this life. He said, 'Daughter, you know what suffering there is in this world. Don't think that we have not experienced any suffering. When I came to Sri Ramakrishna I was a young boy. I was practising spiritual disciplines, but my mind was not always tranquil. I was restless, and there was the attraction of the world. At times I thought that my life was in vain, for I found no peace.
'One day I was thinking along these lines. I decided that I would run away and not even say good-by to the Master—when suddenly I found him standing before me. He said: "What are you worrying about?" He placed his hand on my head and blessed me. Where was suffering now? What bliss, what bliss!'
I burst out: 'Father, my suffering is great! I cannot bear any more! I run restlessly here and there. Take away this suffering of mine as Sri Ramakrishna took away yours!'
In a tender, affectionate voice Maharaj said: 'Call on Sri Ramakrishna. He was born for this purpose. You have nothing to fear. Chant his name. For a few days it will be difficult then he will do everything for you. Have no more fear. You will realize great bliss. You will know what fun life can be.'
We had read in books how Sri Chaitanya and Nityananda came to earth to save the fallen ones. Today I have had such an experience for myself—the infinite grace of Maharaj—as if Maharaj had come for sinners like me.
'There is nothing to fear, daughter. What fear can there be for the Lord's children?' What words of hope! What consolation! Maharaj seems to be extending his arms to us saying: 'Come all ye fallen ones! Come all ye who are suffering! Take refuge in the Lord! He is! Have no fear!'
May it please the Lord that I will never forget, not even in death, these words of consolation!
[In order to understand Tara's memories of Maharaj, we should remember that in the Bengal of her time actresses were not accepted socially by 'respectable people.' They were considered as being necessarily immoral women. Tara was trained for the stage by Girish Chandra Ghosh, who was one of Sri Ramakrishna's foremost householder disciples and a great dramatist. Tara, who acknowledged Girish's influence on her life in both religious and theatrical matters, wrote her reminiscences of Maharaj for the May-June 1923 issue (No.1329) of the Udbodhan, a Bengali magazine founded by Swami Vivekananda. Her article has been translated into English by Swami Prabhavananda.]
[From Memories of Maharaj, New Reminiscences by Disciples and Devotees, Vedanta Press, USA, 1960, pp.43–48]
Swami Vijayananda Says –
One afternoon in front of a tree where the temple of the Holy Mother now stands, I saw the best theatre actress in Calcutta. I very much appreciated her extraordinary artistic qualities. Any character represented by her was so perfect that the public would always applaud her. At that time she appeared very little in the theatre since she had retired. Seeing her at Belur Math I was a little surprised, because I had some preconceived ideas which in reality were groundless. I thought the people who worked in the theatre were immoral. Even after having applauded her many times and having felt deep emotions through her interpretations, the moralist in me did not allow me to greet her personally as I would greet any other woman. But the divine grace was working in its mysterious and inexplicable way. The artist greeted me and asked me if she could see Maharaj. Immediately I forgot the artiste and saw in her place a woman of bad ways, even though she was dressed normally. Covering up my feelings, I answered: 'Maharaj will not be able to receive you now, since at this time he is having his rest,' and I began to move away. But she, with a sweetness that only great souls possess, asked me again: 'Couldn't you please see if Maharaj has already come out and ask him if I could go and see him?' Unwillingly I went.
When I arrived at the verandah in front of his room, I saw Maharaj standing, as if waiting for somebody. He asked me: 'What is it my son?' I told him that the actress wanted to see him. Maharaj said, 'Go, run, and bring her here.' I went down the stairs thinking, 'How strange that Maharaj is so eager to meet this woman!' But I kept my opinion to myself and accompanied her to Maharaj who was standing waiting for her. The actress prostrated herself at his feet and Maharaj said: 'Come, mother, come, sit down here.' Then he told me: 'Prepare some good tea and toast immediately and bring some of the fruits and sweets offered at the shrine.' With even greater surprise I went to do it. When I came back, carrying the tray, I saw something that became imprinted in my mind forever. The actress was prostrated with her head on the Swami's feet, bathing them with her tears. He was standing in his majestic way and she was saying: 'Father, you know all my life, nothing is a secret to you. Tell me, is there any hope of salvation for me?' Maharaj answered: 'You have called me father, so from today on, live in this world as my daughter, the daughter of Swami Brahmananda. And now, get… my daughter, you must be hungry, take something and drink this tea. It must be well prepared.' The actress dried Maharaj's blessed feet with her long hair and, looking at me with a smile, took the tray from my hands. Shaking with a feeling I could not express and with tears of happiness in my eyes I went down the stairs. Later, after the passing away of our great Guru, on the day of the inauguration of his temple, I saw Mrs. Tara, the great actress, completely transformed. She came to me and said: 'Little brother, today we have to see our father in our hearts, isn't it so?' Controlling my tears I could only say, 'Yes'.
From that meeting between Tara and Maharaj I learned and felt many things. On that afternoon the moralist in me received a strong and demanding blow. Through Maharaj's grace, today I know that all bad actions only cover that eternally Pure Being. They can never destroy Him. And one look only, one compassionate sentence, can completely clean the heart of those who sincerely and totally surrender themselves to God.
[From "Swami Brahmananda as We Saw Him/Swami Vijayananda"]
Related Articles: