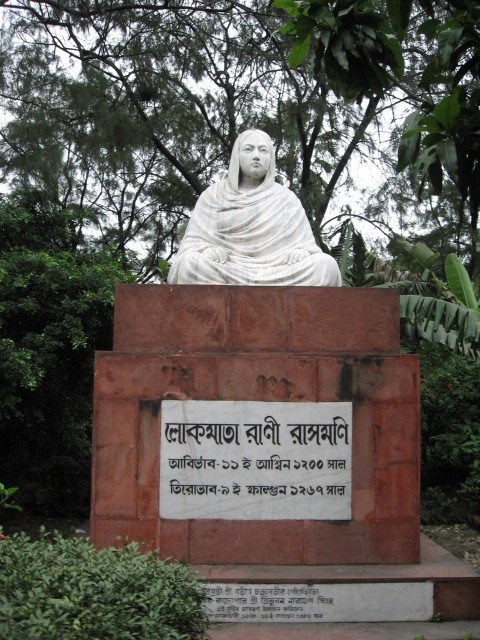 Rashmoni was born on 28 September 1793 in the small village of Halisahar in Bengal into a kaivarta (fishermen community) family. Her father was a poor labourer, who married his daughter to Raj Chandra Das — the scion of a wealthy zamindar family from Jaan Bazaar — when she was still in her teens.
Das was a progressive husband; educated and unconventional for those archaic times. Impressed by how astute she was, he encouraged his young wife to follow her heart and gave her unfettered access to his trade business.
Together, they built up a great fortune, channelling much of their wealth towards public welfare, from building pyaus (reservoirs of drinking water) for the abandoned to setting up soup kitchens for the hungry. The couple also built two of Kolkata's oldest and busiest ghats, the Ahiritola Ghat and the beautiful Babu Rajchandra Das Ghat, or Babughat.
However, Das passed away in 1830, and the years after his death saw Rashmoni passing through her toughest time. Battling patriarchy and the then-prevailing societal stigma against widows, the mother of four young daughters took over the reins of the family's sprawling business – something that was virtually unheard of in those days.
When her husband's adversaries and acquaintances heard this news, they were delighted by the prospect of an easy takeover, assuming that the kind-hearted widow would not provide much resistance. They would soon learn otherwise.
Displaying astute business sense, Rashmoni fended off these attempts, managing her work with exemplary pragmatism and the help of Mathura Nath Biswas, an educated young man married to her third daughter. For the rest of her life, Mathura babu (as he was called) would remain her trusted confidante and right-hand man in all dealings.
In the years that followed, Rashmoni raised her voice for two important causes — one, to fight against prevalent social ills like polygamy, child marriage and sati; and two, to support trailblazing social reformers like Ishwar Chandra Vidyasagar, even submitting a draft bill against polygamy to the East India Company.
She also built the famous Dakshineswar temple near Kolkata, braving taunts from Brahmins who refused to become priests at a temple constructed by a woman from a lower Shudra caste. Eventually, religious leader Ramakrishna Paramhansa would go on to serve as the Chief Priest of the temple.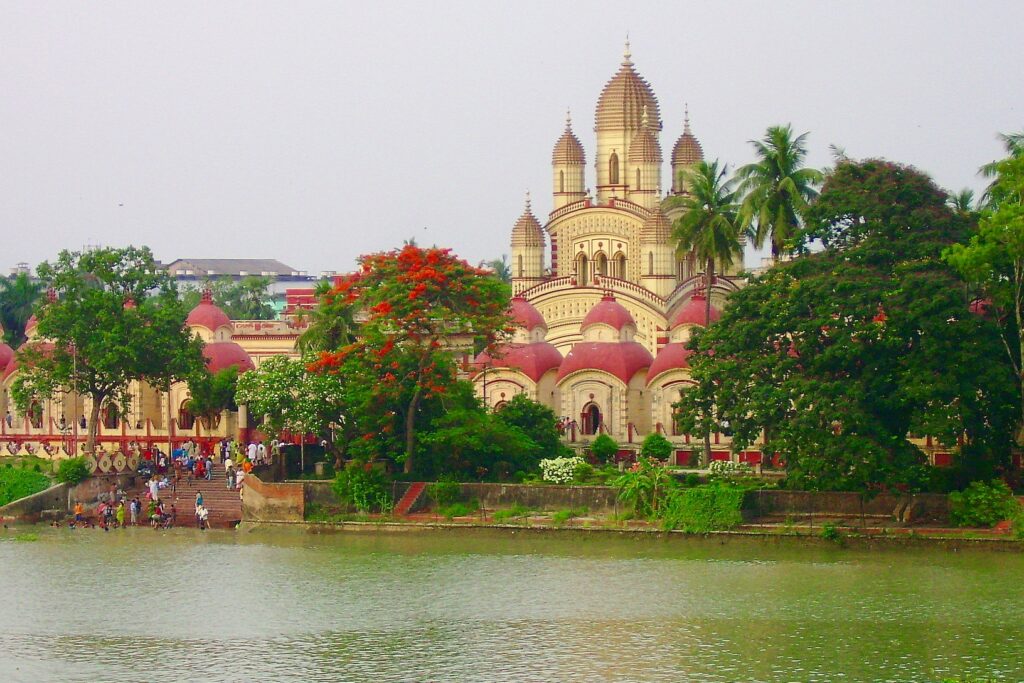 While such constructions and business acumen earned her much respect in Calcutta's administrative circles, it was her compassion and solidarity with the downtrodden that endeared her to the underprivileged.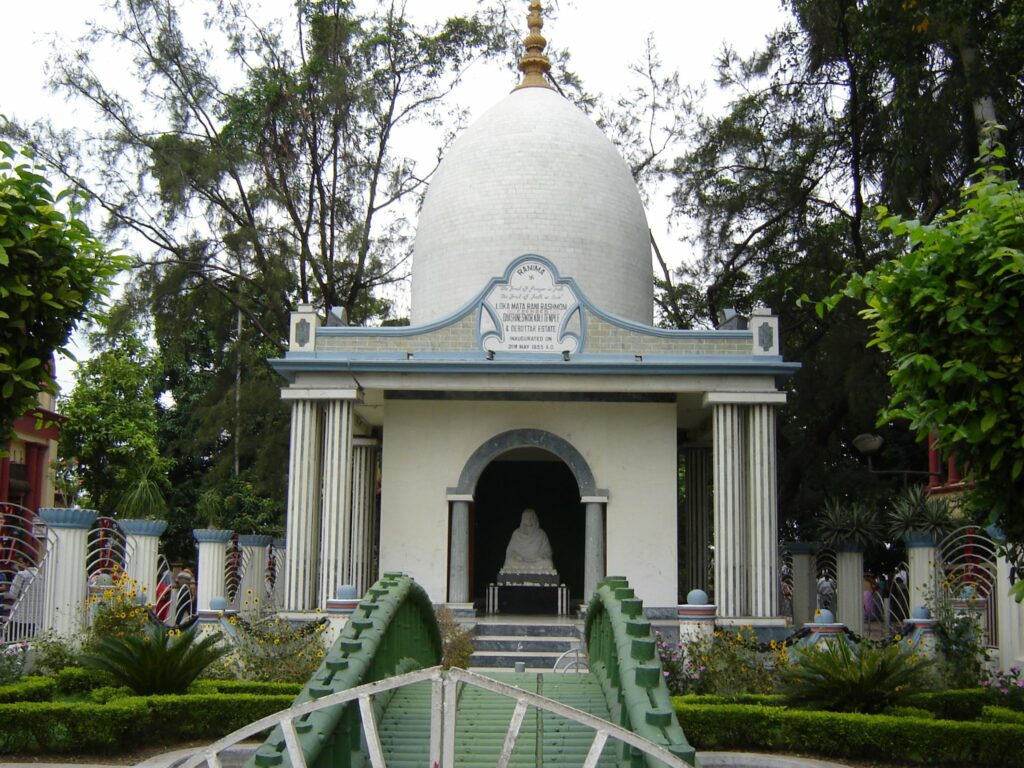 Sri Ramakrishna on Rani Rashmoni
Sri Ramakrishna once said: "Rani Rasmani was one of the eight nayikas [attendant goddesses] of the Divine Mother. She came down to the world to spread the worship of the Divine Mother."
Sri Ramakrishna told the following story:
The Rani practised severe austerities according to the scriptures from the day on which the making of the image began. She bathed three times a day, took simple vegetarian food, slept on the floor, and practised japa, worship, and prayer according to her capacity. [In the meantime] the image was kept packed in a box lest it should be damaged. But it suddenly perspired for some reason or other and the Rani got the command in a dream: "How long will you keep me confined this way? I feel suffocated! Install me as soon as possible." No sooner had she got that instruction than the Rani became anxious and had the almanac consulted to find an auspicious day. As no such day could be found before the Snanayatra [the day of the bathing festival of Lord Jagannath], she resolved to perform the installation on that day.
---
Rajchandra(Rani Rashmoni's Husband) was known for his truthfulness as well as his generosity. At the request of his brother-in-law, he once promised to lend 100,000 rupees to an English merchant. That night he heard that the company was going to be liquidated and the merchant would therefore have to return to England. But in the morning when the merchant came to him for the money, Rajchandra gave it to him. Someone asked him why he did not refuse when he knew of the merchant's insolvency, and Rajchandra replied, "I have not learned to say no after having said yes."
---
Image of Raghunath
In 1821 Rajchandra had a new home built for his family in Janbazar, Calcutta, at a cost of two and a half million rupees. It has seven sections with three hundred rooms, and it took eight years to complete. This palace is now known as "Rani Rasmani Kuthi." The first section of the palace was dedicated to Lord Raghunath (Ramachandra), the family deity. One hot summer day Rajchandra was taking an afternoon nap when a monk with a robust body and matted hair came to see him. The gatekeepers at first tried to ignore the monk, but he finally persuaded them to let him meet the owner of the palace. When Rajchandra was informed that a monk had come to see him, he came to the parlour. The monk presented him with an image of Lord Raghunath and said: "Please serve the Lord. It will do good to you. I am going to a distant place for a pilgrimage, and I don't know whether I shall be back or not." Rajchandra offered something in exchange, but the monk smiled and said, "I am not a beggar monk." He then quickly left. Rajchandra installed the image of Raghunath in the shrine with great festivity.
One day in 1836 when Rajchandra was travelling in his carriage, he suddenly had an attack of apoplexy and fell unconscious on the seat. The driver rushed home and Rajchandra was carried to his room. All the best doctors of Calcutta were brought in, but to no avail. Rajchandra died on 9 June 1836 at the age of fifty-three.
Rasmani was stricken with grief. It is said that she lay on the floor for three days without taking any food or drink. Afterwards she performed all the rituals according to the injunctions of the scriptures for her departed husband. In addition, she weighed herself against silver coins and had 6,017 coins distributed among brahmins. She also fed the poor and gave them various gifts. At the conclusion of the ceremonies the monk who had given her husband the image of Raghunath came. Rasmani offered him expensive gifts, but he smiled and asked for only two things — a small water pot and a blanket. Tears fell from Rasmani's eyes when she saw the monk's non-attachment and lack of greed. He wanted to pay his homage to Raghunath so Rasmani accompanied him to the shrine. The monk then blessed Rasmani and left. Later this image of Raghunath was stolen from the shrine.
---
Rani Rashmoni's Daily Routine
Early in the morning she would get up and repeat her mantra in the shrine. Then in mid morning she would sit in her office and sign official documents, appoint officers, check accounts, and discuss various problems and projects with Mathur. At noon she would partake of the food that had been offered to the Lord, and then she would rest. Later in the day, after supervising the office work, she would attend the vesper service. She was fond of inviting brahmin scholars and listening to their discourses on the scriptures.
Sri Ramakrishna's Strange Behaviour towards Rani Rashmoni
The love and respect that Rani Rasmani and Mathur had for Sri Ramakrishna and the support they gave him were quite amazing when one realizes how strange his behaviour was at that time, and how much criticism about him came to them from other temple officials. For example, once Rani Rasmani came to Dakshineswar and, after bathing in the Ganges, entered the shrine of the Divine Mother for japa and meditation. Sri Ramakrishna was also there at that time. Rasmani had heard his devotional singing many times and was very fond of it, so she asked him to sing. Sri Ramakrishna began singing, but all of a sudden he stopped and turned to Rasmani, exclaiming, "What! Even here you think such thoughts!" He then struck the Rani with the palm of his hand. Immediately there was a commotion in the temple. Rasmani's women attendants began to scream, and the temple guards and officials rushed to the shrine to drag Sri Ramakrishna out of the temple. They hesitated, waiting for the Rani's order. But Rasmani was sitting calmly in an introspective mood. Instead of listening to the song, she had been thinking about a lawsuit. She marvelled at how Sri Ramakrishna had known what she was thinking. When she became aware of her surroundings, she noticed that people were standing around them, ready to punish Sri Ramakrishna, who was sitting quietly and smiling. Rasmani then ordered: "The young priest is not to blame. Do not take any action against him."23 Rasmani retired to her room. When her attendants complained about Sri Ramakrishna's insolent behaviour towards her, she replied: "You do not understand it. The Divine Mother Herself punished me and thus illumined my heart."24 Because of her own highly pure nature, Rasmani was immediately able to understand, accept, and benefit from Sri Ramakrishna's harsh action.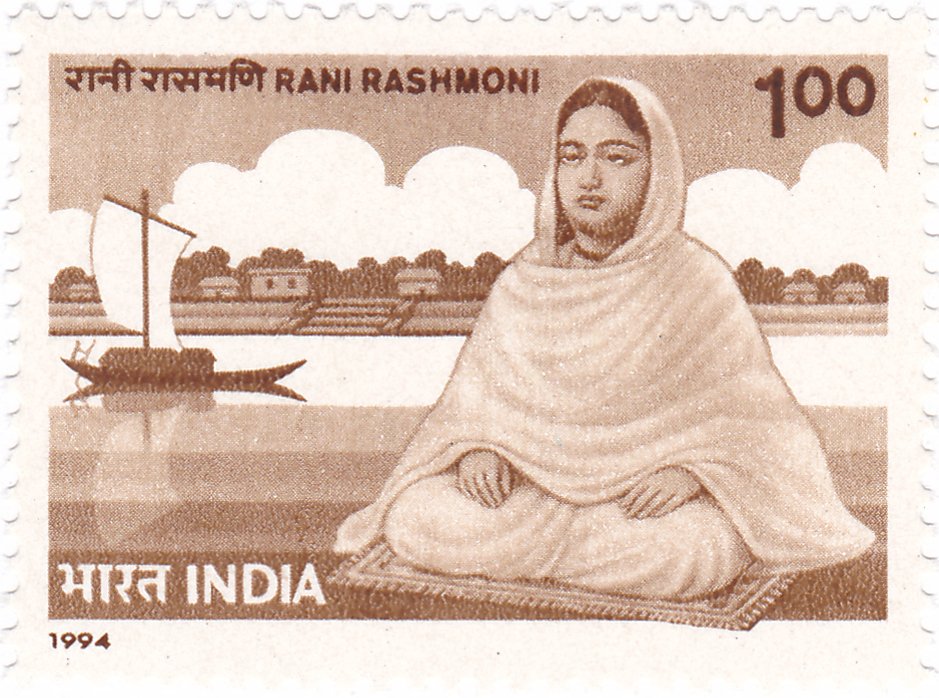 Final Days of Rani Rashmoni
After the dedication of the temple at Dakshineswar, Rani Rasmani began to spend more and more time in spiritual disciplines. She loved to come to Dakshineswar and talk about God with Sri Ramakrishna and to hear him sing devotional songs. But gradually the time came for her departure from Sri Ramakrishna's divine drama. In the early part of 1861 Rasmani became sick with a fever and chronic dysentery. The best doctors of Calcutta tried their utmost to cure her, but they at last gave up hope. They then suggested that she be moved to a healthier place. It was Rasmani's desire to go to her garden house at Kalighat, in South Calcutta, which was on the bank of the Adi Ganga, a small stream flowing into the Ganges.
Rasmani knew that her death was imminent and there was one task that she had left unfinished. The property that she had bought in Dinajpur (now in Bangladesh) as an endowment for the maintenance of the Dakshineswar temple had still not been transferred to the temple trust. She executed the deed of endowment on 18 February 1861, and died the next day (19 February).
Shortly before she passed away she was brought to the bank of the Adi Ganga. Seeing some lamps lighted in front of her, she exclaimed: "Remove, remove these lights. I don't care for this artificial illumination anymore. Now my Mother has come and the brilliance of Her form has illumined the whole place."a After a short pause she passed away, saying, "Mother, You have come!"