Pali text, illustration and English translation of Dhammapada verse 351-352:
niṭṭhangato asantāsī vītataṇho anaṅgaṇo |
acchindi bhavasallāni antimo'yaṃ samussayo || 351 ||
vītataṇho anādāno niruttipadakovido |
akkharānaṃ sannipātaṃ jaññā pubbaparāni ca |
sa ve antimasārīro mahāpañño mahāpuriso'ti vuccati || 352 ||
351. One who's fearless, reached the End, of craving and of blemish free, who has becoming's thorn plucked out, has this, a final body.
352. One of clinging-craving free, who's skilled in ways of chanting, knowing the wording-sequence, of what precedes and follows, possessed of final body, one greatly wise, 'Great Person's' is called.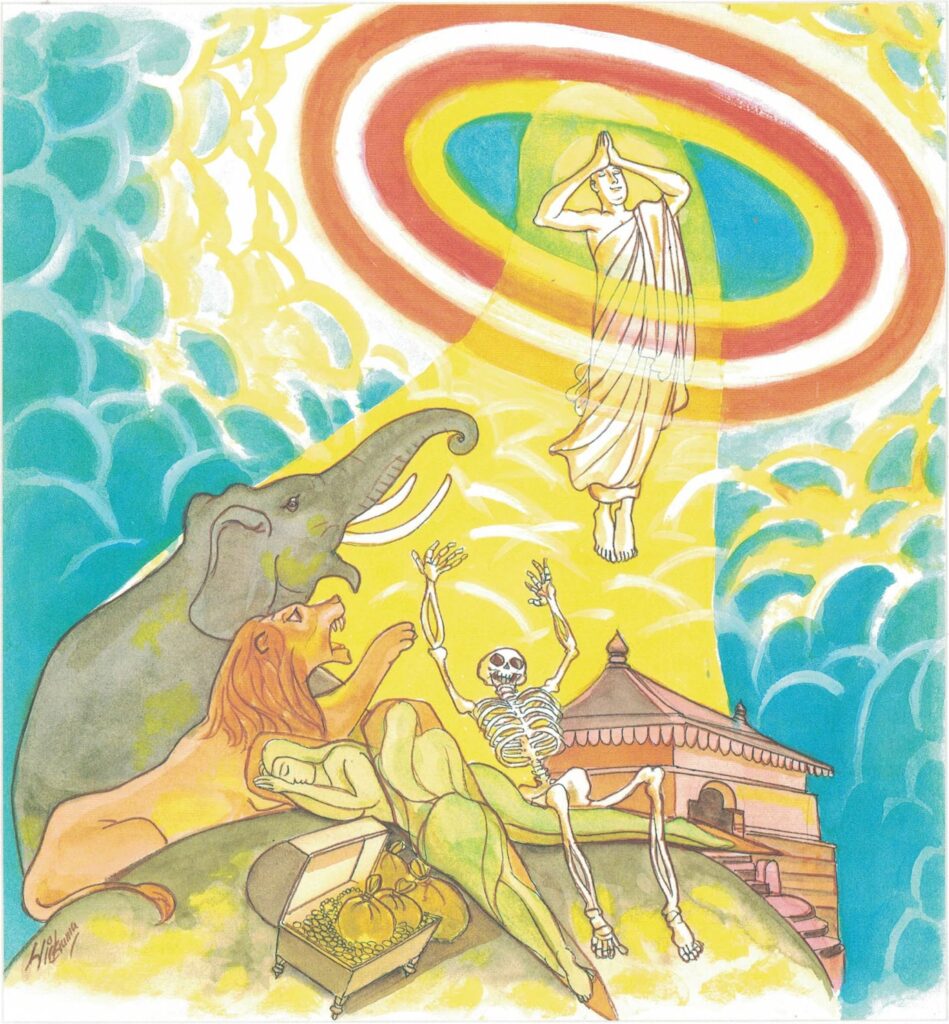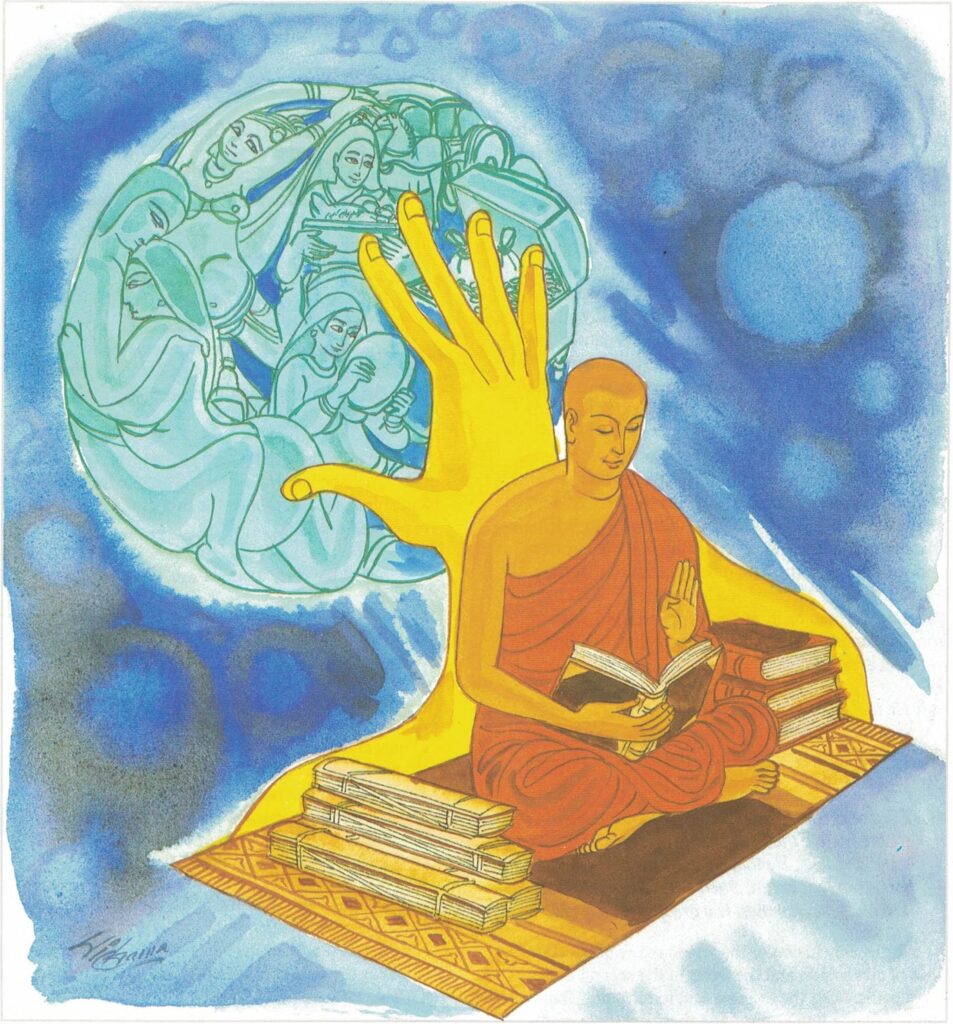 Māra seeks in vain to frighten Rāhula
For one day several Venerables entered the Jetavana Monastery at an unseasonable hour, and going to the quarters of Venerable Rāhula, woke him up. Rāhula, seeing no other place to sleep, went and lay down in front of the Buddha's perfumed chamber. This Venerable, although he was but eight years old, had already attained arahatship. As Māra Vasavattī, keeping his natural form, beheld him lying in front of the perfumed chamber, he thought to himself, "The son of the monk Gotama lies outside the perfumed chamber, as though his finger hurt him; the monk himself reclines within the perfumed chamber, and if the finger of his son be pinched, he himself will feel a pinching." So Māra took the form of a gigantic elephant-king, and drawing near Rāhula, encircled his head with his trunk, and with a loud voice trumpeted the heron's call.
The Buddha, even as he reclined in the perfumed chamber, perceived that it was Māra, and said, "Māra, with a hundred thousand like yourself, it would be impossible for you to frighten my son. My son is unafraid, devoid of craving, of mighty vigor, of great wisdom."
351.He that has reached perfection, he that is unafraid, free from craving, devoid of lust, He that has cut out the arrows of being, such a man has reached his last state of existence.

352.He that is free from craving, he that is without attachment, He that is skilled to interpret words in the old dialect, He that knows the order of the letters from first to last, Such a man has received his last body, such a man is a great sage, a great man.
At the conclusion of the lesson many obtained the fruit of conversion and the fruits of the second and third paths. Māra the evil one said to himself, "The monk Gotama knows me," and then and there disappeared.
Explanatory Translation (Verse 351)
niṭṭhangato asantāsi vitataṇho onaṅgano
bhavasallāni acchindi ayaṃ antimo samussayo
niṭṭhangato [niṭṭhangata]: who has reached the goal; asantāsi: free of trepidation; vitataṇho [vitataṇha]: devoid of craving; anaṅgano [anaṅgana]: got rid of clinging defilements; bhavasallāni: the thorns of existence; acchindi: broken off; ayaṃ: this; antimo samussayo [samussaya]: is his final being
He has come to cessation. He has reached the goal of his monastic life. He is free of fear, craving and is blemishless. He has broken the thorns of existence. This is his final being.
Explanatory Translation (Verse 352)
vītataṅho anādāno niruttipadakovido akkharānaṃ
sannipātaṃ pubbaparāni ca jaññā antimasārīro
sa ve mahāpañño mahā puriso iti vuccati
vītataṅho [vītataṅha]: ended craving; anādāno [anādāna]: without grasping; niruttipadakovido [niruttipadakovida]: well versed in the etymology and in usages; akkharānaṃ [akkharāna]: aware of characters; sannipātaṃ [sannipāta]: and their deployment into combinations; pubbaparāni ca: their sequence–what comes first and what later; antimasārīro [antimasārīra]: who is in his last birth; yo: that person; mahāpañño [mahāpañña]: the great wise man; iti vuccati: is called
He is free of craving and is devoid of grasping. He is well versed in etymology and in usages. He is aware of characters and their deployment into combinations. He knows the sequence of letters. He knows the old dialect. This is his last body. That person is a great wise man.
Commentary and exegetical material (Verse 351-352)
Rāhula: In this dispensation Rāhula, the son of Prince Siddhattha, was born. When Gotama Buddha, with the fine array of Mahā arahats, visited the home town of Kapilavatthu for the first time, Yasodharā, the mother of Rāhula, who was only seven years old, pointing out the Buddha to him, repeated a set of nine verses (Narasīha gāthā) so called as they gave a description of the king of men from foot to head while the last verse gave a graphic picture of Buddha among His disciples like the resplendent moon in the starry universe. Each Buddhist child had to learn these verses by memory.
Yasodharā was also known as Bimbā Devi, so called due to her rosy complexion. After her ordination, she was known a Bhadda Kaccānā. The mother requested the child to ask for his inheritance from his father. The moment they met the young Rāhula was drawn towards the Buddha exclaiming, "Oh, how sweet is thy shade!" Rāhula, who was clamouring for his inheritance, followed the Buddha all the way to the temple while the Buddha remained silent. Addressing Venerable Sāriputta, the Buddha requested him to ordain Rāhula as worldly treasures would only prolong his samsaric existence. Instead, the seven-fold aryan treasure would be his on ordination. They consist in: (i) faith (saddhā); (ii) virtue (sīla);(iii) sense of shame towards unwholesomeness; (hiri), (iv) fear towards unwholesomeness (ottappa), (v) learning through hearing discourses (sutta), (vi) generosity (cāgo), and (vii) insight (paññā).
This led to an interesting sequel. King Suddhodana was grief stricken to learn that his grandson had been ordained. He hastened towards Buddha and laid bare his sorrow.
There was pathos in his lament. "It was so hard for me to find you, and first, Nanda, and now Rāhula, have left home one after another. This grief has penetrated to the very marrow of my bones. Please grant me a boon that hereafter, without the consent of the parents, that none of tender age will be ordained." It was readily granted by the Buddha.
By common consent, Rāhula was a strict adherent to the practice of the precepts. He was also an admirable pupil. Every morning it was a custom of his to throw up a handful of sand and wish that he would get as ample admonition as those grains of sand. The Buddha preached to him that he should not tell a lie even for fun. The sermon is called Ambalatthika Rāhulovāda Sutta. The Buddha compared a liar to an empty vessel. Once on begging rounds, Rāhula, who was then eighteen years old, was with the Buddha and was soon comparing himself with the Buddha and was fascinated by their similarity. The Blessed One promptly checked him by preaching the Mahā Rāhulovāda Sutta. Vāda here means advice. There was a touching story of Rāhula spending one whole night at the lavatory used by the Buddha, being pressed for space. This was due to the Blessed One promulgating a rule. It would appear that the laity had a habit of overstaying in the temple for days to hear religious discourses. Besides, some came from far away places. Most of these people disport themselves in various repulsive ways while asleep. It was not proper that monks should sleep in their midst. It is interesting to note that, in answer to a knock at the door of the lavatory by the Buddha, Rāhula exclaimed, "I Rāhula" instead of simply saying the meaningless "It is I" which many would say.
The Buddha forthwith summoned the monks headed by Sāriputta to narrate the episode.
The Buddha thereupon, relaxed the rule so that it operated only after the third day. This became the ruling topic of conversation of the monks. Venerable Rāhula, the son of the Buddha, was so modest and unassuming when he could be otherwise. Buddha, having heard this, narrated a small story called Tipalatthamiga Jātaka of the past to show that Rāhula's character was so even in the remote past.
"Once upon a time in Vārāṇasī when Magada was the king and the Bodhisatta was a leader of a herd of deer. This leader had a young nephew and, at the request of his mother, the leader undertook to teach him the arts and crafts by which they could outwit their enemies. One day, the young deer was trapped. So he fainted and feigned to be dead. His stomach got puffed up and he kept his breathing under control so much so that even the crows and flies were hovering about the body. The hunter, taking the deer to be dead, released the deer for making a meal of it on the spot. A fire was kindled. The young deer at once got up and took to his heels."
The Theragātha contains four verses said to have been spoken by Rāhula. Buddha, addressing the monks, said that among his great arahats, Venerable Rāhula was pre-eminent for the observance of the precepts.
Rāhula was a great arahat foremost for the observance of precepts. The details of his life more or less coincide with those of the life of the Mahā arahat called Raṭṭhapāla. Born into wealthy families and though little was known of their previous lives, on coming of age like Sumedha of old, they gave up their wealth. Both felt that it was foolish to amass wealth. They distributed the wealth among the poor to become hermits. At this time two hermits enjoying psychic power came, one from the kingdom of the Nāga, whose king was called Pathavindara, and the other from the heavenly realm of the thirty-three deities (tāvatiṃsa). Each hermit had a pupil. The hermits not only gave their blessing but also extolled the virtues of their respective abodes. On death, each hermit was born in the region from which each hailed. One was therefore, born in Pathavindara as king of Nāgas and the other as Sakka in the heavenly abode.
Pathavindara and Sākka decided to be born together on Earth, as a Buddha was appearing on Earth, and the two were Rāhula and Raṭṭhapāla.