Pali text, illustration and English translation of Dhammapada verse 283-284:
vanaṃ chindatha mā rukkhaṃ vanato jāyatī bhayaṃ |
chetvā vanañca vanathañca nibbanā hotha bhikkhavo || 283 ||
yāvaṃ vanatho na chijjati anumatto'pi narassa nārisu |
paṭibaddhamano'va tāva so vaccho khīrapako'va mātari || 284 ||
283. The wood cut down but not a tree since it's from wood that fear is born. Having cut wood and woodedness O bhikkhūs be without a wood.
284. As long indeed as woodedness of man to woman is not cut so so long in bondage is one's mind as milch-calf to the mother cow.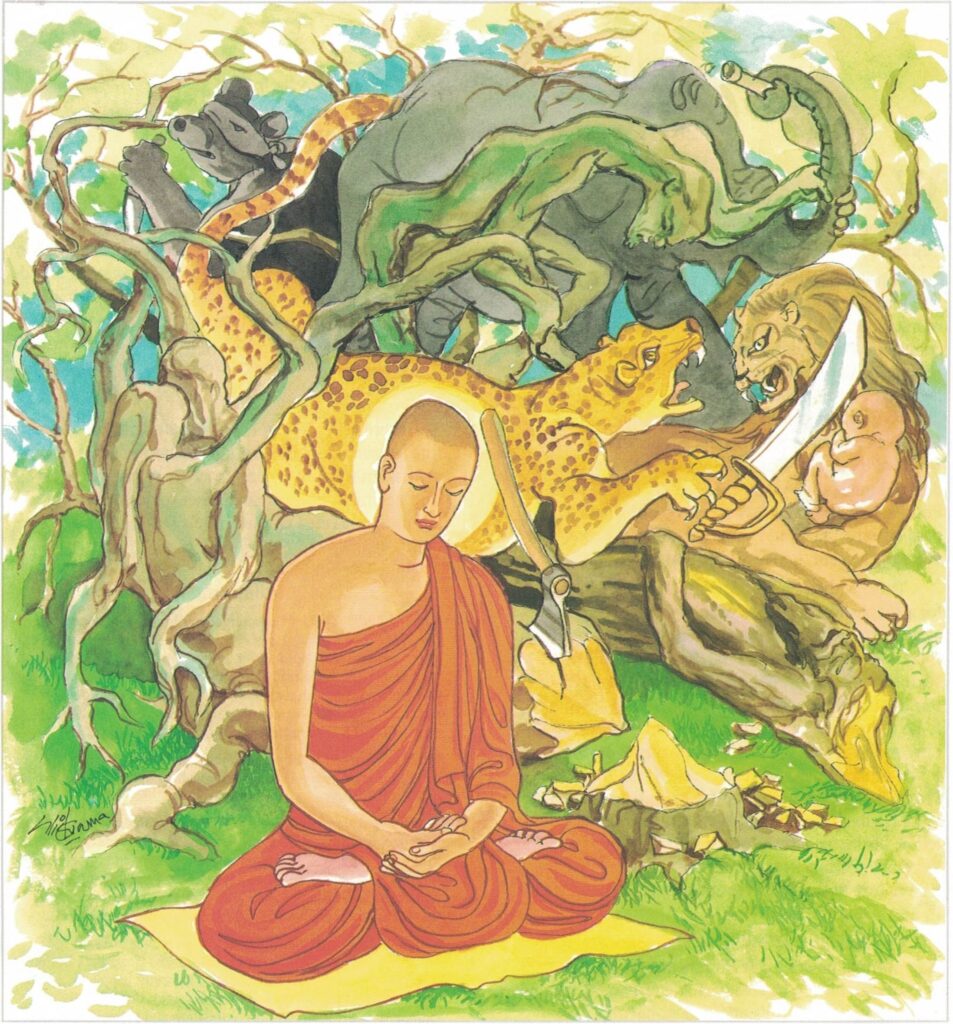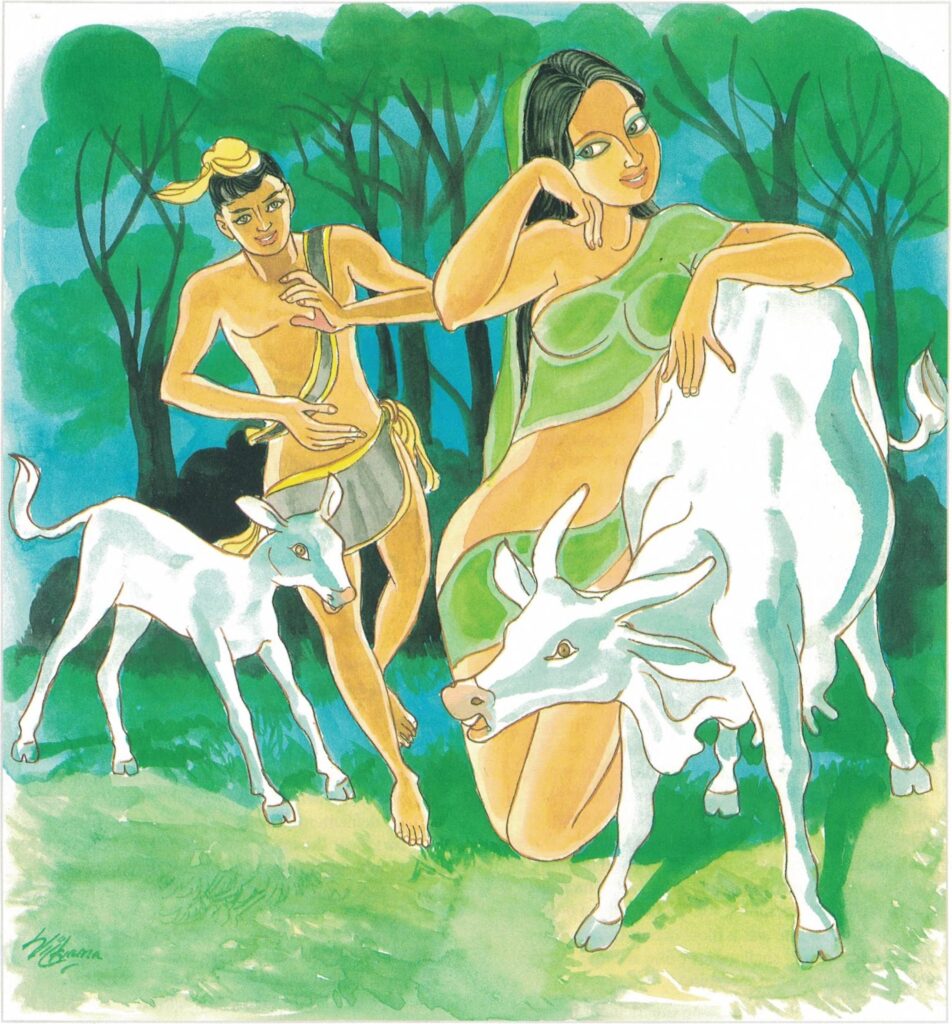 The Story of Five Old Monks
While residing at the Jetavana Monastery, the Buddha spoke these verses, with reference to five old monks.
The story goes that in the days when they were living in the world they were rich and wealthy householders of Sāvatthi. Intimate friends, one of another, they banded themselves together for the performance of good works. Hearing the Buddha preach the Dhamma, they said to themselves, "We are old men; why should we remain laymen any longer?" Accordingly, they asked the Buddha to admit them to the Sangha, and retiring from the world, adopted the monastic life. Now, by reason of their advanced years, they were unable to learn the Dhamma by heart, and, therefore, built a hermitage of leaves and grass on the outskirts of the monastery, and lived there together. On their alms-round they generally went to the houses of their sons and wives and there took their meals.
Now one of the old monks had a former wife named Madhurapācikā, and she was a good friend to them all. Therefore, they all used to take the food they received to her house, and sit down there and eat it, and Madhurapācikā would give them of her store of sauces and curries. In the course of time she was attacked by some disease or other and died. Thereupon, those aged Venerables assembled in one of their huts, and falling on each other's necks, wept and lamented, saying, "Madhurapācikā the lay disciple is dead." Thereupon, the monks came running up from all quarters and asked, "Brethren, what is the matter?" The old monks replied, "Venerables, the former wife of our comrade is dead. She was a most generous benefactress of ours. Where shall we ever find another like her now? That is why we are weeping."
The monks fell to discussing the incident in the hall of truth. In came the Buddha and asked, "Monks, what are you discussing now, as you sit here all gathered together?" When they told him, he said, "Monks, this is not the first time they have so conducted themselves; the same thing happened in a previous state of existence also. In a previous state of existence they were all reborn as crows. As she was walking along the shore of the sea, a wave of the sea picked her up and flung her into the sea, and there she perished, whereupon they all wept and lamented. 'We will pull her out again,' said they, and forthwith set to work with their beaks to bale out the great ocean; finally were wearied of their task."
After the Buddha had related this Kāka Jātaka in detail, he addressed the monks as follows, "Monks, in as much as you have incurred this suffering because of the forest of lust, hatred, and delusion, it behooves you to cut down this forest; by so doing you will obtain release from suffering."
Explanatory Translation (Verse 283)
bhikkhavo vanaṃ chindatha mā rukkhaṃ vanato bhayaṃ
jāyati vanañca vanathañca chetvā nibbanā hotha
bhikkhavo [bhikkhava]: O' monks; vanaṃ [vana]: the forest (of blemishes); chindatha: cut down; mā rukkhaṃ [rukkha]: (do) not (cut down) the tree; vanato [vanata]: from the forest (of defilements); bhayaṃ [bhaya]: fear; jāyati: arises; vanañca: the forest; vanathañca: and the undergrowth too; chetvā: having cut down; nibbanā hotha: achieve Deathlessness (forestlessness)
O' Monks, cut down the forests of defilements. But, do not cut down the trees. Fear comes from the forests of defilements. Clear both the forests and the undergrowth. Having done this achieve the state of Nibbāna.
Explanatory Translation (Verse 284)
narassa nārisu aṇumatto api vanatho yāvaṃ hi na chijjati,
tāva so mātari khīrapako vaccho iva paṭibaddhamano eva
narassa: of man's; nārisu: towards women; aṇumatto api: even slightly; vanatho [vanatha]: an undergrowth of defilements (exists); yāvaṃ hi: as long as; na chijjati: (this is) not destroyed; tāva: till then; so: that man; mātari: towards the mother (attached); khīrapako [khīrapaka]: suckling; vaccho iva: like a calf; paṭibaddhamano eva: certainly will be of attached mind (to women)
As long as a man's mind is attached to women, even minutely, like a little undergrowth that has not been cut down, so long will his mind be attached like a suckling calf to its mother cow.
Commentary and exegetical material (Verse 283-284)
narassa nārisu: of a man towards women. The Buddha refers to the strong and unrestrainable attachment a man entertains towards a woman. The Buddha's attitude to sex is evident in certain areas of the Buddha's Discourses. The opening Discourses of Anguttara Nikāya states: Monks, I know not of any other single form by which a man's heart is attracted as it is by that of a woman. Monks, a woman's form fills a man's mind.
Monks, I know not of any other single sound… I know not of any other single smell… I know not of any other single flavour… I know not of any other single touch… by which a man's heart is attracted as it is by that of a woman. A woman's sound, smell, flavour, and touch fill a man's mind.
Monks, I know not of any other single form, sound, smell, flavour and touch by which a woman's heart is attracted as it is by the form, sound, smell, flavour and touch of a man. Monks, a woman's mind is filled with these things."
Here is a sermon on sex explained in unmistakable language, the truth of which no sane man dare deny. Sex is described by the Buddha as the strongest impulse in man. If one becomes a slave to this impulse even the most powerful man turns into a weakling; even the sage may fall from the higher to a lower level. The sexual urge, especially in youth, is a fire that needs careful handling. If one is not thoughtful and restrained, it can cause untold harm. There is no fire like lust. Passions do not die out: they burn out.
Since the Buddha was a practical philosopher he did not expect his lay followers to lead ascetic lives. Indeed, he called them enjoyers of sense pleasures (gihī kāmabhogī). Being well aware of man's instincts and impulses, his appetites and urges, the Master did not prohibit sexual relations for the laity as he had done for monks. But he warned man against wrong ways of gratifying the sexual appetite. He went a step further and recommended the observation of the eight precepts with special emphasis on the third one for the laity during fast-days of retreat (uposatha) or as the occasion demanded.
If a person makes up his mind to live an unmarried life he should make a real effort to be chaste in body, speech and thought. If he is not strong enough to remain single, he may marry, but he should refrain from such sexual relations as are wrong and harmful. As the Buddha explains in the Discourse on downfall:
If a person is addicted to women (given to a life of debauchery), is a drunkard, a gambler, and squanders all his earnings–this is a cause of his downfall.
Not satisfied with one's own wives, if one has been with whores and the wives of others–this is a cause of one's downfall.
Being past one's youth, to take as wife a girl in her teens, and to be unable to sleep for jealousy–this is a cause of one's downfall.
The Buddha has analysed the evil results of adultery in these words:
Four misfortunes befall a man who is unmindful of right conduct and commits sexual misconduct with another man's wife: acquisition of demerit, disturbed sleep, reproach, and suffering in niraya. Thus, there is the acquisition of demerit, and there is rebirth in the evil apāya realms. The enjoyment of a scared man with a scared woman is shortlived, and the king also metes out severe punishment. Therefore, a man should not commit wrong action with another man's wife.