Pali text, illustration and English translation of Dhammapada verse 282:
yogā ve jāti bhūri ayogā bhūrisaṅkhayo |
etaṃ dvedhā pathaṃ ñatvā bhavāya vibhavāya ca |
tathattānaṃ niveseyya yathā bhūri pavaḍḍhati || 282 ||
282. From endeavour wisdom springs, lacking effort wisdom wanes: having known this two-fold path either to progress or decline so should one exhort oneself that wisdom may increase.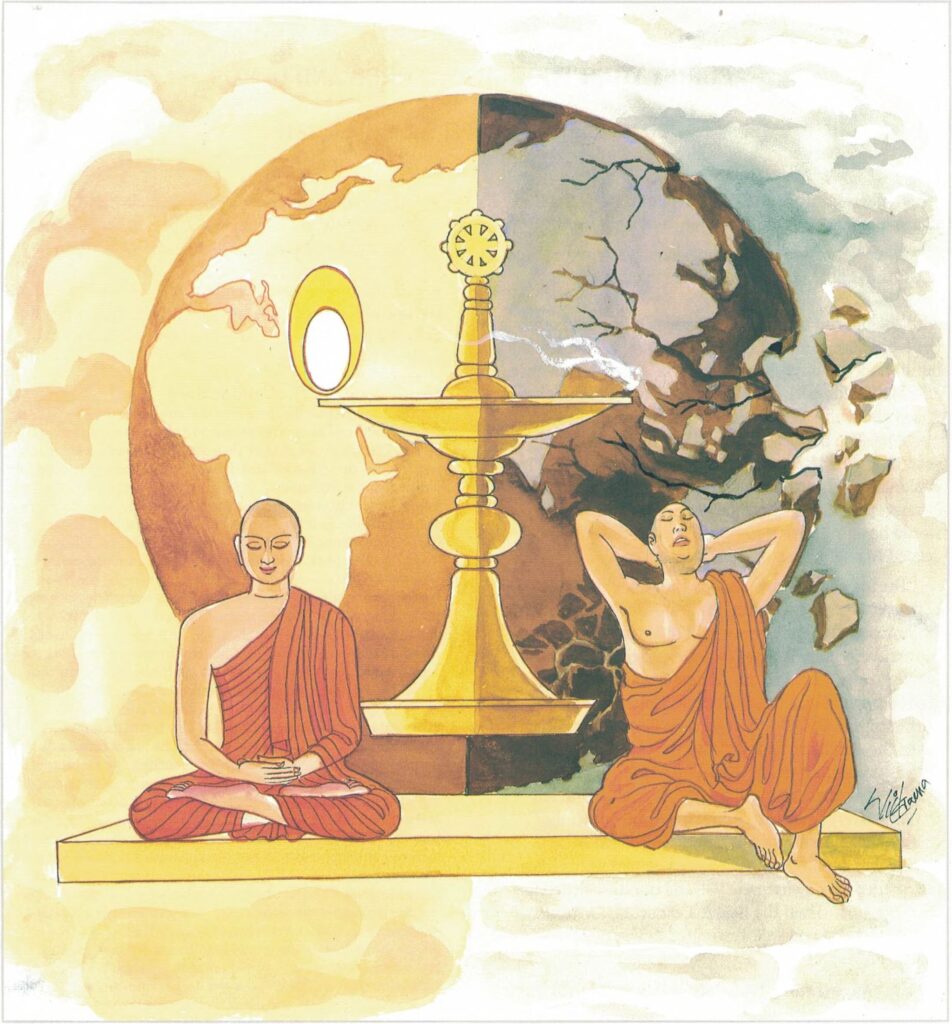 The Story of Venerable Poṭhila
While residing at the Jetavana monastery, the Buddha spoke this verse with reference to Venerable Poṭhila.
Poṭhila was a senior monk who knew the Pitaka well and was actually teaching the Dhamma to many monks. Because he knew the Pitaka, he was also very conceited. The Buddha knew his weakness and wanted him to mend his ways and to put him on the right path. So, whenever Poṭhila came to pay obeisance, the Buddha would address him as 'Useless Poṭhila'. When Poṭhila heard these remarks, he pondered over those words of the Buddha and came to realize that the Buddha had made those unkind remarks because he, Poṭhila, had not made any serious effort to practice meditation and had not achieved any of the maggās or even any level of mental absorption (jhāna).
Thus, without telling anyone Venerable Poṭhila left for a monastery at a place twenty yojanas (leagues) away from the Jetavana monastery. At that monastery there were thirty monks. First, he went to the most senior monk and humbly requested him to be his mentor; but the elder, wishing to humble him, asked him to go to the next senior monk, who in his turn sent him on to the next. In this way, he was sent from one to the other until he came to a seven year old arahat sāmanera. The young sāmanera accepted him as a pupil only after ascertaining that Poṭhila would obediently follow his instructions. As instructed by the sāmanera, Venerable Poṭhila kept his mind firmly fixed on the true nature of the body; he was very ardent and vigilant in his meditation.
The Buddha saw Poṭhila in his vision and through supernormal power made Poṭhila feel his presence and encouraged him to be steadfast and ardent. At the end of the discourse, Poṭhila attained arahatship.
Explanatory Translation (Verse 282)
yogā ve bhūri jāyati ayogā bhūrisaṅkhayo
bhavāya vibhavāya ca etāṃ dvedhā pathaṃ ñatvā
yathā bhūri pavaḍḍhati tathā attānaṃ niveseyya
yogā: (from) meditation; ve: certainly; bhūri: refined wisdom; jāyati: arises; ayogā: through non-meditation; bhūrisaṅkhayo [bhūrisaṅkhaya]: the erosion of wisdom happens; bhavāya: progress; vibhavāya ca: also decline; etāṃ dvedhā pathaṃ [patha]: these two paths; ñatvā: having known; yathā: in what manner; bhūri pavaḍḍhati: wisdom increases; tathā: in that manner; attānaṃ [attāna]: one's own self; niveseyya: establish
From reflection and concentrated meditation refined wisdom arises. Through the non-practice of concentration wisdom erodes. Once these two paths–one leading to progress and the other to decline–are recognized, one must conduct oneself to increase wisdom.
Commentary and exegetical material (Verse 282)
yogā ve bhūri jāyati: Meditation certainly refines wisdom. Meditation (bhāvanā) is a process of refining wholesome faculties, mental mostly. Mental Development (lit. calling into existence, producing) is what in English generally but rather vaguely, is called meditation. One has to distinguish two kinds–development of tranquillity (samathabhāvanā), i.e., concentration (samādhi), and development of insight (vipassanā-bhāvanā), i.e., wisdom (paññā).
These two important terms, tranquility and insight (samatha-vipassanā), are very often met with and explained in the Sutta, as well as in the Abhidhamma.
Tranquility (samatha) is the concentrated, unshaken, peaceful and, therefore, undefiled state of mind, whilst insight (vipassanā) is the intuitive insight into the impermanency, misery and impersonality (anicca, dukkha, anatta) of all bodily and mental phenomena of existence, included in the five groups of existence, namely corporeality, feeling, perception, mental formations and consciousness.
Tranquility, or concentration of mind, according to Sankhepavaṇṇanā (comment to Abhidhammattha-Sangaha), bestows a three-fold blessing: favourable rebirth, a present happy life, and purity of mind which is the condition of Insight. Concentration (samādhi) is the indispensable foundation and precondition of Insight by purifying the mind from the five mental defilements or hindrances (nīvaraṇa) whilst insight (vipassanā) produces the four supermundane stages of holiness and deliverance of mind. The Buddha, therefore, says: "May you develop mental concentration, O' monks; for whoso is mentally concentrated sees things according to reality". And it is said, "Just as when a lighted lamp is brought into a dark chamber, the lamp-light will destroy the darkness and produce and spread the light, just so will insight, once arisen, destroy the darkness of ignorance and produce the light of knowledge."