Pali text, illustration and English translation of Dhammapada verse 171:
etha passath'iraṃ lokaṃ cittaṃ rājarathūpamaṃ |
yattha bālā visīdanti natthi saṅgo vijānataṃ || 171 ||
171. Come, look upon this world like to a rich, royal chariot wherein fools lounge at ease but alert ones linger not.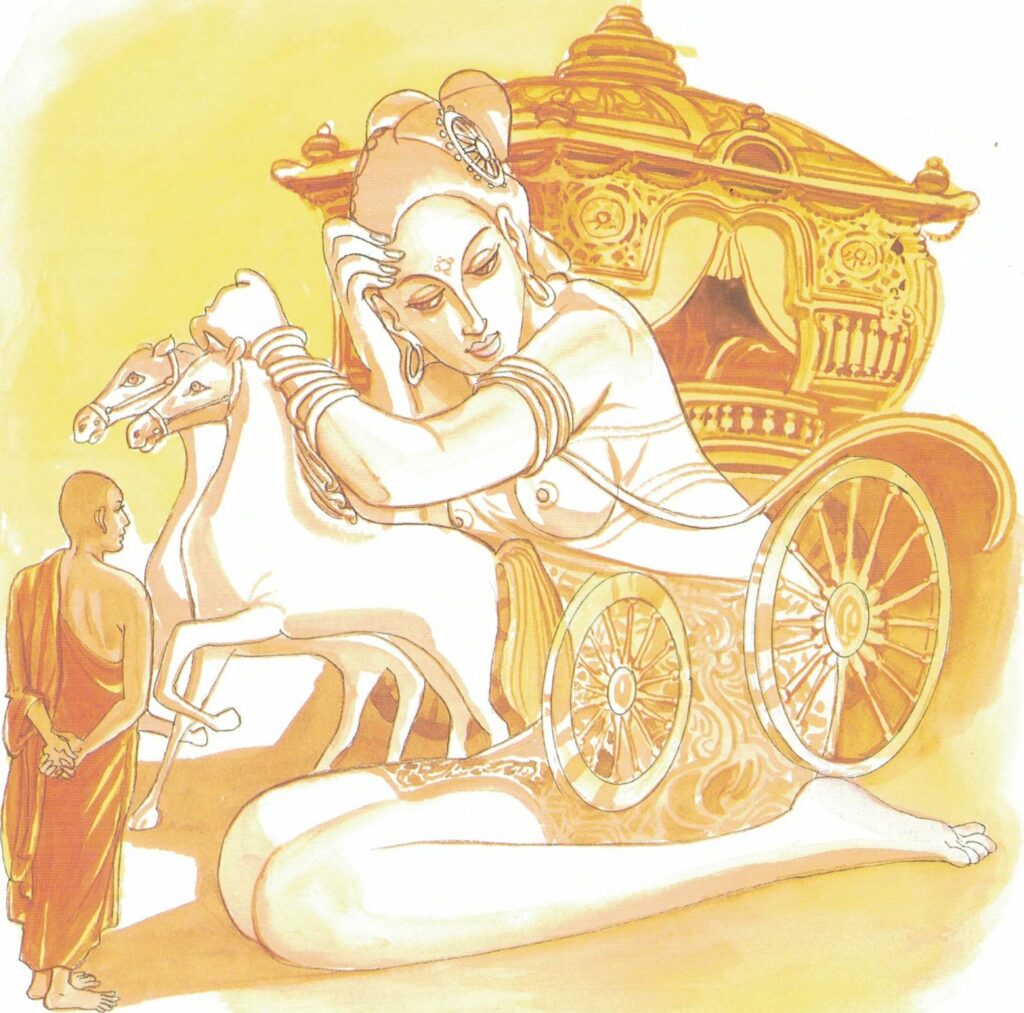 The Story of Prince Abhaya
While residing at the Veluvana Monastery, the Buddha spoke this verse, with reference to Prince Abhaya (Abhayarājakumāra).
The story goes that Prince Abhaya suppressed an uprising on the frontier, which so pleased his father Bimbisāra that when the prince returned, the king gave him an entertainment woman girl skilled in dancing and singing, and conferred the kingdom on him for seven days. Accordingly for seven days the prince did not leave the house, but remained within enjoying the splendour of majesty. On the eighth day he went to the bathing-place on the river and bathed. Having so done, he entered his pleasure garden, sat down, like Santati the king's minister, and watched that woman dance and sing. However, as soon as she began to dance and sing, at that moment, just as in the case of the entertainment woman belonging to Santati the king's minister, sharp pains arose within her, and then and there she died.
Prince Abhaya was overwhelmed with sorrow at the death of this woman. Immediately the thought came to him, "With the single exception of the Buddha, there is no one who can extinguish my sorrow." So he approached the Buddha and said to him, "Venerable, please extinguish my sorrow." The Buddha comforted him by saying, "Prince, in the round of existences without conceivable beginning, there is no counting the number of times this woman has died in this manner, and no measuring the tears you have shed as you have wept over her." Observing that the prince's grief was assuaged by the lesson, he said, "Prince, do not grieve: only immature folk allow themselves to sink in the sea of grief."
Bhagavad Gita 2.25-2.27
This self is unknowable by the senses, unthinkable by the mind, and is not subject to any kind of change. Knowing this, you should not grieve. (2.25)
O mighty-armed Arjuna! Even if you think that Self is constantly born and dies, you should not grieve in this way. (2.26)
For to that which is born, death is certain, and to that which is dead, birth is certain. Therefore you should not grieve over the unavoidable. (2.27)
Explanatory Translation (Verse 171)
yattha bālā visīdanti vijānataṃ saṅgo natthi cittaṃ
rājarathūpamaṃ imaṃ lokaṃ etha passatha
yattha: wherein: bālā: the immature; visīdanti: sink and perish; vijānataṃ [vijānata]: to those who are aware of reality; saṅgo [saṅga]: clinging; natthi. there is not;cittaṃ [citta]: (like a) well decked; rājarathūpamaṃ [rājarathūpama]: royal carriage; imaṃ lokaṃ [loka]: this world; etha: come; passatha: see
The spiritually immature ones are fully engrossed in this world, the glamour of which is deceptively like the decoration of a royal carriage. Those who are aware of reality do not cling to those worldly things. See the world as it really is.
Commentary and exegetical material (Verse 171)
vijānataṃ: those who see reality. In Buddhism, the Dhamma, the Teaching of the Buddha, is the true reality. The original Pāli term for Buddhism is Dhamma, which, literally, means that which upholds or sustains him who acts in conformity with its principles and thus prevents him from falling into woeful states. There is no proper English equivalent that exactly conveys the meaning of the Pāli term. The Dhamma is that which really is. It is the doctrine of reality. It is a means of deliverance from suffering and deliverance itself. Whether the Buddhas arise or not the Dhamma exists from all eternity. It is a Buddha that realizes this Dhamma, which ever lies hidden from the ignorant eyes of men, until the Buddha comes and compassionately reveals it to the world.
"Whether the Buddhas appear or not, O monks, it remains a fact, an established principle, a natural law that all conditioned things are transient (anicca), sorrowful (dukkha) and that everything is soulless (anatta). This fact the Tathāgata realizes, understands and when He has realized and understood it, announces, teaches, proclaims, establishes, discloses, analyses, and makes it clear, that all conditioned things are transient, sorrowful, and that everything is soulless."
In the text Majjhima Nikāya the Buddha says: "Only one thing does the Buddha teach: suffering and the cessation of suffering." This is the doctrine of reality.
Those who are fully capable of seeing this reality are described as vijānataṃ–'The true awareness of reality'. To be a seer of reality, effort and discipline are necessary. Discipline regulates words and deeds: concentration controls the mind: but it is insight (pañña), the third and final stage, that enables the aspirant to sainthood to eradicate wholly the defilements inhibited by samādhi.
At the outset he cultivates purity of vision (diṭṭhi visuddhi) in order to see things as they truly are. With a tranquil mind he analyses and examines this so-called being. This searching examination shows what he has called 'I' personality, to be merely an impersonal mass of transitory phenomena which have been personalized. When the true nature of the phenomena is seen, this phenomenal experience is depersonalized. This is the cessation of being a self. This is the cessation of suffering, birth and death. This is the experience of Nibbāna.