Thirumalisai Alwar descended onto Earth in the Amsha of Sudarshana chakram. He was born few years before the start of Kaliyuga, i.e; in Dwapara yuga itself.
There was a sage called Bhargava who was doing severe penance for Lord Vishnu. Indra (king of heaven) sent an apsara by name Kanakangi to disturb his penance (this is usual in any story). Seeing her beauty, sage got attracted to her, left his penance and went behind her. After some time, he will come to know that she has become pregnant. He became upset thinking that even though he performed penance for 100s of years, he left it just because of attraction to mundane beauty.He left her without even considering that she was pregnant.
Because she is an Apsara, she will not have attachments to anything. Apsaras will always be eager to go back to their planet. She was 7-8 months pregnant by then. She purposely gave birth to his son earlier in order to avoid the burden of bondage. She left him in a bamboo bush and went back to her planet.
Just see, how sad that is. The boy took birth on Earth. There is nothing to take care of him. Bamboo bushes have only insects, worms that come and bite him. The infant was born with the Amsha of Sudarshana Chakra, but he doesn't have that consciousness. His body parts are also not completely formed and he was covered in blood. So insects were biting him. He keeps crying.
When someone gets pained or hurt, they would cry for mother. But if mother herself cheated, then who would they cry for?
Then Lord Vishnu and Mother Lakshmi in Vaikuntha became sympathetic. Because the infant was Sudarshana chakra, immediately They (Lord and Mother) came down to Earth. They came and touched him once. As soon as They touched him, his body became fully formed and started shining with effulgence. He keeps looking at them. But he doesn't know who They are because he was born as human. Even though he was just an infant, he became instantly attached to Their effulgence and was immersed in devotion looking at Them. That's why he was called Bhakti sarudu.
Lord blessed him with limbs. He started crying for milk. But who would give him milk? Then Mother Lakshmi has made an arrangement. There was a honeycomb on a tree top and there was a leakage in the honeycomb through which honey was dripping and falling right into his mouth.
He started to lick that honey and grew little more in time. As soon as he came onto Earth, he had no mother or father and troubles started. There won't be anyone who doesn't curse sage Bhargava and Kanakangi upon hearing the story of Thirumalisai Alwar. Even though they have high credentials as a sage and an apsara, they acquired bad remarks in history.
Once a man whose occupation is to make baskets from bamboo went to that place to cut bamboo sticks. He saw the child and felt happy to see him shining with beautiful effulgence. He considered the boy as a gift from God and took him home. His wife and he started to foster him. But the interesting thing is that he never cried as he was touched by Lord Vishnu and Mother Lakshmi when he was an infant.
Also he used to smile within himself in transcendental ecstasy. He used to not eat food. But he was in perfect health. When we fall sick, we become healthy again by reading Sudarshana sthavam. This boy being Sudarshana chakra himself had no issues ever with health. His parents did not understand about this peculiar thing. Knowing this, 1000s of people used to visit him. Slowly he grew into a 3-4 years child.
Everyone wondered "He doesn't eat anything. How is he surviving? How is he staying healthy?"
Meanwhile, one old couple were passing through that place while they were going to pilgrimage. They heard about him and visited his house to take a look at him. They considered him to be karanajanmudu (born for a purpose). They worshiped Perumal (worshiping deity), offered milk and gave that prasadam to the boy. Then the boy drank the milk. Then his parents understood, "Our goodness, we don't do puja and all in our house. You people have done worship to Lord and gave the prasadam milk to our child. He drank it."
They requested the couple to stay at their place and give their son prasadam milk. They replied that the boy was karanajanmudu (born for a purpose) and they are fortunate to feed him. They agreed to stay there and brought him up.
When the boy grew up into a young man, once he asked the old couple, "Because you stayed at our place for my sake, please ask me for a boon. I would grant you whatever you ask for." The couple replied, "Dear son, we have just one wish. But it is not possible to get it fulfilled at our age." He said, "No problem. Please tell me your wish."
The old man replied, "Bhakti sara, we always wanted to have one son. But we never had children. We kept travelling to pilgrimages. Now we are old (I am 80 and my wife is 70). How can we have children now?"
He (Thirumlisai Alwar) smiled and sang one pashuram on Lord Vishnu. He touched them after singing pashuram. Immediately they both turned into young people. Then they had a son in time. They named him Kanikannan (meaning small kannayya). That child also used to be with Bhakti saru since his childhood. Gradually he grew up and became a disciple of Bhakti saru. After few years his parents passed away. After the demise of his parents, the child used to follow Bhakti Saru.
Yathothkari Temple near Kanchipuram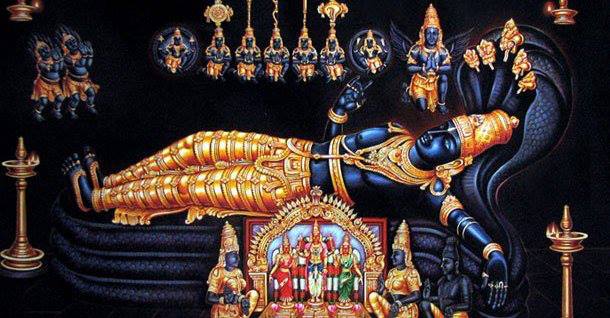 Bhakti saru goes on a country tour because the purpose that he was born is to spread Bhakti literature. He keeps going to many places and singing amazing Pashurams. His disciple used to follow him whereever he goes. Then one incident happened. I told you in earlier article about Yathothkari temple near Kanchipuram. At that time, it still did not get the name Yathothkari temple.
They went to that temple and stayed there for sometime. One old lady used to visit them everyday and render such services like cleaning the place, applying floral designs on ground etc.. One day he called that old lady and told her that he was pleased with her service. He asked her to wish for a boon which he would fulfill it.
She replied with shy, "Dear sir, once you made the parents of Kanikannan as young people. Could you please make me also like that because I suffered only troubles since childhood. I don't have parents, siblings, children or anyone.."
"I became old like this living alone. There is no pleasure in my life. I want to become young again."
Bhakti saru considered it to be Lord's will. He made her sit, sang Narayana Pashuram and prayed to Lord to make her into a young lady. Immediately she becomes young and a very beautiful lady.
At that time Pallava king was passing by. He sees her and gets attracted to her for her beauty. He marries her and makes her queen of his kingdom. Few years passed by. The king was getting old but the queen remained just as young without getting even slightly old. He becomes skeptical and asks her about the secret of her being young and healthy always. She says, "It's not my greatness. There is a great personality called Bhakti Saru who is equivalent to Lord Vishnu Himself. I became young and beautiful like this when he sang just one Pashuram."
The king decides to call him and make him sing for his sake also. He orders his soldiers to bring him. But the queen says that it's wrong to forcefully bring a great personality for a selfish desire. She suggested to bring Kanikannan who was a disciple of Bhakti saru and who also knows Pashurams.
The king ordered his soldiers to bring the disciple then. They brought him. The king asked him to sing a pashuram and make him young. The disciple replied, "I am not going to do like that. Whatever I sing would be only to glorify Lord Narahari."
As Annamaya sang in a keerthana "Narahari keerthana nanina jihva vorula nudimpa nopadu jihva.."
He says I won't do keerthan on anyone except Lord Vishnu.
The king became angry and said, "Those who are not useful for me should not stay in the kingdom. Hence I order you be banished from my kingdom." Kanikannan accepts and goes to his place to pack his items. He tells his Guru, "Guruji, I have been banished from this kingdom. Hence I am leaving Kanchipuram."
Immediately his Guru says, "Dear son, What shall I do in this kingdom when you are leaving? I too will leave with you". Saying this they both packed.
Before leaving the place, they went to Lord's deity in the temple and said, "Dear Lord! Looks like our debt is completed with today. We are leaving this place and kingdom. Take care."
Then an incident happened which remained as one amazing incident in the entire history of spirituality. Immediately Lord raised from the deity and said, "Why should I stay here without you both". Saying this Lord picked up Adisesha as a rolled up mat and went along with Guru and disciple.
They stayed at one garden in the outskirts of Kanchipuram. When Lord left the place, rest of the demigods in the temple also left and went with the Lord. That night the whole kingdom became like a cemetery.
When the king inquired what happened, people told him, "Do you have mind at all? How could you send such a great personality out of the kingdom?"
Then King immediately ran to the outskirts garden and fell at their feet. Then Lord forgave him and came back to the temple along with Guru and disciple.
Interestingly after returning, Lord said, "Dear son Bhakti sara, because future generations won't believe that I (My idol) actually came along with you, I shall do one thing."
"Usually I lie down taking support on My right arm. After returning to the temple I shall lie down on the opposite side. That is the proof of My grace upon you for future generations."
"Also I shall be called Yathoktakari from now on. Yathothkari means Narayana who listens to his devotee. I shall definitely listen to those devotees who prays Me with devotion."
If you go to the temple in Kanchipuram, even today you will find that Lord is lying on the left side contrary to all other temples. The place where they stayed is called ORU IRAVU IRUKKAI. People fond of Kanchi Paramacharya Swami should visit this place at least once in their life. It is present far in the outskirts of Kanchi.
Sarangapani Deity in Kumbakonam
Because Lord reciprocated with him, we might think that Bhakti saru's life must have been like a cake walk. But it's not. He faced so many troubles in this Kaliyuga. Most importantly caste is the biggest enemy in Kaliyuga. Because of that caste thing and Royal punishments he faced so many troubles.
Once when he visited Sarangapani temple in Kumbakonam, a fire sacrifice was being done in front of the Lord. When Bhakti saru went there, the main priest went to him and very respectfully worshiped him first.
The remaining priests became angry that main priest is worshiping a Sudra (person belonging to labor class), because everyone thinks that he was born in a family whose occupation is to make bamboo baskets. No one knows the secret of his birth. Still, caste remained as a crazy thing for people in this Kaliyuga.
The remaining priests wanted to leave as he is first worshiped. Immediately he said, "No, no, you all please stay here. You don't have to leave because of me. I shall go." He was about to leave.
Immediately Sarangapani deity started to raise up in order to go along with him.
Then Alwar said, "Lord, You please don't get up. I too will stay here". Saying this he sat there.
That Sarangapani deity stopped in the middle while getting up.
That's why that deity is called Uddana Shayana Murti even now.
If you go to Kumbakonam, you can see the Lord in Uddana Shayana position as if he raised a little bit.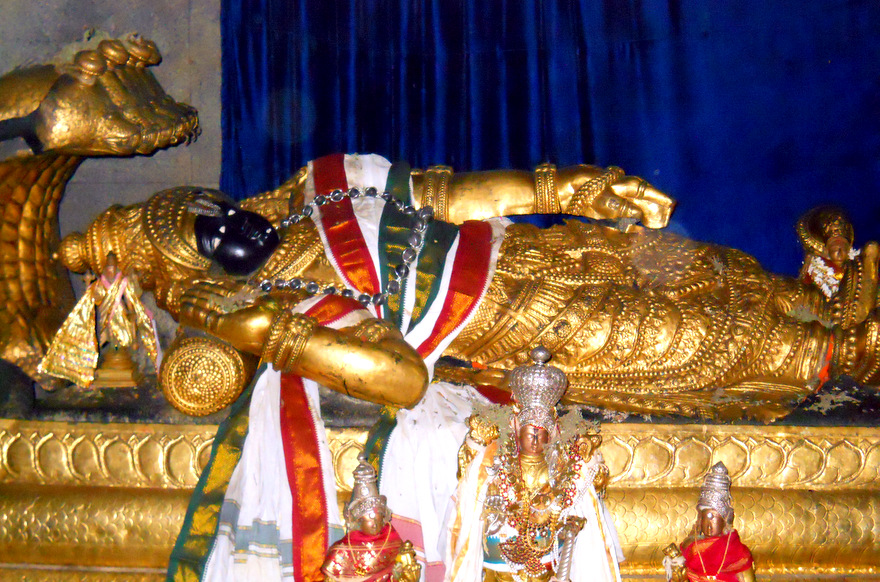 Source: Tearful story of Thirumalisai Alwar – Nanduri Srinivas