While climbing Tirumala mountain on foot through the path of Alipiri, we see idols of few great personalities installed in mantapams (pandals) in the top mountain. Have you ever observed 12 such mantapams present there? If you wonder who they are.. They are famously called Pannidhar Alwar (12 Alwars).
Alwars are those who are merged in Lord Vishnu's devotion and those who also immerse us in Lord's devotion. Starting now, we shall discuss the histories of all those Alwars. After them, there were Acharyas like Natha Muni, Ramanujacharya etc..
In present time, there are Acharyas like Chinna Jeeyar Swami, Sri Bhashyam Appalacharya garu etc.. who dedicated their lives for the protection and expansion of Vaishnava Dharma.
Starting today, we shall discuss about all their life stories.
If you could remember and contemplate on the life stories of these Alwars in this Dhanurmasam, Lord Vishnu will become extremely pleased, because He is so fond of His pure devotees.
Let's see who these Alwars are and why did they take birth. We all know that Dwapara yuga lasted for 864,000 years. The influence of Kali started during the last few years of Dwapara yuga itself, even before the actual commencement of Kaliyuga. We know the story of Duryodhana who took birth with the influence of Kali. At that time Lord Vishnu called 12 of His weapons and powers. When they inquired the reason for calling them, the Lord said, "Kaliyuga is about to start and it's going to be filled with vices. I need your help." The weapons immediately replied, "Oh Lord! We shall go to Earth and kill all those who deviate from dharma. You please stay here only. We shall establish Dharma and come back. "
Then Lord smilingly replied, "Dear sons, it's not possible to kill like that in Kaliyuga. Not even one person would remain if you start chopping off people who have vices in Kaliyuga."
Isn't it? If you give it a little thought you would understand. In Dwapara yuga only Duryodhana had Ahankara (false ego). So he was killed. Drutarashtra had Moha (attachment). Someone like Keechaka had Kama (lust). Sakuni had cheating nature. It was just needed to kill few people as they had something like one bad quality per person. But if you see in kaliyuga, tell me who has no bad qualities? Do you (or) I not have any bad qualities? Everyone of us have bad qualities. We are not like Kanchi Paramacharya or Ramana maharshi. So, who among us would remain if weapons come and start killing?
Then they (weapons) got puzzled and asked the Lord, "Lord! You please tell us our duty then?"
Lord replied, "Your Amshas should take birth on earth in the form of Alwars and preach devotion."
"Also, give amazing Dravida literature to the people, upon reading which both internal and external enemies (like Arishadvargas etc..) should be killed."
Commanding this, Lord sent them to the Earth. They are 12 in total (as shown in the picture).

Among these there are 10 important Alwars. Two more are associated with the former 10.
They incarnated on Earth and gave amazing Keerthans. Also, few of them showed their lives as examples to kill each of the Arishadvargas present in us (both internal and external enemies).
The 4000 keerthnas composed by them is called "Nalayira Divya Prabandham". Another amazing thing they did was: There are 108 Divya Tirupatis, out of which 106 are visible to us and two more are present in another plane non-visible to us. These Alwars have sanctified these 108 holy places and reactivated them.
We shall talk about the history of those Alwars.
Mudhal Alwars
The very first 3 Alwars among them are called Mudhal Alwars. They were born even before the commencement of kaliyuga, that is in Dwapara yuga itself.
The very first is Poigai Alwar. He was born with the Amsha of Lord's Conch shell, Panchajanya. There is a holy place called Yadhothakari (Lord Vishnu's temple), 1 km away from Kanchi Varadaraja temple. It's one amazing and interesting temple. We shall read about it when we see the life story of Thirumalisai Alvar. He was born in a golden lotus flower in a pond present at yadhothakari temple. He was named Poigai for the same reason (poigai means pond in Tamil). He was called Kasara yogi/Saro yogi in Sanskrit as he was born in a pond.
Here is the picture of the same pond where that great personality took birth.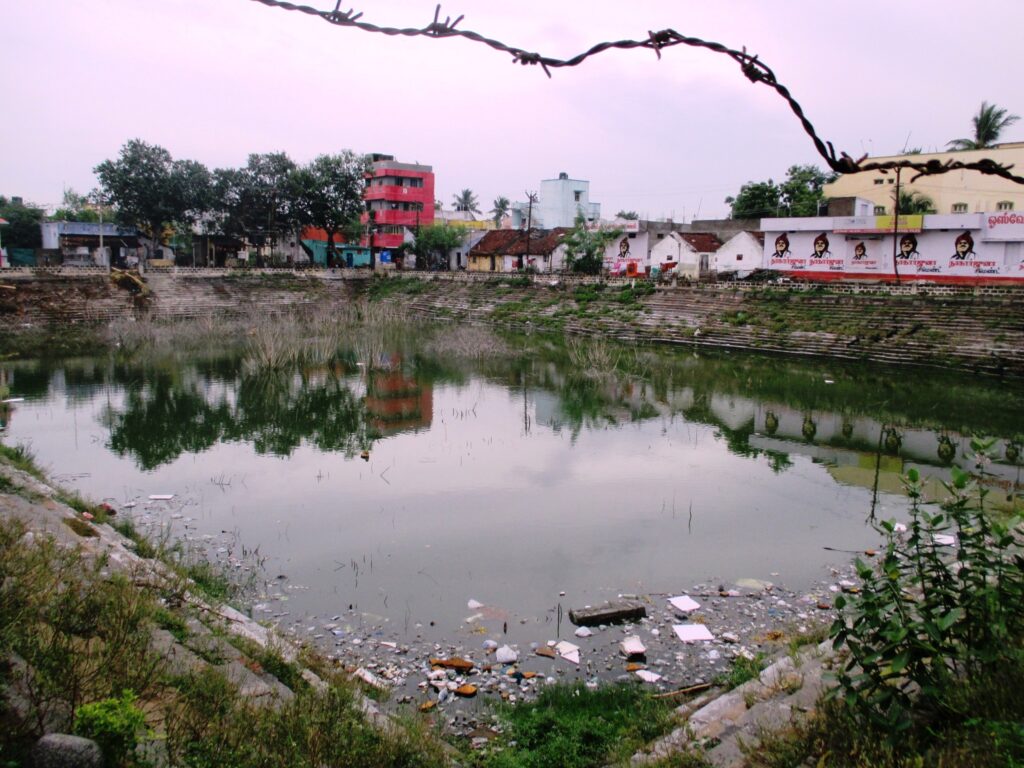 Our hearts get pained upon seeing this. We are maintaining our nature in such an awful condition. People are throwing garbage there. And it is the place where a very great personality once took birth. We shall wallow in sorrow if we see these places.
Now let us move on to 2nd Alwar whose name is Poothathu Alwar. He was born with the Amsha of Lord's club called Kaumodaki. He was born at Sthala sayana Perumal temple which is at a walkable distance from Sea shore temple in Mahabalipuram. Sthala sayana Perumal temple is also one of the 108 Divya Tirupatis. He was born in a Sanna jaji (a type of flower) bush present by the side of that temple. That's the reason why he was named Poothathu Alwar. These 3 Alwars are Ayonijas (not born from the womb).
3rd Alwar is called Pey Alwar. He was born with the Amsha of Lord's sword Nandakam. It is little difficult to find his birthplace. There is a famous temple called Kalapaleeshwar swamy temple in Mylarpur near Chennai. There is a temple called Madhava Perumal Alayam near to it (Kapaleeshwar temple). There is a well beside it. He was born in that well. It is present at a few distance away from the temple and is in a state of repair. If you happen to go to Mylapur, please do visit this place. There is an idol installed in a small mandapam and there is well.
He has extreme devotion towards Lord since his childhood. He used to incessantly cry for the Lord. Seeing him cry for the Lord like a madman, people mistook him to be possessed by some evil spirit or to have gone insane. So they called him Pey Alwar.
Vishwaksena descended from Vaikuntha and performed Pancha samskaras for these 3 Alwars. Vishwaksena is the army-chief of Lord Vishnu. There is something called Pancha samskaras for every Vaishnava. I shall explain what that is when we talk about another Alwar. By doing Pancha samskaras, mind will automatically turn towards Lord Vishnu. Pancha samskaras can be done to both men and women. They are performed by Vishwaksena for these 3 Alwars.
Lord sent them (Mudhal Alwars) to Earth to write Dravida literature and keerthans. But they always used to be in devotional trance being connected with the Lord. In order to turn them towards world and get them to write, Lord created an incident and brought them together at one place.
In Kaliyuga "selfishness" is the most horrible thing. If you see any horrible incident, it is because of selfishness in the background. Lord created an incident to show us how to conquer selfishness.
The 3 Alwars were born at different places. Once they all started for pilgrimage (obviously separately). By the time Poigai Alwar reached a place, there was a heavy storm and trees were falling over. He became worried. There was one house nearby. He knocked at the door and asked the owner, "Could I stay here for this night?" The owner smiled and replied, "There is one small room at the end. You can sleep there. But the room has a space just enough for one person to sleep."
Poigai Alwar replied, "Ok, Sir. Thank you". He went and slept in the room remembering Lord.
Meanwhile Poothathu Alwar came to the same place, went to the room and asked "Sir, I am getting drenched in rain. Can I come inside?"
Poigai Alwar replied, "There is space just for one person to sleep in this room. But you may please come inside, we both could sit and sing glories of the Lord." They both sat in that room.
Meanwhile Pey Alwar comes to the same place. He asked the same question if he could stay there. Then the remaining two Alwars replied, "There is space for three people to stand in this room. Please come inside. We three can share by standing and can together sing glories of the Lord."
While the three of them were standing and remembering the glories of the Lord, suddenly they heard another voice from outside..
"I am shivering in this cold. Can I come inside?"
All three of them unanimously replied, "Because you have to come inside, I will come out." All three of them immediately came out at once.
Look at their selfless act. Then they saw Lord Vishnu appear in front of them in the form of Trivikrama (expanded throughout the whole world). The lesson we should learn from this incident is "Selflessness".
Wee see in General compartments during train journeys, a person would spread cloth in the entire seat. There won't be anyone beside him. If someone goes and asks him if there is anyone else in the seat, he would reply that they have gone to the bathroom and would return. But no one comes. Finally, after 15 mins of train start, he would wrap the cloth, place it under his head and sleep nicely. That selfishness is very prevalent in Kaliyuga. Any horrible act, be it murder or anything is done because of selfishness in a person.
Lord explained us through this sensitive incident that if we leave selfishness, we would be able to see Lord everywhere.
Then the three Alwars glorified Lord with 300 Pasuras and merged into the Lord.This incident happened at a place called Thirukoilure. You would touch it when you travel from Bangalore to Pondicherry. There is a Vamana avatar temple of Lord Vishnu there (In fact there are very few Vamana avatara temples on Earth).
At first they (3 Alwars) thought it was a raised flat terrace, but actually it was not. When Lord appeared they saw it as a temple and merged into the Lord there.
By that time Kaliyuga was commencing. Then Sudarshana chakram told to Lord, "Lord, as the three of them have already gone, let me go now."
Lord sadly replied, "Dear son! It is good that you want to go. But there is a problem. As Kaliyuga is commencing, people won't have mercy on anyone in that yuga."
"As soon as you take birth on Earth you will not remember that you belong to Vaikuntha."
"If you are able to remember that you are Sudarshana chakra you will be able to save yourself. But you won't have that remembrance."
"You will take birth as a normal human. How many troubles would you face? Me and Your mother Lakshmi will be pained."
Then Sudarshana replies, "O Lord, when You and Mother Lakshmi are there, why do we have to face troubles. I will go happily and spread Your devotion to the whole world."
Sudarshana really came down in the form of human as Thirumalisai Alwar.
He faced so many troubles. We shall talk about him in another video.
From here, it will be very exciting to learn about the remaining Alwars and their miracles, because each one of them have an interesting story.
In the next article, we shall read about Thirumalisai Alwar.