Pali text, illustration and English translation of Dhammapada verse 421:
yassa pure ca pacchā ca majjhe ca natthi kiñcanaṃ |
akiñcanaṃ anādānaṃ tamahaṃ brūmi brāhmaṇaṃ || 421 ||
421. That one who's free of everything that's past, that's present, yet to be, who nothing owns, who's unattached, that one I call a Brahmin True.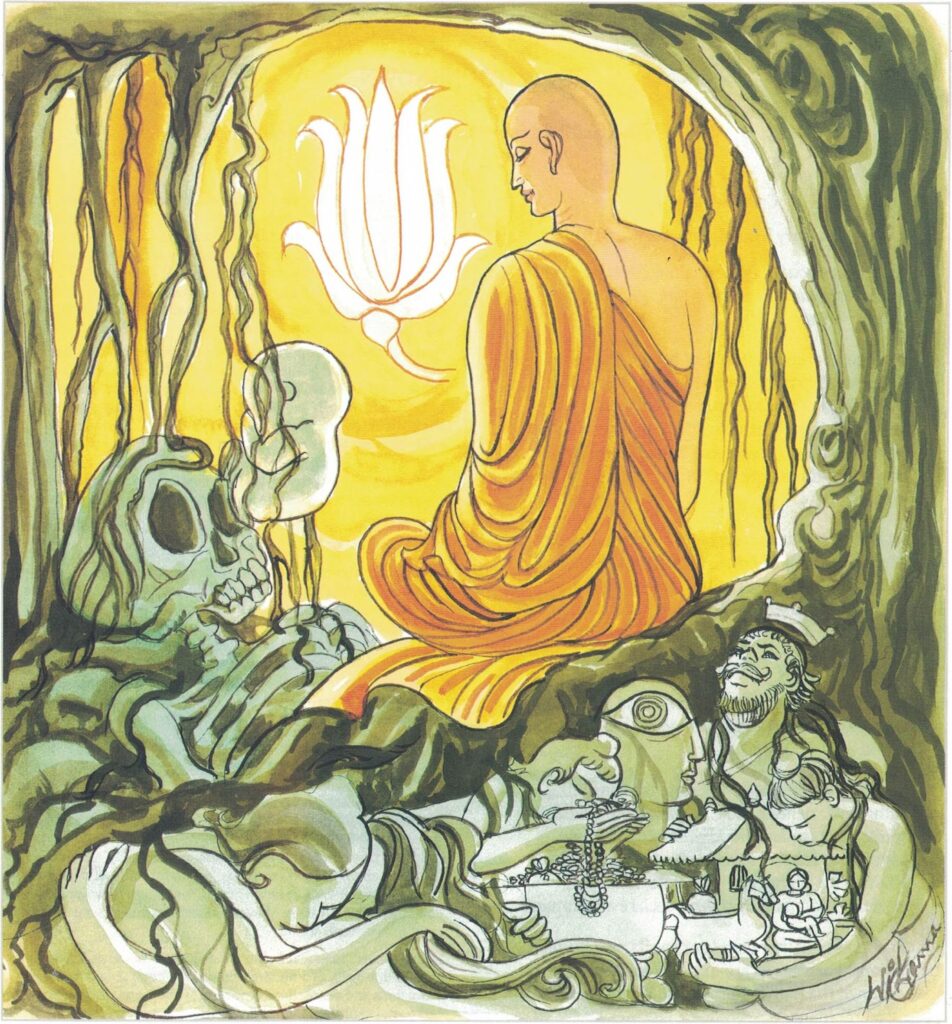 The Story of a Husband and Wife
For one day, while she was living in the world, her husband Visākhā, a lay disciple, heard the Buddha preach the Dhamma and attained the fruit of the third path. Thereupon he thought to himself, "I must now turn over all of my property to Dhammadinnā." Now it had previously been his custom on returning home, in case he saw Dhammadinnā looking out of the window, to smile pleasantly at her. But on this particular day, although she was standing at the window, he passed by without so much as looking at her. "What can this mean?" thought she. "Never mind, when it is mealtime, I shall find out." So when meal-time came, she offered him the usual portion of boiled rice. Now on previous days it had been his custom to say, "Come, let us eat together." But on this particular day he ate in silence, uttering not a word. "He must be angry about something," thought Dhammadinnā. After the meal Visākhā settled himself in a comfortable place, and summoning Dhammadinnā to his side, said to her, "Dhammadinnā, all the wealth that is in this house is yours. Take it!" Thought Dhammadinnā, "Persons who are angry do not offer their property and say, 'Take it!' What can this mean?" After a time, however, she said to her husband, "But, husband, what about you?" "From this day forth, I shall engage no more in worldly affairs." 'Who will accept the saliva you have rejected? In that case permit me also to become a nun." "Very well, dear wife," replied Visākhā, giving her the desired permission. And with rich offerings he escorted her to the nuns' convent and had her admitted to the Sangha. After she had made her full profession she was known as the nun Dhammadinnā. Dhammadinnā yearned for the life of solitude and so accompanied the nuns to the country. Residing there, in no long time she attained arahatship together with the supernatural faculties. Thereupon she thought to herself, "Now, by reason of me, my kinsfolk will perform works of merit." Accordingly she returned once more to Rājagaha. When the lay disciple Visākhā heard that she had returned, he thought to himself, 'What can be her reason for returning?" And going to the nuns' convent and seeing the nun, his former wife, he saluted her and seated himself respectfully on one side. Thought he, "It would be highly improper for me to say to her, 'noble sister, pray are you discontented?' I will therefore ask her this question." So he asked her a question about the path of conversion, and she immediately answered it correctly. Continuing this line of questioning, the lay disciple asked about the remaining paths also. He did not stop, however, at this point, but continuing his questions, asked her about arahatship. 'Wonderful, brother Visākhā!" exclaimed Dhammadinnā. "But if you desire to know about arahatship, you should approach the Buddha and ask him this question." Visākhā saluted the nun his former wife, and rising from his seat and going to the Buddha, told the Buddha about their talk and conversation. Said the Buddha, "What my daughter Dhammadinnā said was well said. In answering this question I also should answer it as follows." Then he gave the stanza.
Explanatory Translation (Verse 421)
Yassa pure ca pacchā ca majjhe ca kiñcanaṃ natthi
akiñcanaṃ anādānaṃ taṃ ahaṃ brāhmaṇaṃ brūmi
yassa: for whom; pure ca: of the past; pacchāca: of the future; majjheca: of the present; kiñcanaṃ natthi: there are no blemishes; akiñcanaṃ [akiñcana]: free of all defilements; anādānam: with no tendency to grasp;taṃ: him; ahaṃ: I; brāhmaṇaṃ brūmi: declare a brāhmaṇa
For him, nothing, no blemish remains from the past, present or the future. He has no defilements. He has no clinging or grasping. That person, I describe as a brāhmaṇa.
Commentary and exegetical material (Verse 421)
The story of Nun Dhammadinnā: During this dispensation, she figured as the wife of Visāka the treasurer at Rājagaha. Visāka was a friend of Bimbisāra, the king devoted to the Buddha. One day Visāka visited the Buddha in the company of King Bimbisāra. He listened to a sermon and became a budding saint (sotāpanna). On his return, he was a different individual. Strange did he appear to his wife. She inquired for the reasons. Then he confessed that his mind had undergone a transformation to something "rich and strange" Dhammadinnā promptly asked for permission to go to Buddha. Visāka could not but consent. She was sent in a golden palanquin. She was ordained as a nun. She felt that if she were to be unsuccessful in the life of Bhikkhunī then her purpose of joining the noble Sangha was in vain. She repaired to a solitary place and strove with might and main to obtain the fruit of arahatship. Her past resolution with good kamma had the desired effect. She became an arahat. As such she visited the home town of Rājagaha so that she could be of service to her fellow creatures who knew her. The erstwhile husband did not understand. He thought that her mission was a failure and that she was returning empty handed. The husband plied her with questions and she deftly answered them. Finally he asked her about Nibbāna. Here he was out of his depth. He was not so advanced. He was at sea with her answers. So she referred him to the Buddha who not only concurred but also extolled Dhammadinnā for her learning the lesser Vedalla Sutta in the Majjhima Nikāya. Not long afterwards the Buddha, addressing the monks and laity, declared that Venerable Dhammadinnā was undoubtedly the foremost in expounding the Dhamma among the female disciples of the noble Sangha.