Pali text, illustration and English translation of Dhammapada verse 400:
akkodhanaṃ vatavantaṃ sīlavantaṃ anussutaṃ |
dantaṃ antimasārīraṃ tamahaṃ brūmi brāhmaṇaṃ || 400 ||
400. Who's angerless and dutiful, of virtue full and free of lust, who's tamed, to final body come, that one I call a Brahmin True.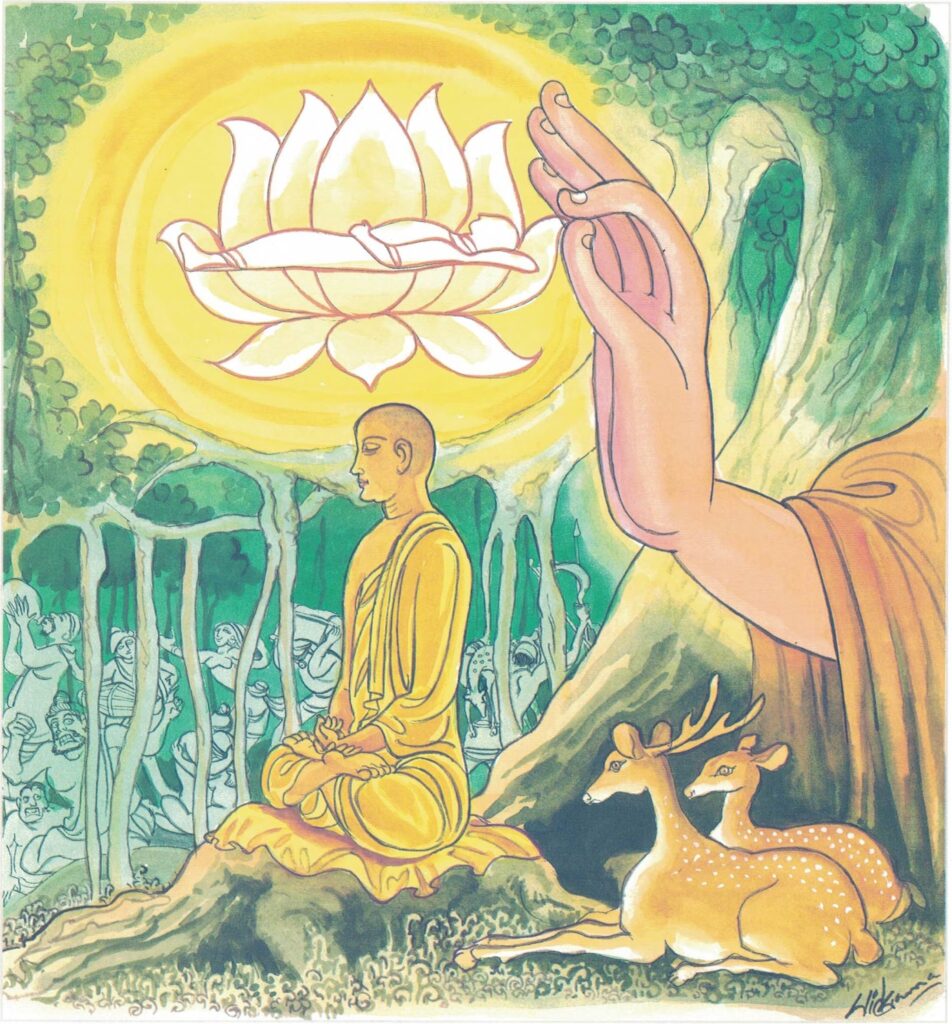 The Story of the Patient Subduing the Insolent
At that time, so the story goes, the Venerable Sāriputta, accompanied by five hundred monks, while making his round for alms in the village of Nālaka, came to the door of his mother's house. His mother provided him with a seat, and as she served him with food, abused him roundly, saying, "Ho, eater of leavings! Failing to get leavings of sour rice-gruel, you therefore go from house to house among strangers, licking off the back of a ladle such sour rice-gruel as clings to it! And for this you renounced eighty billion of wealth and became a monk! You have ruined me! Eat now!" Likewise when she gave food to the monks, she said, "So you are the men who have made my son your own page-boy! Eat now!" The Venerable took the food and returned to the monastery.
Venerable Rāhula invited the Buddha to eat. Said the Buddha, "Rāhula, where did you go?" "To the village where my grandmother lives, Venerable." "And what did your grandmother say to your preceptor?" "Venerable, my grandmother abused my preceptor roundly." "What did she say?" "This and that, Venerable." "And what reply did your preceptor make?" "He made no reply, Venerable."
When the monks heard this, they began to talk about it in the hall of truth. Said they, "Brethren, how wonderful are the qualities of the Venerable Sāriputta! Even when his mother abused him in this fashion, he never got a bit angry." The Buddha drew near and asked the monks, "Monks, what is the subject that engages your attention now as you sit here all gathered together?" "Such and such." Then said the Buddha, "Monks, they that have rid themselves of the evil passions are free from anger."
Explanatory Translation (Verse 400)
akkodhanaṃ vatavantaṃ sīlavantaṃ anussutaṃ
dantaṃ antimasārīraṃ taṃ ahaṃ brāhmaṇaṃ brūmi
akkodhanaṃ [akkodhana]: free of anger; vatavantaṃ [vatavanta]: mindful of his duties and observances; sīlavantaṃ [sīlavanta]: disciplined in terms of virtuous behaviour; anussutaṃ with no craving flowing out; dantaṃ [danta]: restrained; antimasārīraṃ [antimasārīra]: inhabiting the final body; taṃ: him; ahaṃ: I; brāhmanaṃ [brāhmana]: a brāhmin; brūmi: call
He is free of anger. He carefully performs his religious duties and is mindful of the observances. He is disciplined in terms of virtuous behaviour. He is restrained. This is the final body he will occupy as he has ended his cycle of births. I call that person a brāhmaṇa.
Commentary and exegetical material (Verse 400)
The story of Sāriputta: A name that inspires many in the Buddhist World is Sāriputta. Sāriputta was the foremost of the two chief disciples of the Blessed One. If Ānanda, the constant attendant on the Buddha, is called the Treasurer of the Dhamma, as he was well known for retentiveness of memory, so Sāriputta is known as the Commanderin-Chief of the Dhamma. In teaching and for wisdom he was second only to the Buddha.
Often he was prevailed upon to preach whenever the Blessed One required rest. Once, a brāhmin gave him a severe blow to test his capacity for patience. He was unmoved. Then the brāhmin asked for forgiveness which was readily given. Thereafter the brāhmin wished him to partake the midday meal, which offer was also readily accepted. Could such conduct be equalled save by the Blessed One Himself? His attitude to a seven-year-old sāmanera is most touching. It speaks volumes for his modesty. Once he was going about with a corner of his undergarment trailing contrary to Vinaya rules. The sāmanera pointed this out to him. He promptly thanked him in salutation and put the matter right. He had a special regard for Rāhula and his mother Rāhulamātā. When the latter was suffering from flatulence, he was responsible for getting a particular mango juice to serve as a medicine. When she was suffering from some stomach ailment he obtained from king Pasenadi some rice mixed with ghee and flavoured with red fish to serve as a cure.
When Anāthapiṇḍika the treasurer lay dying, he visited him with Ānanda and preached to him the sermon called Anāthapiṇḍikovāda Sutta.
He was named after his mother, Sāri the Brahamin lady. It was written that the two Chief Disciples should predecease the Buddha. Following custom Sāriputta went to his mother's residence at Nālagāmaka (Nalanda) after paying obeisance to the Buddha. It was on this occasion he is said to have remarked that his mortal eyes would never behold the august feet of his Master again. Samsaric existence was over. At the sick bed, his brother Cunda Samanuddesa attended on him.
It was on this last visit that the conversion of his diehard Hindu mother took place when the four guardian deities of the deva realm Sakka and Mahā Brahma each in turn, flooding the place with increasing brilliance of light, visited him on his sick bed.