Pali text, illustration and English translation of Dhammapada verse 331-333:
atthamhi jātamhi sukhā sahāyā tuṭṭhī sukhā yā itarītarena |
puññaṃ sukhaṃ jīvitasaṅkhayamhi sabbassa dukkhassa sukhaṃ pahāṇaṃ || 331 ||
sukhā matteyyatā loke atho petteyyatā sukhā |
sukhā sāmaññatā loke atho brahmaññatā sukhā || 332 ||
sukhaṃ yāva jarā sīlaṃ sukhā saddhā patiṭṭhitā |
sukho paññāya paṭilābho pāpānaṃ akaraṇaṃ sukhaṃ || 333 ||
331. Blest to have friends when one's in need, blest contentment with whatever is, blessed is merit when life's at an end, abandoning all dukkha is blessedness.
332. Respect for one's mother brings happiness here as well as respect for one's father. Here happiness comes from respecting the monks and those of virtue excellent.
333. Blest is virtue till life's end and blest the faith standing firm, blest the attainment of wisdom and blest the non-doing of evils.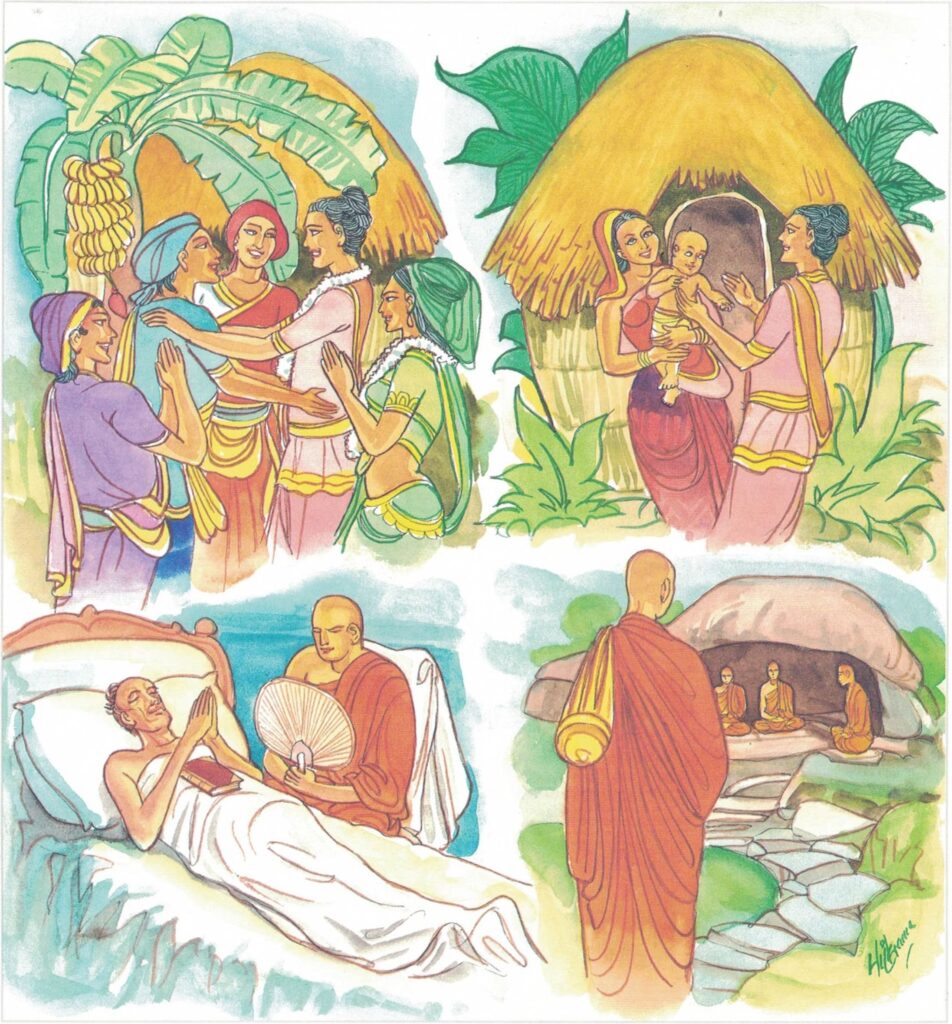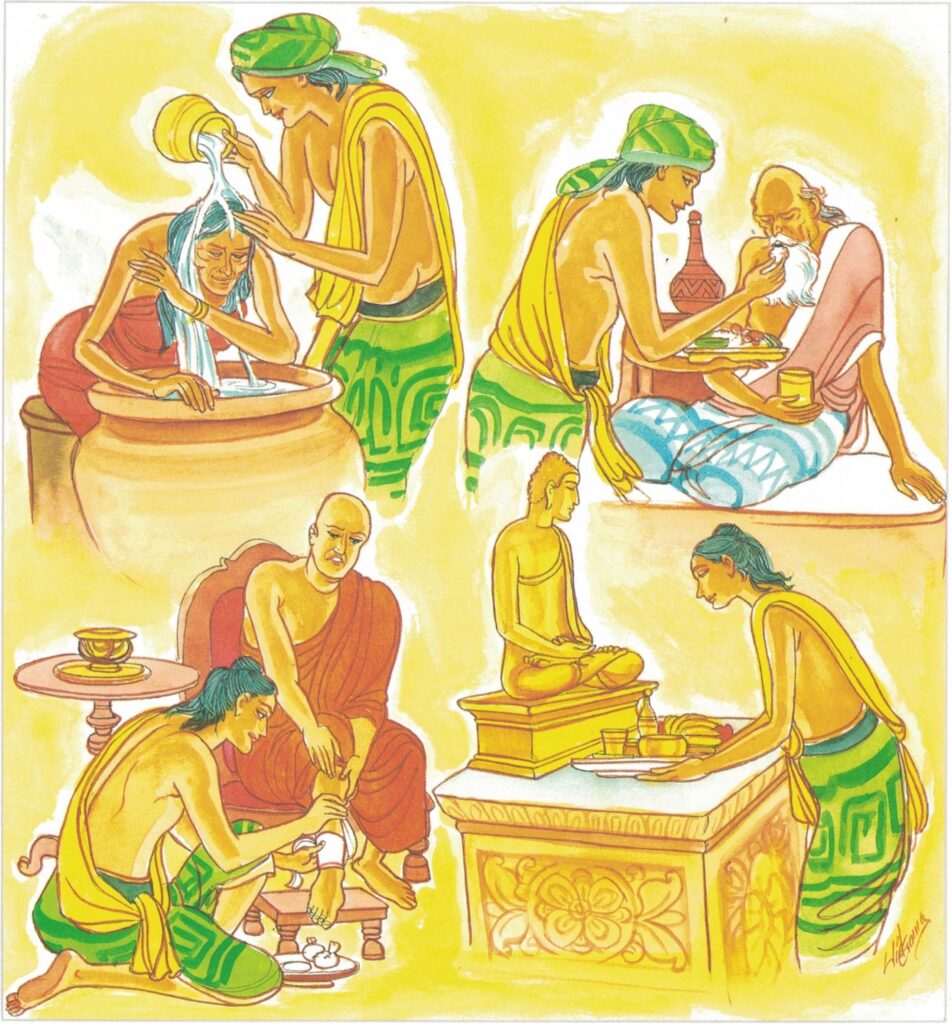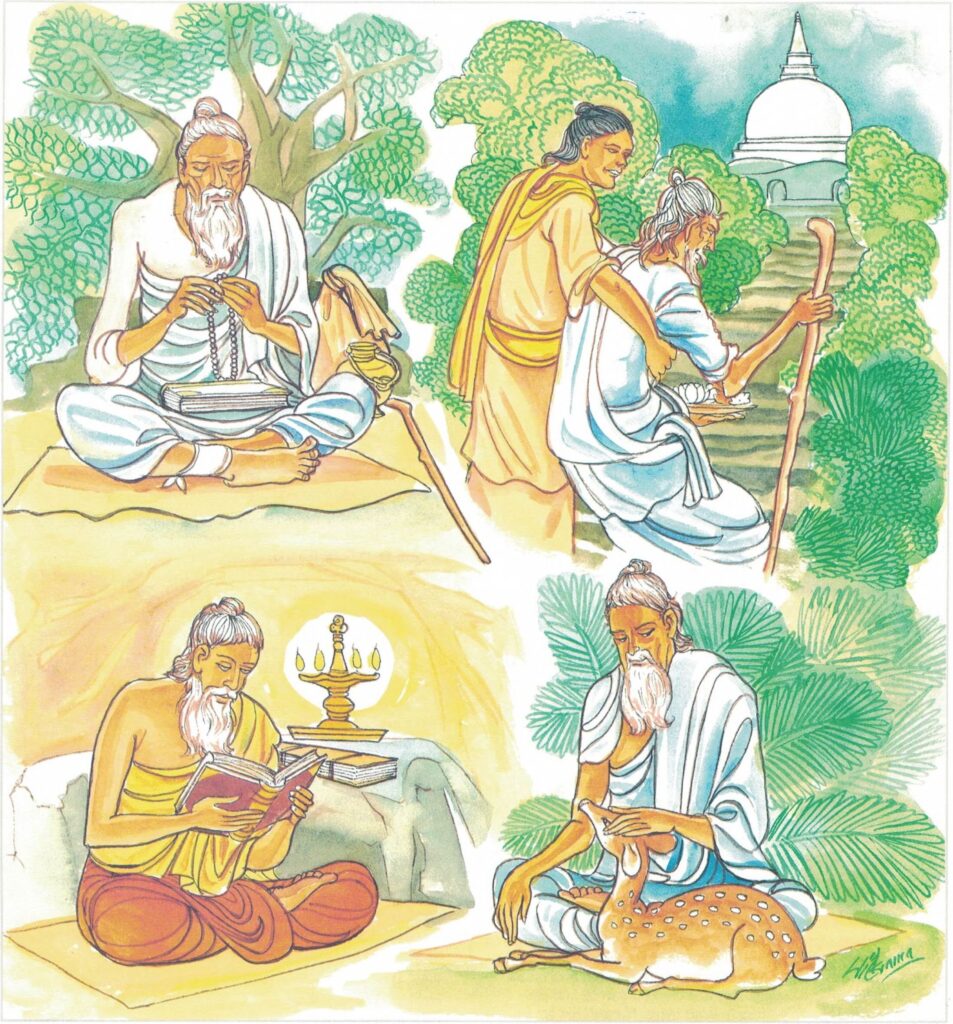 The Story of Māra
This doctrinal instruction was given by the Buddha while he was dwelling in a forest-hut in the Himālaya country with reference to Māra.
Tradition has it that at this time kings oppressed the subjects over whom they ruled. As the Buddha saw men punished and persecuted under the rule of these wicked kings, he was moved to compassion. And he considered thus within himself, "Is it not possible to exercise sovereignty without killing or causing to kill, without conquering or causing to conquer, without sorrow or causing sorrow, with justice and righteousness?" Now Māra the Evil One perceived within himself the thought that was passing through the mind of the Buddha, and thought thus, "The monk Gotama is considering within himself. 'Is it not possible to exercise sovereignty?' It must be that he now desires to exercise sovereignty. And this thing which is called sovereignty is an occasion of heedlessness. If he does exercise sovereignty, I may be able to catch him off his guard. I will therefore go and arouse his ambition."
Accordingly Māra encouraged the Buddha to exercise sovereignty; let the happy one exercise sovereignty, without killing or causing to kill, without conquering or causing to conquer, without sorrow or causing sorrow, with justice and righteousness. The Buddha said to Māra, "Evil one, what do you see in me that makes you speak thus to me?" Māra said, "Venerable, the Exalted One has developed to the full the four bases of magic power. For should the Buddha resolve, 'Let the Himālaya, king of mountains, be turned to gold,' gold would that mountain be. I too will do with this wealth all those things which can be done with wealth. Thus you shall rule justly and righteously."
Then said the Buddha:
The whole of a mountain of gold, even of fine gold.
Were not enough for one.
Knowing this, a man should walk justly.
How can a man who has seen whence arises suffering devote himself to the pleasures of sense?
Let the man who has come to know that substratum of being which is called attachment in the world, train himself to subdue this alone.
With these Stanzas did the Buddha arouse and alarm Māra the evil one. Then he said to him, "I will admonish you yet again, evil one. I have nothing in common with you. Thus do I admonish you."
Explanatory Translation (Verse 331)
atthamhi jātamhi sahāyā sukhā itarītarena yā tuṭṭhī sukkhā
jīvitasaṅkhayamhi puññaṃ sukhaṃ sabbassa dukkhassa pahānaṃ sukhaṃ
atthamhi: when a task; jātamhi: arises; sahāyā: friends and associates; itarītarena: if from some possessions; yā tuṭṭhī: there is satisfaction; sukkhā: it is a comfort; jīvitasaṅkhayamhi: towards the end of life; puññaṃ [puñña]: merit; sukhaṃ [sukha]: is a comfort; sabbassa: all; dukkhaṃ [dukkha]: suffering; pahānaṃ [pahāna]: eradication;sukhaṃ [sukha]: is a bliss
Friends in need are a comfort. Satisfaction with whatever little you have is a comfort. Merit, at the end of one's days, is a comfort. It is bliss, indeed, to eradicate all sufferings.
Explanatory Translation (Verse 332)
loke matteyyatā sukhā atho petteyyatā
brahmaññatā sāmaññatā sukhā
loke: in this world; matteyyatā: motherhood; sukhā: is a blessing; atho: in the same way; petteyyatā: fatherhood; brahmaññatā: the state of an Arahat; sāmaññatā: monkhood
In this world, motherhood is a blessing. In the same way, fatherhood, too, is a blessing. Monkhood is a blessing. Above all, arahathood is a blessing.
Explanatory Translation (Verse 333)
yāva jarā sīlaṃ sukhaṃ saddhā patiṭṭhitā sukhā
paññāya paṭilābho sukho pāpānaṃ akaraṇaṃ sukhaṃ
yāva jarā: until physical decay; sīlaṃ [sīla]: in virtue; sukhaṃ [sukha]: is a blessing; patiṭṭhitā: being firmly established; paññāya: wisdom; paṭilābho [paṭilābha]: acquisition; sukho [sukha]: is a blessing; pāpānaṃ [pāpāna]: unwholesomeness; akaraṇaṃ [akaraṇa]: non-commission
Pursuit of virtue until old age and decay is a blessing. The acquisition of wisdom is a blessing. It is a blessing to refrain from unwholesomeness.
Commentary and exegetical material (Verse 331-333)
In these stanzas the Buddha places an emphasis on Sahāyas (friends and associates) and stresses the need to consider motherhood, fatherhood, monkhood and arahathood as blessings. The Buddha reminded young householder Sigāla, who was in the habit of worshipping the six directions, that there is yet another group of six directions he should worship. These six are made of a one's family members and social and religious persons to whom honour is due. So the story goes this way.
A young man named Sigāla used to worship the six cardinal points of the heavens–east, south, west, north, nadir and zenith–in obeying and observing the last advice given him by his dying father. The Buddha told the young man that in the 'noble discipline' (ariyassa vinaye) of his teaching the six directions were different. According to his 'noble discipline' the six directions were:–east: parents; south: teachers; west: wife and children;north: friends, relatives and neighbours; nadir: servants, workers and employees; zenith: religious men.
"One should worship these six directions" said the Buddha. Here the word worship (namasseyya) is very significant, for one worships something sacred, something worthy of honour and respect. These six family and social groups mentioned above are treated in Buddhism as sacred, worthy of respect and worship. But how is one to worship them? The Buddha says that one could worship them only by performing one's duties towards them. These duties are explained in his discourse to Sigāla.
First: Parents are sacred to their children. The Buddha says: "Parents are called brāhma" (brahmāti mātāpitaro). The term brahma denotes the highest and most sacred conception in Indian thought, and in it the Buddha includes parents. So in good Buddhist families at the present time children literally worship their parents everyday, morning and evening. They have to perform certain duties towards their parents according to the noble discipline: they should look after their parents in their old age; should do whatever they have to do on their behalf; should maintain the honour of the family and continue the family tradition; should protect the wealth earned by their parents; and perform their funeral rites after their death. Parents, in their turn, have certain responsibilities towards their children: they should keep their children away from evil courses; should engage them in good and profitable activities; should give them a good education; should marry them into good families; and should hand over the property to them in due course.
Second: The relation between teacher and pupil should respect and be obedient to his teacher; should attend to his needs of any; should study earnestly. And the teacher, in his turn, should train and shape his pupil properly; should teach him well; should introduce him to his friends; and should try to procure him security or employment when his education is over.
Third: The relation between husband and wife: love between husband and wife is considered almost religious or sacred. It is called SadāraBrahmacariya 'sacred family life'. Here, too, the significance of the term Brahma should be noted: the highest respect is given to this relationship. Wives and husbands should be faithful, respectful and devoted to each other, and they have certain duties towards each other: the husband should always honour his wife and never be wanting in respect to her; he should love her and be faithful to her; should secure her position and comfort; and should please her by presenting her with clothing and jewellery. (The fact that the Buddha did not forget to mention even such a thing as the gifts a husband should make to his wife shows how understanding and sympathetic were his humane feelings towards ordinary human emotions.) The wife, in her turn, should supervise and look after household affairs; should entertain guests, visitors, friends, relatives and employees; should love and be faithful to her husband; should protect his earnings; should be clever and energetic in all activities.
Fourth: The relation between friends, relatives and neighbours: they should be hospitable and charitable to one another; should speak pleasantly and agreeably; should work for each other's welfare; should be on equal terms with one another; should not quarrel among themselves; should help each other in need; and should not forsake each other in difficulty.
Fifth: The relation between master and servant: the master or the employer has several obligations towards his servant or his Employee: work should be assigned according to ability and capacity; adequate wages should be paid; medical needs should be provided; occasional donations or bonuses should be granted. The servant or employee, in his turn, should be diligent and not lazy; honest and obedient and not cheat his master; he should be earnest in his work.
Sixth: The relation between the religious (lit. recluses and brāhmanas) and the laity: lay people should look after the material needs of the religious with love and respect; the religious with a loving heart should impart knowledge and learning to the laity, and lead them along the good path away from evil.
Matteyyatā: This means attention and good conduct towards mothers–towards womankind. The Buddha has a unique place in world's religions, as a spiritual leader who was keenly concerned with providing privileges to women.
Women's position in Buddhism is unique. The Buddha gave women full freedom to participate in a religious life. The Buddha was the first religious teacher who had given this religious freedom to women. Before the Buddha, women's duty had been restricted to the kitchen; women were not even allowed to enter any temple or to recite anything religious. During the Buddha's time, women's position in society was very low. The Buddha was criticized very strongly by the prevailing establishment when he gave this freedom to women. His move to allow women to enter the holy order was extremely radical for the times. Yet the Buddha allowed women to prove themselves and to show that they too had the capacity like men to attain the highest position is the religious way of living by attaining Arahanthood. Every woman in the world must be grateful to the Buddha for showing them the real religious way of living and for giving such freedom to them for the first time in world history.
A good illustration of the prevailing attitude towards women during the Buddha's time is found in these words of Māra:
"No woman, with the two-finger wisdom which is hers, could ever hope to reach those heights which are attained only by the sages."
Undoubtedly the Buddha was vehement in contradicting such attitudes. The nun to whom Māra addressed these words, gave the following reply:
"When one's mind is well concentrated and wisdom never fails, does the fact of being a woman make any difference?"
King Kosala was very much disappointed when he heard that his Queen had given birth to a baby girl. He had expected a boy. To console the sad King, the Buddha said:
"A female child, O Lord of men, may prove
Even a better offspring than a male.
For she may grow up wise and virtuous.
Her husband's mother reverencing, true wife.
The boy that she may bear may do great deeds.
And rule great realms, yes, such a son.
Of noble wife becomes his country's guide."
On one such occasion, he admitted that man is not always the only wise one; woman is also wise.