Pali text, illustration and English translation of Dhammapada verse 309-310:
cattāri ṭhānāni naro pamatto āpajjati paradārūpasevī |
apuññalābhaṃ na nikāmaseyyaṃ nindaṃ tatiyaṃ nirayaṃ catutthaṃ || 309 ||
apuññalābho ca gatī ca pāpikā bhītassa bhītāya ratī ca thokikā |
rājā ca daṇḍaṃ garukaṃ paṇeti tasmā naro paradāraṃ na seve || 310 ||
309. Four things befall that heedless one sleeping with one who's wed: demerit gained but not good sleep, third is blame while fourth is hell.
310. Demerit's gained and evil birth, man and woman—brief their joy, the king decrees a heavy doom: so none should sleep with one who's wed.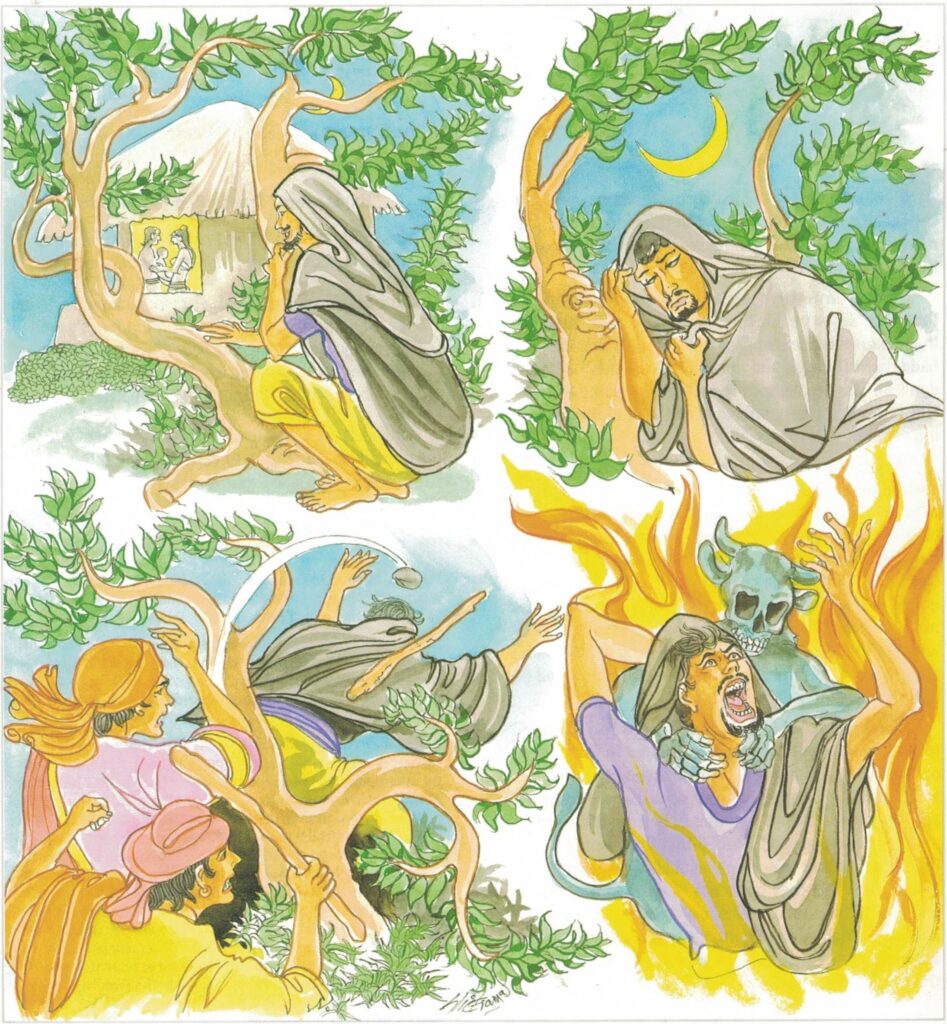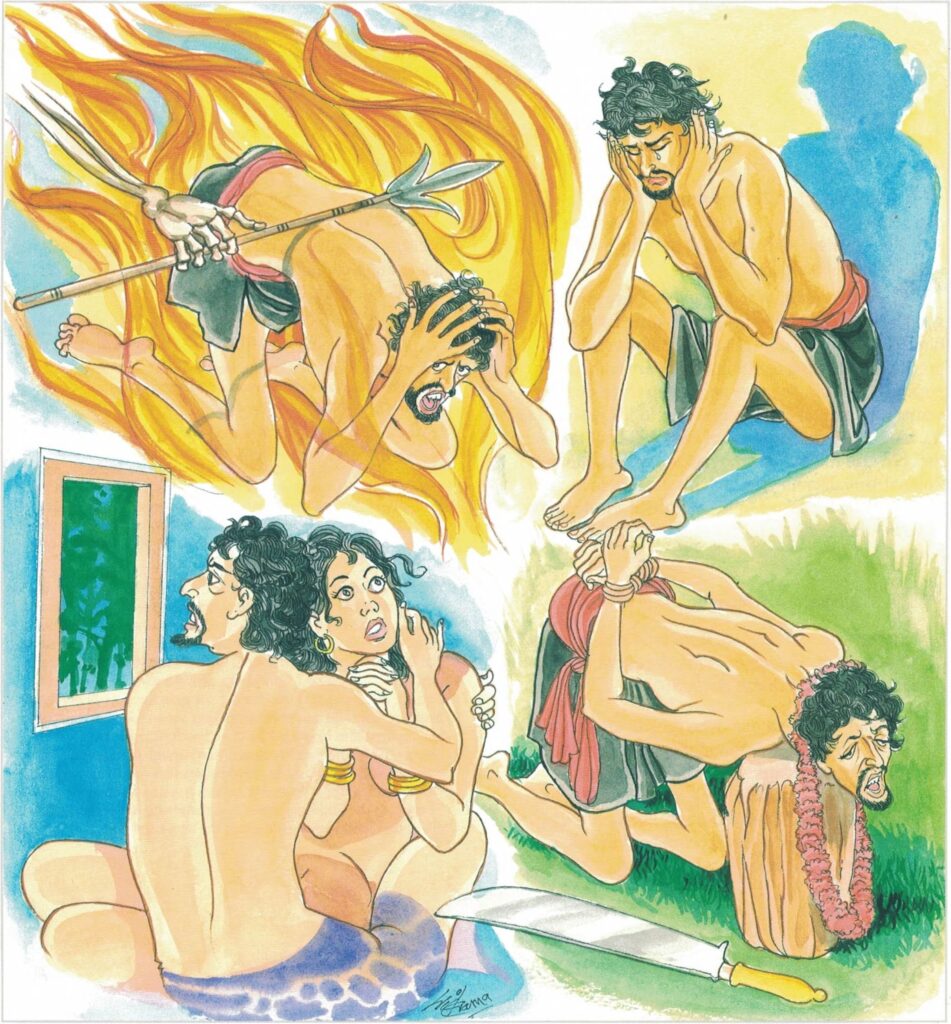 The Story of Khema the Guild Leader
While residing at the Jetavana Monastery, the Buddha spoke these verses with reference to Khema, the son of a rich man. Khema was also the nephew of the renowned Anāthapiṇḍika.
Khema, in addition to being rich, was also very good looking and women were very much attracted to him. They could hardly resist him and naturally fell prey to him. Khema committed adultery without compunction. The king's men caught him three times for sexual misconduct and brought him to the presence of the king. But King Pasenadi of Kosala did not take action because Khema was the nephew of Anāthapiṇḍika. So Anāthapiṇḍika himself took his nephew to the Buddha. The Buddha talked to Khema about the depravity of sexual misconduct and the seriousness of the consequences.
Explanatory Translation (Verse 309)
paradārūpasevī pamatto naro apuññalābhaṃ na nikāmaseyyaṃ
tatiyaṃ nindaṃ catutthaṃ nirayaṃ cattāri ṭhānāni āpajjati
paradārūpasevī: a man who goes to another person's wife; pamatto [pamatta]: thoughtless; naro: human being; apuññalābhaṃ [apuññalābha]: acquisition of sin; na nikāmaseyyaṃ [nikāmaseyya]: not getting comfortable, enough sleep; tatiyaṃ [tatiya]: thirdly; nindaṃ [ninda]: shame; catutthaṃ [catuttha]: fourthly; nirayaṃ [niraya]: being born in hell; cattāri ṭhānāni: to these four forms; āpajjati: will go
A thoughtless person who goes to another man's wife will suffer four evil results. Firstly, he will acquire demerit–what is not meritorious. Secondly, he will not get enough comfortable sleep. Thirdly, he will be disgraced. Fourthly, he will be born in hell.
Commentary and exegetical material (Verse 309)
This was spoken by the Buddha while he was in residence at Jetavana Monastery with reference to Khema, a treasurer's son, nephew of Anāthapiṇḍika.
What was his former deed? It is said that in the dispensation of the Buddha Kassapa he was a champion wrestler, and that one day he planted two colored banners on the golden shrine of the Buddha, and made the following earnest wish, 'May all the women who look upon me, except my kinswomen and blood-relatives, fall in love with me.' This was his former deed. By reason of this, in the various places where he was reborn, other men's wives who saw him were unable to control themselves.
Khema is said to have been an exceedingly handsome youth. All the women who saw him became so overpowered with desire that they were unable to control themselves. Khema was given to running after other men's wives. One night the king's men took him prisoner and brought him before the king. Thought the king, "I feel shame for the great treasurer." So without saying a word to him, he let him go. But for all that Khema did not abandon his evil practices. A second time and a third time the king's men took him prisoner and brought him before the king, and each time the king just let him go. When the great treasurer heard what had happened, he went to the Buddha with his nephew, made him tell his story, and said to the Buddha, "Venerable, preach the Law to this youth." Thereupon the Buddha showed him the wrong involved in running after other men's wives by reciting the above stanzas.
Explanatory Translation (Verse 310)
apuññalābho ca pāpikā gatī ca bhītassa bhītāya ratī ca thokikā
rājā ca garukaṃ daṇḍaṃ paṇeti tasmā naro paradāraṃ na seve
apuññalābho ca: acquiring sin; pāpikā ca gatī: lowly state deserved by sinners (will be his lot); bhītassa: a frightened man's; bhītāya: and a frightened woman's; ratī: embrace; thokikā: is very slight; rājā ca: the king too; garukaṃ daṇḍaṃ [daṇḍa]: severe punishment; paṇeti: will impose; tasmā: because of this; naro: men; paradāraṃ [paradāra]: other's wife; na seve: should not associate
Merit will be acquired. The lowly state of hell, deserved by a sinner will be his lot. Since both the man and the woman are frightened, their embrace will generate very little pleasure. The king's law will impose severe punishment. Because of all these, a man will not covet another's wife.
Commentary and exegetical material (Verse 310)
These verses spring from a misdeed of an eminent person who was a nephew of Anāthapiṇḍika. This is an instance of the nature of service the Buddha had to render to help and guide the people both in worldly and spiritual matters.
The Buddha was the embodiment of all the virtues that he preached. During his successful and eventful ministry of 45 years, he translated all his words into action. At no time did he ever express any human frailty or any base passion. The Buddha's moral code is the most perfect which the world has ever known.
For more than 25 centuries, millions of people have found inspiration and solace in his teaching. His greatness is like a sun that blots out the glory of lesser lights. His teaching still beckons the weary pilgrim to the security and peace of Nibbāna. No other person has sacrificed so much for the sake of suffering humanity.
The Buddha was the first religious leader in human history to admonish and to appeal to people not to harm any living creature, not to offer animal sacrifices.
To Buddha, religion was not a bargain but a way to enlightenment. He did not want followers with blind faith; he wanted followers who could think wisely.
All of us were relieved and comforted by the coming of the Buddha. The entire human race has been blessed with his presence.
There was never an occasion when the Buddha expressed any unfriendliness towards a single person. Not even to his opponents and worst enemies did the Buddha express any unfriendliness. There were a few prejudiced minds who turned against the Buddha and tried to kill him; yet the Buddha never treated them as enemies. The Buddha once said, "As an elephant in the battle-field endures the arrows that are shot into him so will I endure the abuse and unfriendly expression of others."
In the annals of history, no man is recorded as having so consecrated himself to the welfare of all living beings as has the Buddha. From the hour of his enlightenment to the end of his life, he strove tirelessly to elevate mankind. He slept only two hours a day. Though twenty-five centuries have gone since the passing away of this great teacher, his message of love and wisdom still exists in its great purity. This message is still decisively influencing the destinies of humanity. He was the most compassionate one who illuminated this world with lovingkindness.
After attaining Nibbāna, the Buddha left a deathless message that is still living with us in the world today. Today we are confronted by the terrible threat to world peace. At no time in the history of the world is his message more needed than it is now.
The Buddha was born to dispel the darkness of ignorance and to show the world how to get rid of suffering and disease, decay and death and all the worries and miseries of living beings.
According to some beliefs, a certain god will appear in this world from time to time to destroy the wicked people and to protect the good ones. Buddha did not appear in this world to destroy the wicked people but to show them the correct path.
In the history of the world until the Buddha's time, have we ever heard of any religious teacher who was so filled with such all-absorbing sympathy and love for suffering humanity like the Buddha? A few centuries after the Buddha, we heard of some wise men in Greece: Socrates, Plato and Aristotle. But these men were only dry thinkers and seekers after truth; they lacked any inspiring love for the suffering multitude.
The Buddha's way of saving mankind is to teach them how to find salvation. He was not interested in alleviating a few chance cases of physical or mental distress. He was more concerned with revealing a path that all people could follow.