Pali text, illustration and English translation of Dhammapada verse 288-289:
na santi puttā tāṇāya na pitā na'pi bandhavā |
antakenā'dhipannassa natthi ñātisu tāṇatā || 288 ||
etamatthavasaṃ ñatvā paṇḍito sīlasaṃvuto |
nibbāṇagamanaṃ maggaṃ khippameva visodhaye || 289 ||
288. No sons are there for shelter nor father nor related folk, one by the Death-king seized upon in kin no shelter finds.
289. Having understood this fact the wise by virtue well-restrained swiftly then should clear the path leading to Nibbāna.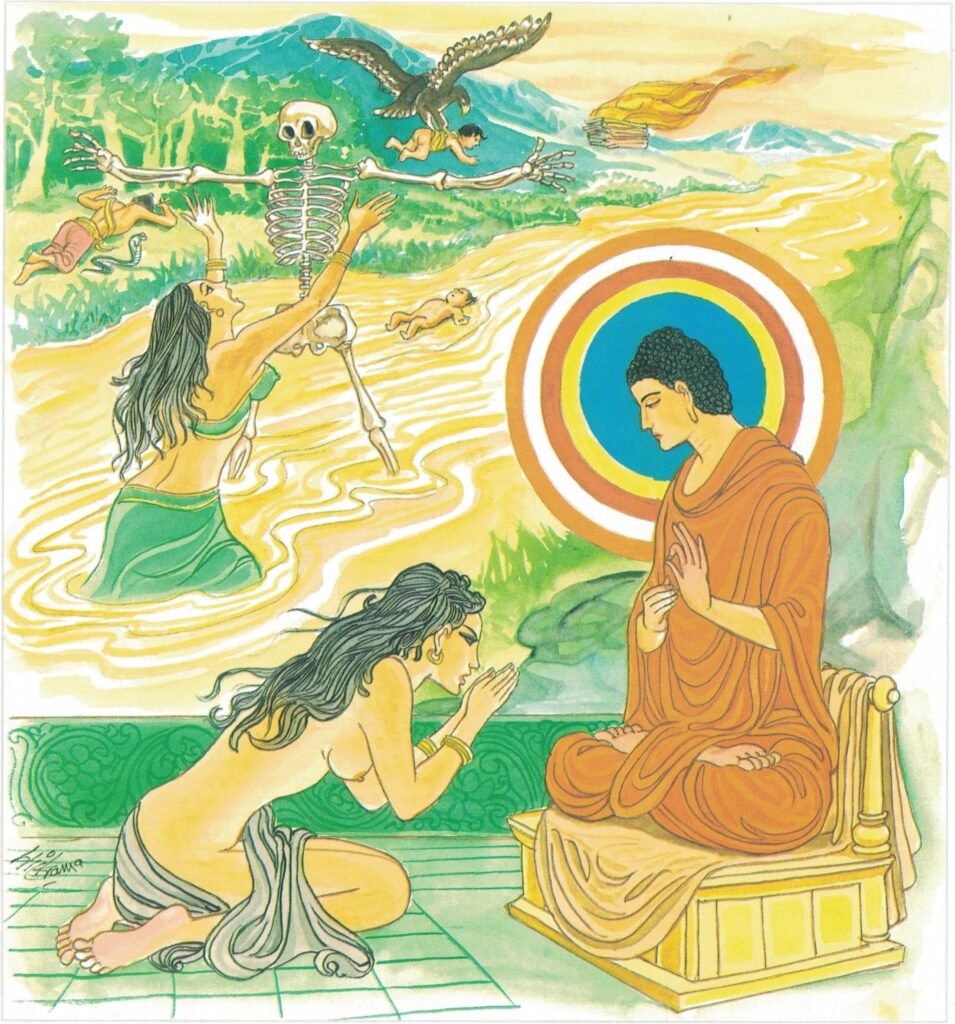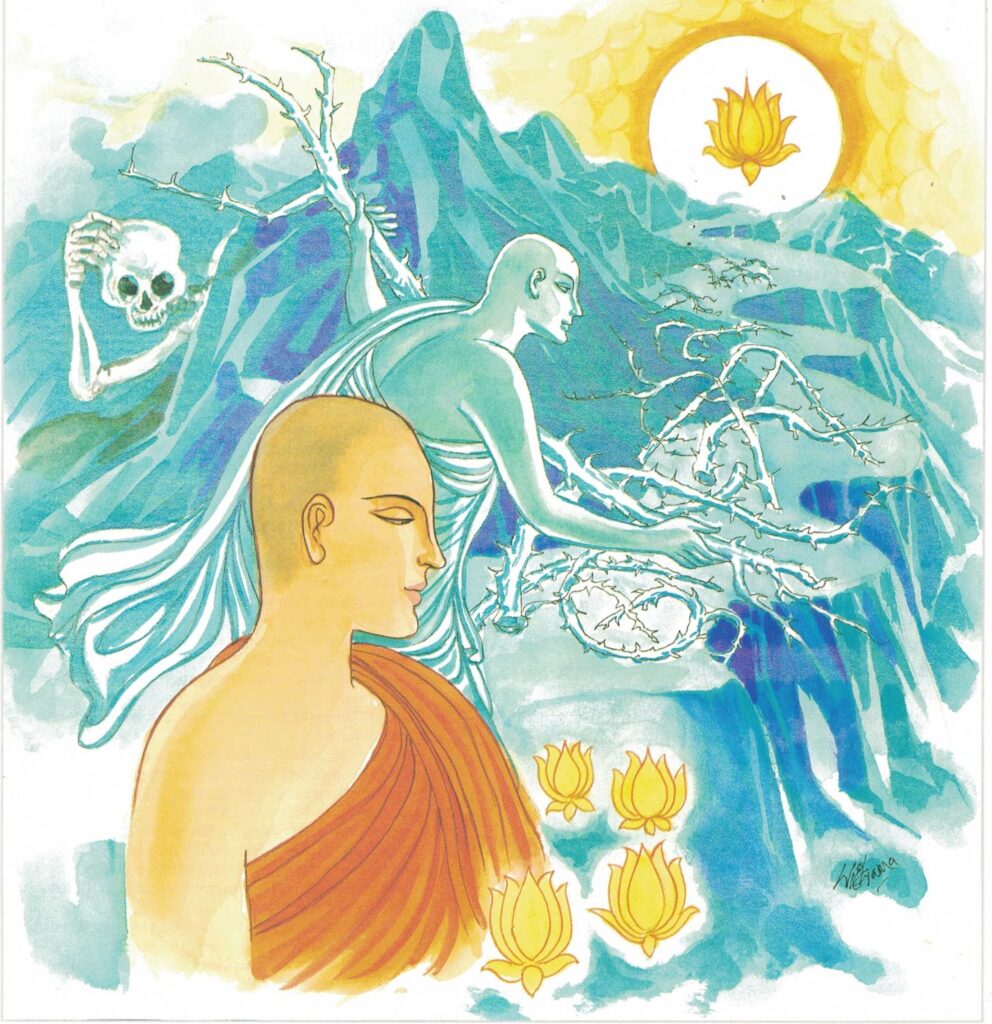 The Story of Paṭācārā
While residing at the Jetavana Monastery, the Buddha spoke these verses with reference to Paṭācārā, the daughter of a rich man from Sāvatthi.
Now at that time the Buddha, perceiving that the sorrow of Paṭācārā was assuaged, said to her, "Paṭācārā, to one that goeth to the world beyond, not sons nor father nor kinfolk can ever be a refuge or a shelter or a retreat. Therefore, even though they live, they exist not. But he that is wise should clarify his virtue; so should he make clear the path that leads to Nibbāna." At the conclusion of the lesson Paṭācārā was established in the fruit of conversion;many others likewise obtained the fruit of conversion and the fruits of the second and third paths.
Explanatory Translation (Verse 288)
antakena adhipannassa tāṇāya puttā na santi,
pitā na, pi bandhavā na, ñātīsu tāṇatā natthi
antakena: by the end-maker (death); adhipannassa: person gripped by; tāṇāya: for the protection; puttā: children; na santi: not there; pitā: father; na: (is) not (there); pi: also; bandhavā: relations; na: (there are) not; ñātīsu: (this way) from relations; tāṇatā natthi: (he) has no protection
When an individual is being gripped by the end-maker (death) the sons cannot protect one. Not even one's father can shield a person from the grip of death. Nor can one's relations come to his rescue.
Explanatory Translation (Verse 289)
paṇḍito etāṃ atthavasaṃ ñatvā sīlasaṃvuto
nibbānagamanaṃ maggaṃ khippaṃ eva visodhaye
paṇḍito [paṇḍita]: the wise; etāṃ atthavasaṃ [atthavasa]: this matter; ñatvā: being aware of; sīlasaṃvuto [sīlasaṃvuta]: restrained and disciplined; nibbānagamanaṃ maggaṃ [magga]: the path to Deathlessness; khippaṃ [khippa]: quickly; eva visodhayī: certainly should clear
Being aware that no one can rescue you from death, the wise person, who is restrained and disciplined, should clear the path to Nibbāna, without any loss of time.
Commentary and exegetical material (Verse 288-289)
Antakenādhipannassa natthi ñātīsu tāṇatā: when a person is gripped by death, no one, not even his relatives, can protect him from it.
It has been further emphasized in the Salla Sutta (the shaft of grief) as follows:
(1) There is no device by which one who is born, can escape death.

(2) Having attained old age, death is inevitable.

(3) Just as ripe fruits must fall, even so mortals who are born must always have the fear of death.

(4) Just as earthenware made by a potter is destined to break, even so is the life of mortals destined to break.

(5) Grown-ups and the young, the wise and the foolish–all these come under the sway of death.

(6) No father can save his son, no relative can save his relatives, when they depart in death.

(7) While relatives stand watching and lamenting, see how beings are led to death, like cattle to a slaughter house.

(8) Since beings are thus assailed by death and old age, the wise knowing the nature of this world, do not grieve.

(9) It is in vain that you lament over the dead, since you do not know whence they came nor whither they go.

(10) If wailing will heal the mourner's pangs of sorrow, only then let the wise wail.

(11) Peace of mind is not attained by wailing. It only brings grief and hurts the body.

(12) Mourning only makes the mourner emaciated and pale. It does not help the departed. Therefore, mourning is useless.

(13) By not forsaking sorrow, he proceeds to greater pain. He only goes deeper into the realm of sorrow.

(14) Observe how others born in this world according to their kamma, must also tremble under the sway of death.

(15) In whichever manner people think of things, things turn out to be otherwise. Such is the opposite nature of things. Observe thus the nature of the world.

(16) Even if a man were to live a hundred years or more, he must still yield his life, at last bereft of friends and relatives.

(17) Therefore, listening to the arahats and seeing a person departed, control your weeping, reflecting that he cannot be with you again.

(18) Just as one would extinguish with water the flames of a house on fire, even so let a steadfast and wise man remove grief, quickly as the wind (a handful of) cotton.

(19) Let a person, desirous of his own welfare, pluck out the shafts of wails and grief, planted by himself
Having these shafts plucked out and having attained mental peace, he becomes blessed and free from grief, overcoming all sorrows.
Even in death or in the loss of children or wealth, one has to reflect thus:
(1) Grains, wealth, silver, gold and whatever property there is,

(2) Slaves, craftsmen, hired menials and all the dependant ones,

(3) All these have to be abandoned when leaving.

(4) But whatever one does through deed, word or thought, that alone belongs to him;that alone he takes with him and that alone follows him like an inseparable shadow.
All beings die. Life ends in death. Beings fare according to their deeds, experiencing the results of their meritorious and sinful deeds. Those who do sinful deeds go to the woeful states and those who do meritorious deeds attain blissful states. Therefore, let one always do good deeds, which serve as a store for life elsewhere. Meritorious deeds are a great support to beings in the future world.
In the Uraga Jātaka (man quits his mortal frame), the story concerns a landowner whose son had died. Here, the Buddha went to the man's house, and after He was seated, the Buddha asked, "Pray, Sir, why are you grieving?" And on his replying, "Yes, Venerable, ever since my son's death I grieve," He said, "Sir, verily that which is subjected to dissolution is dissolved, and that which is subjected to destruction is destroyed, and this happens not to one man only, nor in one village merely, but in countless spheres, and in the three modes of existence. There is no creature that is not subjected to death, nor is there any existing thing that is capable of abiding in the same condition. All beings are subjected to death, and all compounds are subjected to dissolution. But sages of old, when they lost a son, said, 'That which is subjected to destruction is destroyed… and grieved not." 'And hereupon, at the man's request He related a story of the past.
Once upon a time when Brahmadatta was reigning in Vārāṇasī, the Bodhisatta was born in a brāhmin household, in a village outside the gates of Vārāṇasī, and reared a family. He supported them by field labour. He had two children, a son and a daughter. When the son was grown up, the father brought a wife home for him, from a family of equal rank with his own. Thus, with a female slave they composed a household of six; the Bodhisatta and his wife, the son and daughter, the daughter-in-law and female slave. They lived happily and affectionately together. The Bodhisatta thus admonished the other five;"According as ye have received, give alms, observe holy days, keep the moral law, dwell on the thought of death, be mindful of your mortal state. For in the case of beings like ourselves, death is certain, life is uncertain: all existing things are transitory and subjected to decay. Therefore, take heed of your ways, day and night." They readily accepted His Teaching and dwelt earnestly on the thought of death.
Now one day, the Bodhisatta went with his son to plough his field when the youth was bitten by a snake and fell down dead. The Bodhisatta, on seeing him fall, left his oxen and came to him, and finding that he was dead, he took him up and laid him at the foot of a certain tree, and covering him up with a cloak, he neither wept nor lamented. He said, "That which is subjected to dissolution is dissolved, and that which is subjected to death is dead. All compound existences are transitory and liable to death." And recognizing the transitory nature of things, he went on with his ploughing. Seeing a neighbour pass close by the field, he asked, "Friend, are you going home?" And on his answering, "Yes," he said, "Please then go to our house and say to the mistress, 'You are not today as formerly to bring food for two, but to bring it for one only. And hitherto, the female slave alone has brought the food, but today all four of you are to put on clean garments, and to come with perfumes and flowers in your hands'" "All right," he said, and went and spoke these very words to the brāhmin's wife. She asked, "By whom, Sir, was this message given?" "By the brāhmin, lady," he replied. She understood that her son was dead. But she did not so much as tremble.
Thus showing perfect self-control, and wearing white garments and with perfumes and flowers in her hand, she bade them bring food, and accompanied the other members of the family to the field. But not one of them either shed a tear or made lamentation. The Bodhisatta still sitting in the shade where the youth lay, ate his food. And when his meal was finished, they all took up fire-wood and lifting the body on to the funeral pile, they made offerings of perfumes and flowers, and then set fire to it. But not a single tear was shed by any one. All were dwelling on the thought of death. Such was the efficacy of their virtue that the throne of Sakka manifested signs of heat. Sakka said, 'Who, I wonder, is anxious to bring me down from my throne?" And on reflection, he discovered that the heat was due to the force of virtue existing in these people, and being highly pleased he said, "I must go to them and utter a loud cry of exultation like the roaring of a lion, and immediately afterwards fill their dwelling place with the seven treasures." And going there in haste he stood by the side of the funeral pyre and said, "What are you doing?" 'We are burning the body of a man, my Lord." "It is no man that you are burning," he said, "I think you are roasting the flesh of some beast that you have slain." "Not so, my Lord," they said. "It is merely the body of a man that we are burning." Then he said, "It must have been some enemy." The Bodhisatta said, "It is our own true son, and no enemy." "Then he could not have been dear as a son to you."
"He was very dear, my Lord." "Then why do you not weep?"
Then the Bodhisatta, to explain the reason why he did not weep, spoke the first stanza:
Man quits his mortal frame, when joy in life is past,
E'en as a snake is wont, its worn out slough to cast;
No friend's lament can touch the ashes of the dead:
Why should I grieve: He fares the way he had to tread.
Sakka, on hearing the words of the Bodhisatta, asked the brāhmin's wife, "How, lady, did the dead man stand to you?" "I sheltered him ten months in my womb, and suckled him at my breast, and directed the movements of his hands and feet, and he was my grown up son, my Lord." "Granted, lady, that a father from the nature of a man may not weep, a mother's heart surely is tender. Why then do you not weep?"
And to explain why she did not weep, she spoke a couple of stanzas:
Uncalled he hither came, unbidden soon to go;
Even as he came, he went. What cause is here for woe?
No friend's lament can touch the ashes of the dead:
Why should I grieve? He fares the way he had to tread.
On hearing the words of the brāhmin's wife, Sakka asked the sister, "Lady, what was the dead man to you?" "He was my brother, my Lord." "Lady, sisters surely are loving towards their brothers. Why do you not weep?"
But she to explain the reason why she did not weep, repeated a couple of stanzas:
Though I should fast and weep, how would it profit me?
My kith and kin alas! would more unhappy be
No friend's lament can touch the ashes of the dead:
Why should I grieve? He fares the way he had to tread.
Sakka, on hearing the words of the sister, asked his wife, "Lady, what was he to you?" "He was my husband, my Lord." 'Women surely, when a husband dies, as widows are helpless. Why do you not weep?" But she, too, explained the reason why she did not weep.