Pali text, illustration and English translation of Dhammapada verse 221:
kodhaṃ jahe vippajaheyya mānaṃ saññojanaṃ sabbamatikkameyya |
taṃ nāmarūpasmiṃ asajjamānaṃ akiñcanaṃ nānupatanti dukkhā || 221 ||
221. Anger and pride should one forsake, all fetters cast aside, none where no desire, no binding to body or mind.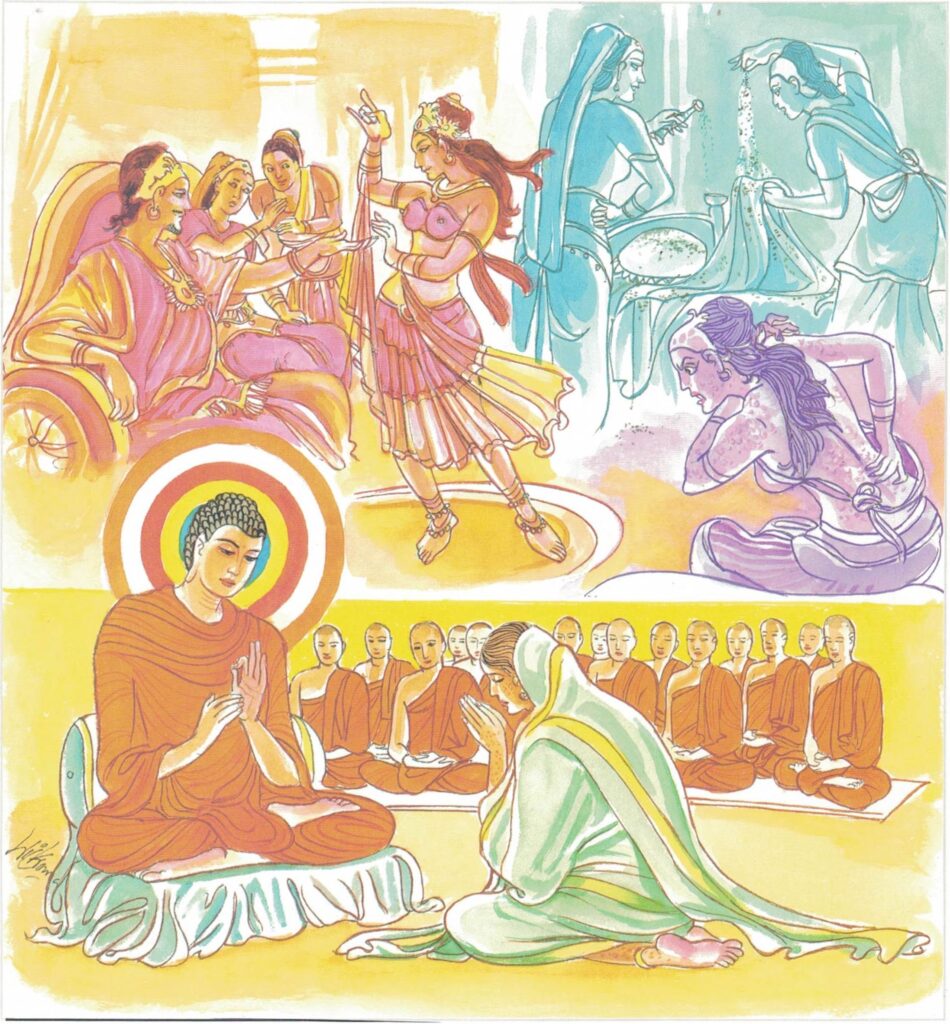 The Story of Princess Rohini
While residing at the Nigrodhārāma Monastery, the Buddha spoke this verse with reference to Princess Rohini, sister of Venerable Anuruddha.
On one occasion, Venerable Anuruddha visited Kapilavatthu. While he was staying at the Monastery there, all his relatives, with the exception of his sister Rohini, came to see him. On learning from them that Rohini did not come because she was suffering from leprosy, he sent for her. Covering her head in shame, Rohini came when she was sent for. Venerable Anuruddha told her to do some meritorious deed and he suggested that she should sell some of her clothing and jewellery; and with the money raised, to build a refectory for the monks. Rohini agreed to do as she was told. Venerable Anuruddha also asked his other relatives to help in the construction of the hall. Further, he told Rohini to sweep the floor and fill the waterpots every day even while the construction was still going on. She did as she was instructed and she began to get better.
When the hall was completed, the Buddha and his monks were invited for alms-food. After the meal the Buddha asked for the donor of the building and alms-food, but Rohini was not there. So the Buddha sent for her and she came. The Buddha asked her whether she knew why she was inflicted with this dreaded disease and she answered that she did not know. So the Buddha told her that she had the dreadful disease because of an evil deed she had done out of spite and anger, in one of her past existences. As explained by the Buddha, Rohini was, at one time, the chief queen of the king of Bārānasi. It so happened that the king had a favourite dancer and the chief queen was very jealous of her. So the queen wanted to punish the dancer. Thus one day, she had her attendants put some itching powder in the dancer's bed and blankets. Next, they called the dancer, and as though in jest, they threw some itching powder on her. The girl itched all over and was in great pain and discomfort. Thus itching unbearably, she ran to her room and her bed, which made her suffer even more.
As a result of that evil deed Rohini had become a leper in this existence. The Buddha then exhorted the congregation not to act foolishly in anger and not to bear any ill will towards others. At the end of the discourse, many in the congregation attained sotāpatti fruition. Princess Rohini also attained sotāpatti fruition, and at the same time her skin disease disappeared, and her complexion became fair, smooth and very attractive.
Explanatory Translation (Verse 221)
kodhaṃ jahe mānaṃ vippajaheyya sabbaṃ saññojanaṃ atikkameyya
nāmarūpasmiṃ asajjamānaṃ akiñcanaṃ taṃ dukkhā nā anupatanti
kodhaṃ [kodha]: anger; jahe: abandon; mānaṃ [māna]: pride; vippajaheyya: give up fully; sabbaṃ [sabba]: all; saññojanaṃ [saññojana]: fetters; atikkameyya: get rid of; nāmarūpasmiṃ [nāmarūpasmi]: in name and form; asajjamānaṃ [asajjamāna]: non attached; akiñcanaṃ [akiñcana]: free of appendages; taṃ: on that person; dukkhā nā anupatanti: pains and sorrows do not befall
Abandon anger. Give up pride fully. Get rid of all clingings. To that person who is not attracted to name and form and is free of appendages, no sufferings befall.
Commentary and exegetical material (Verse 221)
kodha: anger. Of all emotions that affect a personality adversely, anger is the worst. Anger grows ten-fold if met with anger, but if met calmly it often ends quickly in a sense of shame which is stronger by contrast. It is the most illogical of all passions. At the moment of intense anger a man is no longer really human;he has become a destructive animal. Even anger at injustice done to others is not a state of mind which is conducive to a right solution. But in dealing with oneself, this mood of anger cannot outlast a calm analysis. Obviously, the two attitudes are antithetical, and at first the anger, if already a habit, is likely to brush all else aside. But with practice, all things can be achieved, and we can look at ourselves and say, "Who is it that is annoyed? What is the cause of this anger? Anger soon subsides and often is forgotten in the interest of discovering the cause. Afterwards, conscious of having avoided the probably foolish action that would have followed if anger had taken its course, we are glad that we observed such self-control.