Pali text, illustration and English translation of Dhammapada verse 217:
sīladassanasampannaṃ dhammaṭṭhaṃ saccavedinaṃ |
attano kamma kubbānaṃ taṃ jano kurute piyaṃ || 217 ||
217. Perfect in virtue and insight, firm in Dhamma, knower of Truth, dear to the people's such a one who does what should be done.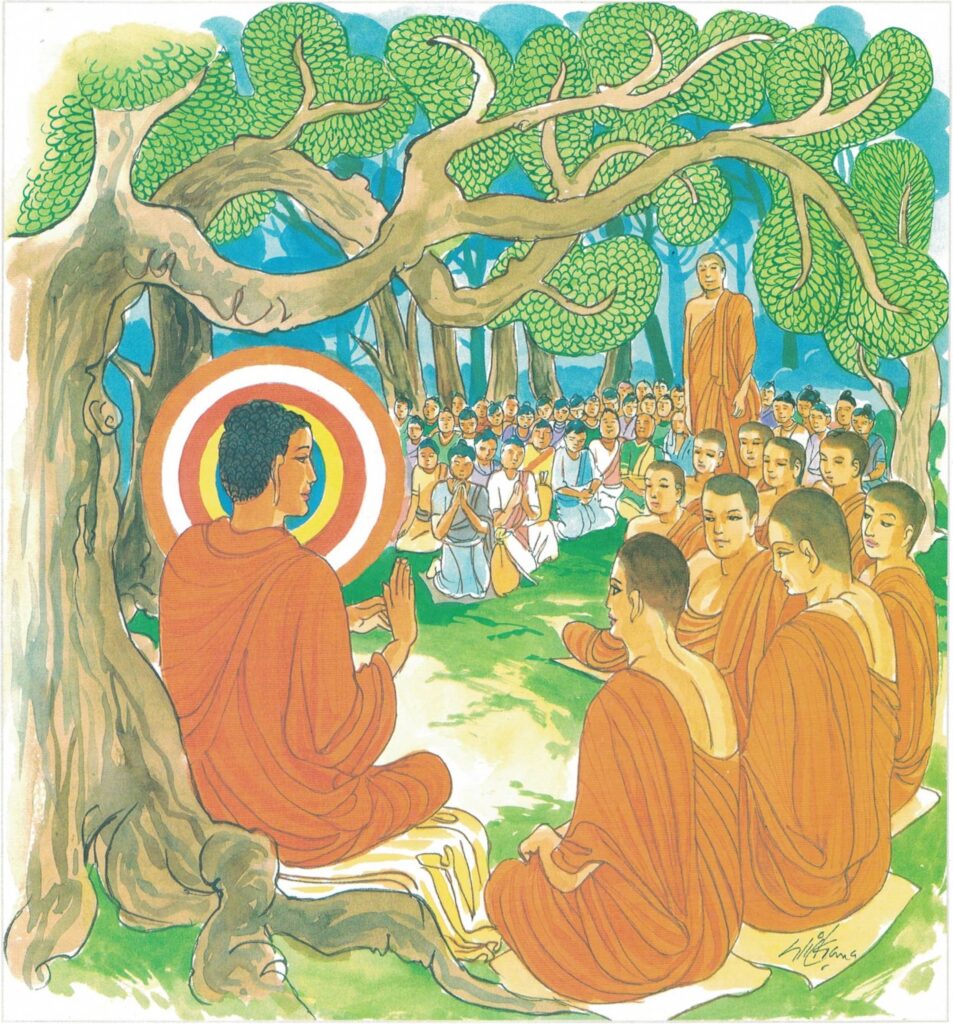 The Story of Five Hundred Boys
While residing at the Veluvana Monastery, the Buddha spoke this verse with reference to five hundred boys.
One day, on the occasion of a certain festival, as the Buddha, accompanied by the eight chief elders and a retinue of five hundred monks, was entering Rājagaha for alms, he saw five hundred youths with baskets of cakes on their shoulders come out of the city on their way to a pleasure garden. When they saw the Buddha, they saluted him and continued on their way without so much as saying to a single monk, "Have a cake." When they had gone, the Buddha said to the monks, "Monks, would you not like to eat some cakes?" "Venerable, where are my cakes?" "Do you not see those youths passing by with baskets of cakes on their shoulders?" "Venerable, such youths as they never give cakes to anybody." "Monks, although these youths have not invited you or me to share their cakes, yet a monk, the owner of the cakes, follows in the rear. You must eat some cakes before you go on." Now the Buddhas cherish no sentiments of ill-will or hatred towards any man; therefore the Buddha spoke thus. And having thus spoken, he went with the congregation of monks, and sat down at the foot of a certain tree in the shade.
When the youths saw Venerable Mahā Kassapa following in the rear, they immediately took a liking to him. In fact, their bodies were pervaded with a thrill of pleasure at seeing him. Forthwith they set down their baskets, saluted the elder with the five rests, held up the cakes, baskets and all, and saluting the elder, said to him, "Have some cakes, Venerable." In reply the elder said to them, "There is the Buddha with the congregation of monks, sitting at the foot of a tree. Take your offerings and go and share with the congregation of monks." "Very well, Venerable," replied the youths. However, they turned around and went back to the elder, gave the elder the cakes, stood on one side watching him, and at the end of the repast, gave him water. The monks were offended and said, "These youths have shown favouritism in giving alms; they never asked either the Buddha or the chief elders to accept alms, but when they saw Venerable Mahā Kassapa, they took their baskets and went to offer him cakes." The Buddha, hearing their words, said, "Monks, a monk like my son Mahā Kassapa is dear to deities and men alike; such a man they delight to honour with the four requisites."
Explanatory Translation (Verse 217)
sīladassana sampannaṃ dhammaṭṭhaṃ saccavādinaṃ
attano kamma kubbānaṃ taṃ jano piyaṃ kurute
sīladassana sampannaṃ [sampanna]: endowed with discipline and insight; dhammaṭṭhaṃ [dhammaṭṭha]: well established in the dhamma; saccavādinaṃ [saccavādina]: truthful; attano [attana]: one's own; kamma kubbānaṃ [kubbāna]: looking after activities; taṃ: that kind of being; jano: the masses; piyaṃ kurute: love (hold in affection)
He is endowed with discipline and insight. He is firmly established in the laws of righteousness. He speaks the truth. He looks after his worldly and spiritual responsibilities. The masses adore that kind of person.
Commentary and exegetical material (Verse 217)
Saccavādinaṃ: having realized the truth. The Teachings of the
Buddha rest firmly on the Four Noble Truths in which he has discovered as the eternal human condition. Truthfulness (sacca) is the seventh perfection. By sacca is here meant the fulfillment of one's promise. This is one of the salient characteristics of a Bodhisatta, for he is no breaker of his word. He acts as he speaks, he speaks as he acts (yathāvādi tathākāri yathākāri tathāvādi). According to the Hārita Jātaka a Bodhisatta, in the course of his life's wanderings, never utters an untruth although at times he may violate the other four precepts. Truth he hides not, even to be polite. He makes truth his guide, and holds it his bounden duty to keep his word. He ponders well before he makes his promise, but once made the promise is fulfilled at any cost, even that of his life.
In the Hiri Jātaka the Bodhisatta advises: "Be thou in deed to every promise true, Refuse to promise what thou cannot do; Wise men on empty braggarts look askew."
Again, the Mahā Sutasoma Jātaka recounts that to fulfill a promise the Bodhisatta was prepared even to sacrifice his life. "Just as the morning star on high in balanced course doth ever keep, And through all seasons, times, and years, so likewise he in all wise speech swerves never from the path of truth."
A Bodhisatta is trustworthy, sincere and honest. What he thinks, he speaks. There is perfect harmony in his thoughts, words and deeds. He is consistent and straightforward in all his dealings. He is no hypocrite since he strictly adheres to his high principles. There is no difference between his inner self and his outward utterance. His private life accords with his public life.
He does not use flattery to win the hearts of others, does not exalt himself to win their admiration, does not hide his defects or vainly exhibit his virtues. The praiseworthy he praises without malice, the blameworthy he blames judiciously, not with contempt but out of compassion. (However, the truth he does not always utter.) Should such utterance not be conducive to the good and happiness of others, then he remains silent. If any truth seems beneficial to others, he utters it, however detrimental to himself it may be. And he honours the word of others as he honours his own.