Pali text, illustration and English translation of Dhammapada verse 200:
susukhaṃ vata jīvāma yesaṃ no natthi kiñcanaṃ |
pītibhakkhā bhavissāma devā ābhassarā yathā || 200 ||
200. We for whom there's nought live indeed so happily, joy-sustained we'll be like replendent gods.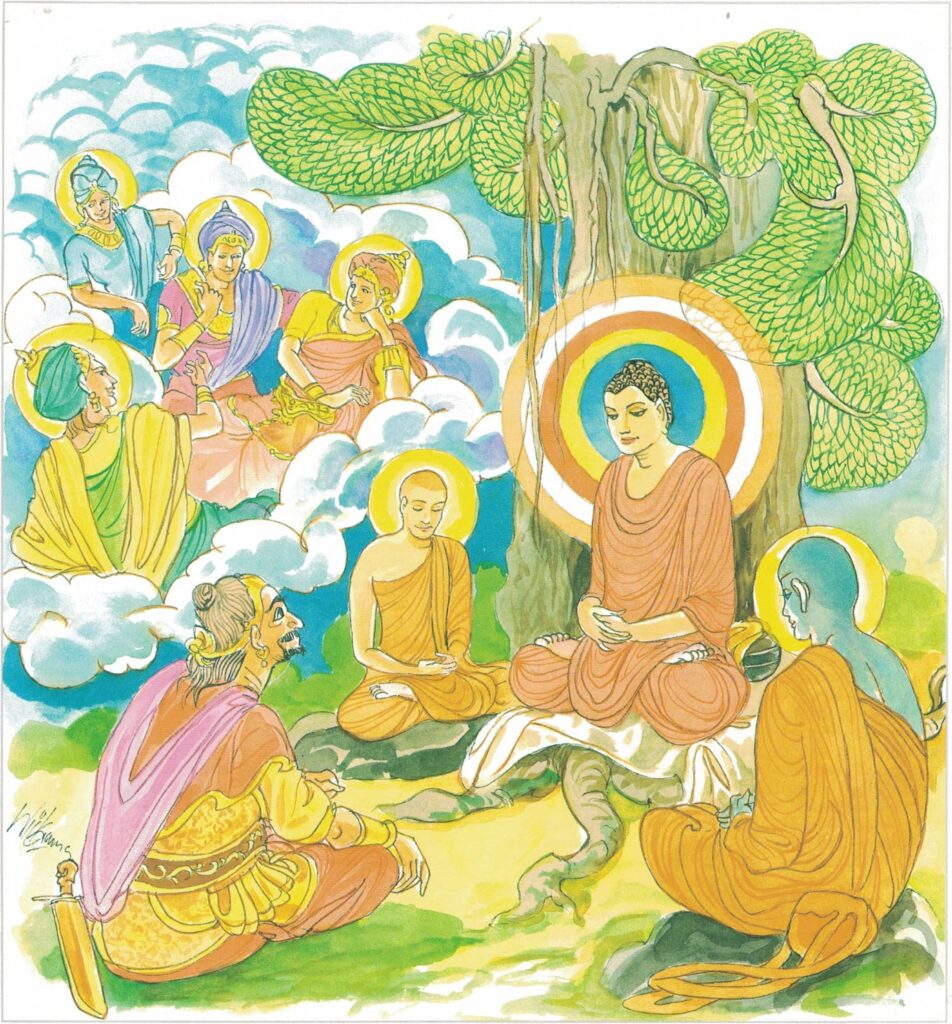 The Story of Māra
The Buddha spoke this verse in a brāhmin village known as Pancasāla (village of five halls), with reference to Māra.
On one occasion, the Buddha saw in his vision that many maidens from Pancasāla village were due to attain sotāpatti fruition. So he went to stay near that village. The many maidens went to the riverside to have a bath; after the bath they returned to the village fully dressed up, because it was a festival day. About the same time, the Buddha entered Pancasāla village for alms-food but none of the villagers offered him anything because they had been possessed by Māra.
On his return the Buddha met Māra, who promptly asked him whether he had received much alms-food. The Buddha saw the hand of Māra in his failure to get any alms-food on that day and replied, "You wicked Māra! It was you who turned the villagers against me. Because they were possessed by you they did not offer any alms-food to me. Am I not right?" Māra made no reply to that question, but he thought that it would be fun to entice the Buddha back to the village and get the villagers to insult the Buddha. So he suggested, "O Buddha, why don't you go back to the village again? This time, you are sure to get some food."
Just then, the five hundred village maidens arrived on the scene and paid obeisance to the Buddha. In their presence, Māra taunted the Buddha, "O Buddha, since you received no almsfood this morning, you must be feeling the pangs of hunger!" To him the Buddha replied, "O wicked Māra, even though we do not get any food, like the Abhassara brahmas who live only on the delightful satisfaction (pīti) and bliss (sukha) of deep meditation (jhāna), we shall live on the delightful satisfaction and bliss of the Dhamma."
Explanatory Translation (Verse 200)
yesaṃ no kiñcanaṃ natthi vata susukhaṃ jīvāma
ābhassarā devā yathā pītibhakkhā bhavissāma
yesaṃ no: we who are like this; kiñcanaṃ natthi: do not possess anything; vata susukhaṃ [susukha]: certainly happily; jīvāma: (we) live; ābhassarā devā yathā: like gods of Abhassara heaven; pītibhakkhā: feeding on joy; bhavissāma: (we) subsist.
Happily do we live, who have no properties to worry about. Feeding on joy we live like deities of the Abhassara Heaven of radiance.
Commentary and exegetical material (Verse 200)
sukha: pleasant, happy; happiness, pleasure, joy, bliss. It is one of the three feelings (vedanā) and may be either bodily or mental. The texts distinguish between the happiness of the senses and the happiness of renunciation, mundane (carnal; sāmisa) and supramundane (non-carnal; nirāmisa) happiness. Happiness as joy (pīti) is an indispensable constituent of early levels of meditative mental repose (samādhi). It is one of the five constituents (jhānanga) of the first degree of repose (first jhāna) and is present up to the second degree of repose (second jhāna) inclusively.
sukha-saññā: The perception of pleasure in what is actually pain (dukkhe sukha-saññā) which is one of the four distortions (vipallāsa).
ābhassarā: the radiant ones are a class of heavenly beings of the form world (rūpa-loka).