Pali text, illustration and English translation of Dhammapada verse 166:
attad'atthaṃ paratthena bahun'āpi na hāpaye |
attad'atthaṃ abhiññāya sadatthapasuto siyā || 166 ||
166. Let none neglect their good for others' good however great. Know well oneself's own good and to that good attend.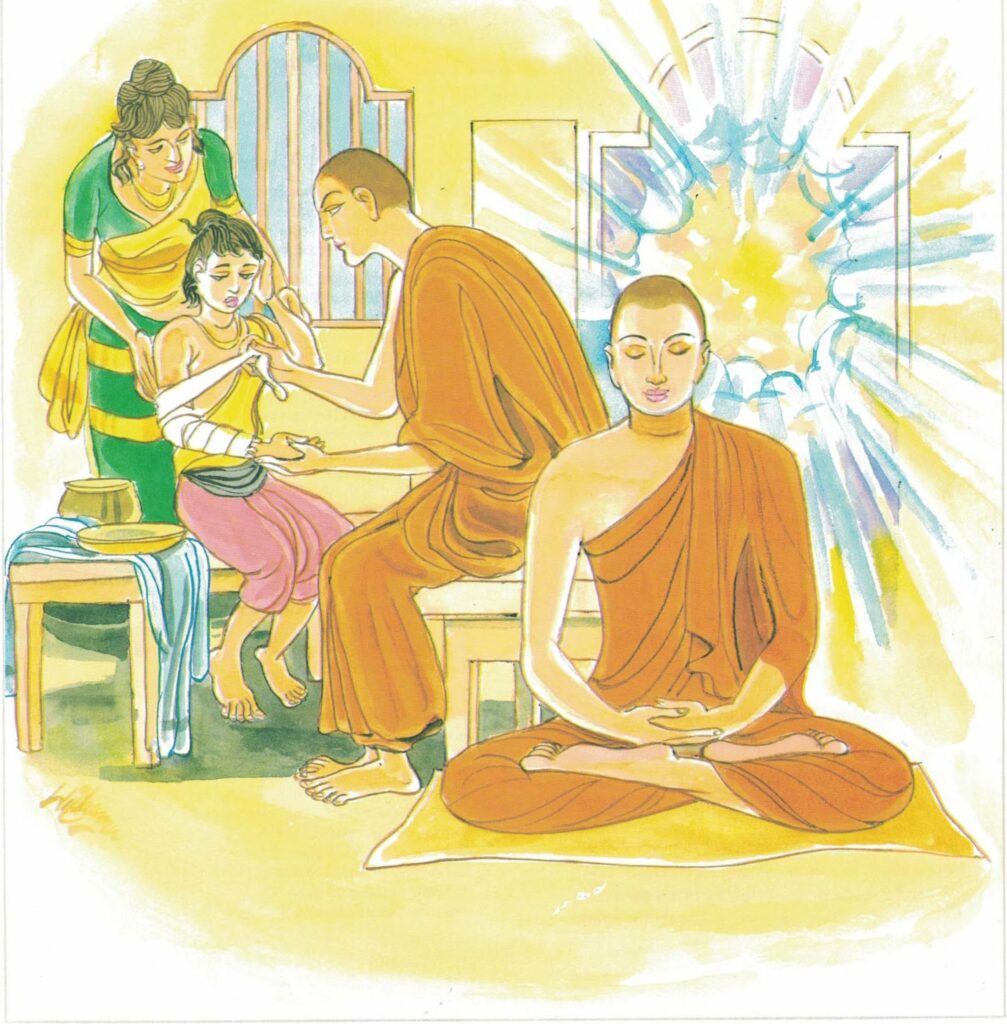 The Story of Venerable Attadattha
While residing at the Jetavana Monastery, the Buddha spoke this verse, with reference to Venerable Attadattha.
When the Buddha declared that he would realize parinibbāna in four months' time, many puthujjana monks were apprehensive and did not know what to do; so they kept close to the Buddha. Attadattha, however, did not go to the Buddha and, having resolved to attain arahatship during the lifetime of the Buddha, was striving hard in the meditation practice. Other monks, not understanding him, took him to the Buddha and said, "Venerable, this monk does not seem to love and revere you as we do; he only keeps to himself." The Venerable then explained to them that he was striving hard to attain arahatship before the Buddha realized parinibbāna and that was the only reason why he had not come to the Buddha.
The Buddha then said to the monks, "Monks, those who love and revere me should act like Attadattha. You are not paying me homage by just offering flowers, perfumes and incense and by coming to see me; you pay me homage only by practicing the Dhamma I have taught you, i.e., the Lokuttara Dhamma."
At the end of the discourse, Venerable Attadattha attained arahatship.
Explanatory Translation (Verse 166)
bahunā api paratthena attadatthaṃ na hāpaye;
attadatthaṃ abhiññāya sadatthapasuto siyā
bahunā api: due to profuse; paratthena: service to others; attadatthaṃ [attadattha]: the profit to one's own spiritual progress; na hāpaye: do not hinder; attadatthaṃ [attadattha]: profit to one's own self; abhiññāya: should be fully understood; sadatthapasuto siyā: (therefore) be a promoter of one's own spiritual interest
One should not neglect one's own spiritual progress in the course of many acts of service to others. Be fully aware of one's own spiritual self-interest, and promote one's own higher goals.
Commentary and exegetical material (Verse 166)
attadatthaṃ: welfare. Personal sanctification should not be sacrificed for the sake of external homage.
One must not misunderstand this verse to mean that one should not selflessly work for the weal of others. Selfless service is highly commended by the Buddha.
Here 'welfare': denotes one's ultimate goal, i.e., Nibbāna.
What is Nirvāṇa? Volumes have been written in reply to this quite natural and simple question; they have, more and more, only confused the issue rather than clarified it. The only reasonable reply to give to the question is that it can never be answered completely and satisfactorily in words, because human language is too poor to express the real nature of the Absolute Truth or Ultimate Reality which is Nirvāṇa. Language is created and used by masses of human beings to express things and ideas experienced by their sense organs and their mind. A supramundane experience like that of the Absolute Truth is not of such a category. Therefore there cannot be words to express that experience, just as the fish had no words in his vocabulary to express the nature of the solid land. The tortoise told his friend the fish that he (the tortoise) just returned to the lake after a walk on the land. 'Of course' the fish said, 'You mean swimming.' The tortoise tried to explain that one couldn't swim on the land, that it was solid, and that one walked on it. But the fish insisted that there could be nothing like it, that it must be liquid like his lake, with waves, and that one must be able to dive and swim there.
Let us consider a few definitions and descriptions of Nirvāṇa as found in the original Pāli texts:
'It is the complete cessation of that very 'thirst' (taṇhā), giving it up, renouncing it, emancipation from it, detachment from it.'
'Calming of all conditioned things, giving up of all defilements, extinction of "thirst", detachment, cessation, Nibbāṇa.'
'O bhikkhus, what is the Absolute (Asaṃkhata, Unconditioned)? It is, O bhikkhus, the extinction of desire (rāgakkhayo) the extinction of hatred (dosakkhayo), the extinction of illusion (mohakkhayo). This, O bhikkhus, is called the Absolute.'
'O Rādha, the extinction of "thirst" (Taṇhakkhayo) is Nibbāṇa.'
'O bhikkhus, whatever there may be things conditioned or unconditioned, among them detachment (virāga) is the highest.
That is to say, freedom from conceit, destruction of thirst, the uprooting of attachment, the cutting off of continuity, the extinction of "thirst" (taṇhā), detachment, cessation, Nibbāṇa.'
'Here the four elements of solidity, fluidity, heat and motion have no place; the notions of length and breadth, the subtle and the gross, good and evil, name and form are altogether destroyed; neither this world nor the other, nor coming, going or standing, neither death nor birth, nor sense-objects are to be found.'
It is incorrect to think that Nirvāṇa is the natural result of the extinction of craving. Nirvāṇa is not the result of anything. If it would be a result, then it would be an effect produced by a cause. It would be saṃkhata 'produced' and 'conditioned'. Nirvāṇa is neither cause nor effect. It is beyond cause and effect. Truth is not a result nor an effect. It is not produced like a mystic, spiritual mental state, such as dhyāna or samādhi.