Pali text, illustration and English translation of Dhammapada verse 152:
appassutā'yaṃ puriso balivaddo'va jīrati |
maṃsāni tassa vaḍḍhanti paññā tassa na vaḍḍhati || 152 ||
152. Just as the ox grows old so this man of little learning: his fleshiness increases, his wisdom doesn't grow.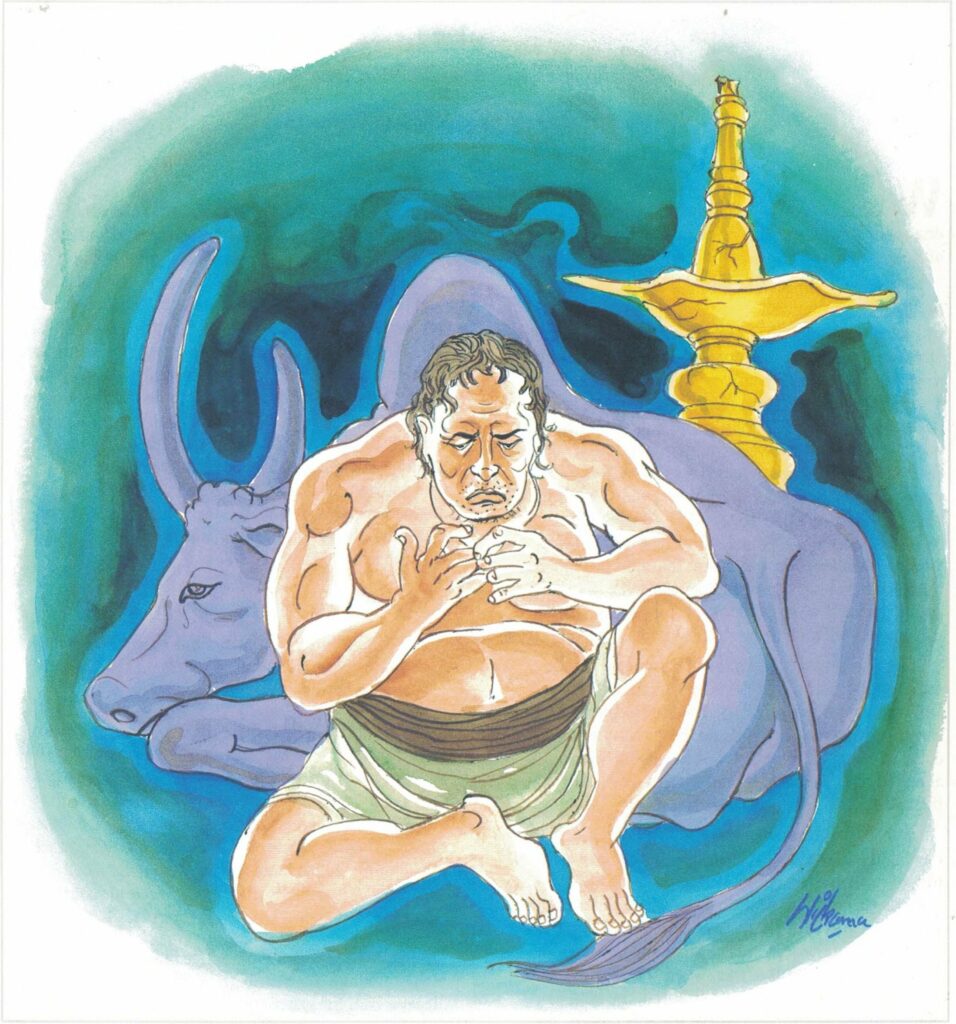 The Story of Venerable Kāludāyi
While residing at the Jetavana Monastery, the Buddha spoke this verse, with reference to Kāludāyi, a monk with little intelligence.
The story goes that Venerable Kāludāyi used to go to a house where people were having a holiday and recite stanzas appropriate to a funeral, such as, "They stand outside the walls." Likewise he would go to a house where a funeral was in progress, and instead of saying the appropriate words, "They stand outside the walls," he would recite such holiday stanzas as, "Alms-giving and piety." Or else he would recite the Jewel Sutta, containing such stanzas as, "Whatever riches exist, either in this world or in the next."
In fact, no matter where he went, even though he set out with the intention of saying one thing, he would invariably say something entirely different. Monks who heard him talk reported the matter to the Buddha, saying, "Venerable, what is the use of Kāludāyi's going either to places where festivities are in progress or to places where funerals are in progress? Where the right thing should be said, he always says the wrong thing." The Buddha replied, "Monks, this is not the first time he has so spoken; in a previous existence also he always said the wrong thing instead of the right thing." So saying, he told the following story.
In times long gone by, there was a brāhmin named Aggidatta who lived in Benares. The brāhmin had a son named Somadatta Kumāra who waited upon the king, and Somadatta was the king's darling and delight. One day one of his two oxen died. Thereupon the brāhmin said to his son, "Dear Somadatta, ask the king for a single ox and fetch him back to me." Somadatta thought to himself, "If I make such a request of the king, he will think that I am using my connection with him." So he said to his father, "Dear father, you go yourself and ask the king." "Very well, dear son, take me with you."
Then he taught his father the following Stanza:
I had two oxen, mighty king, with which I plowed my field;
But one of the two is dead; pray give me another, Warrior-prince.
But when he went to the king he said this:
I had two oxen, mighty king, with which I plowed my field;
But one of the two is dead; pray take my other, Warrior-prince.
At that time the stupid brāhmin was Kāludāyi.
Explanatory Translation (Verse 152)
appassuto ayaṃ puriso balivaddo iva jīrati
tassa maṃsāni vaḍḍhanti tassa paññā na vaḍḍhati
appassuto [appassuta]: who has scarcely heard; ayaṃ puriso [purisa]: this person; balivaddo iva: like a bull; jīrati: grows; tassa: his; maṃsāni: muscles; vaḍḍhanti: grow; tassa: his; paññā: self understanding; na vaḍḍhati: does not grow.
The person who has scarcely heard the Teaching grows in physique, like a fattened bull. Although his body grows, his self understanding does not.
Commentary and exegetical material (Verse 152)
appassuto: the person of little learning; literally, a person who has 'heard' very little. In the days of the Buddha, learning came about largely through hearing what the wise people said.
balivaddo: the bull: the measure of his growth and maturity is his physical size.
maṃsāni: his muscles grow; his brains increase.
paññā tassa navaḍḍhati: his self knowledge does not grow.
paññā: understanding, knowledge, wisdom, Insight. Paññā comprises a very wide field. The specific Buddhist penetrative awareness of the experience within, however, is part of the noble eight-fold path (magga) to deliverance. It is Insight (vipassanā), i.e., that discriminative awareness of experience, which brings about the four stages of sainthood and the realization of Nibbāna, and which consists in the penetration of the Impermanence, Misery and Impersonality of all forms of existence.
With regard to the condition of its arising one distinguishes three kinds of knowledge: Knowledge based on Thinking, Knowledge based on Learning, Knowledge based on Mental Development.
'Based on Thinking' is that knowledge which one has acquired through one's own thinking, without having learnt it from others.
'Based on Learning' is that knowledge which one has heard from others and thus acquired through learning.
'Based on Mental Development' is that knowledge which one has acquired through mental development in this or that way, and which has reached the stage of complete understanding.
Paññā is one of the five mental faculties, one of the three kinds of training, and one of the requisites for transcendence (pāramitā).