Pali text, illustration and English translation of Dhammapada verse 379-380:
attanā coday'attānaṃ paṭimāse attam attanā |
so attagutto satimā sukhaṃ bhikkhu vihāhisi || 379 ||
attā hi attano nātho attā hi attano gati |
tasmā saññamay'attānaṃ assaṃ bhadraṃ'va vāṇijo || 380 ||
379. By yourself exhort yourself! By yourself restrain yourself! So mindful and self-guarded too, happily, bhikkhu, will you live.
380. Oneself is refuge of oneself and one is haven for oneself, therefore one should check oneself as merchant with a splendid horse.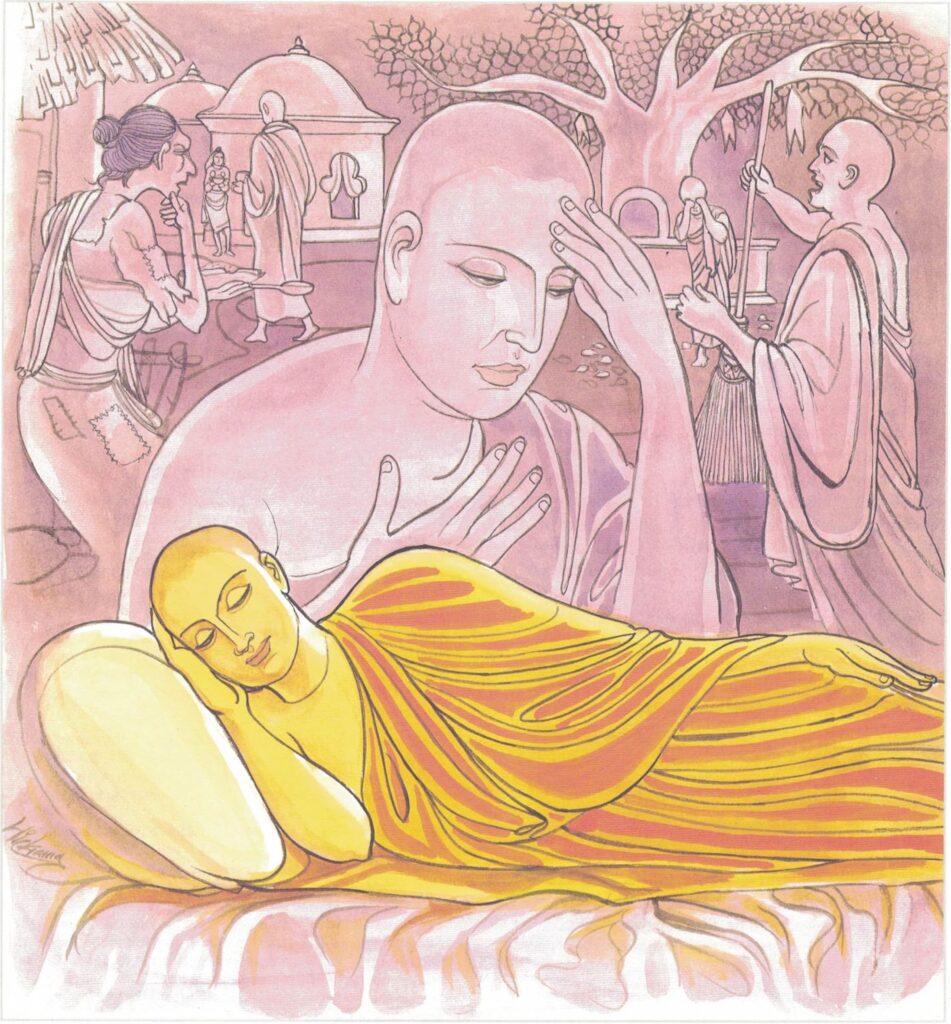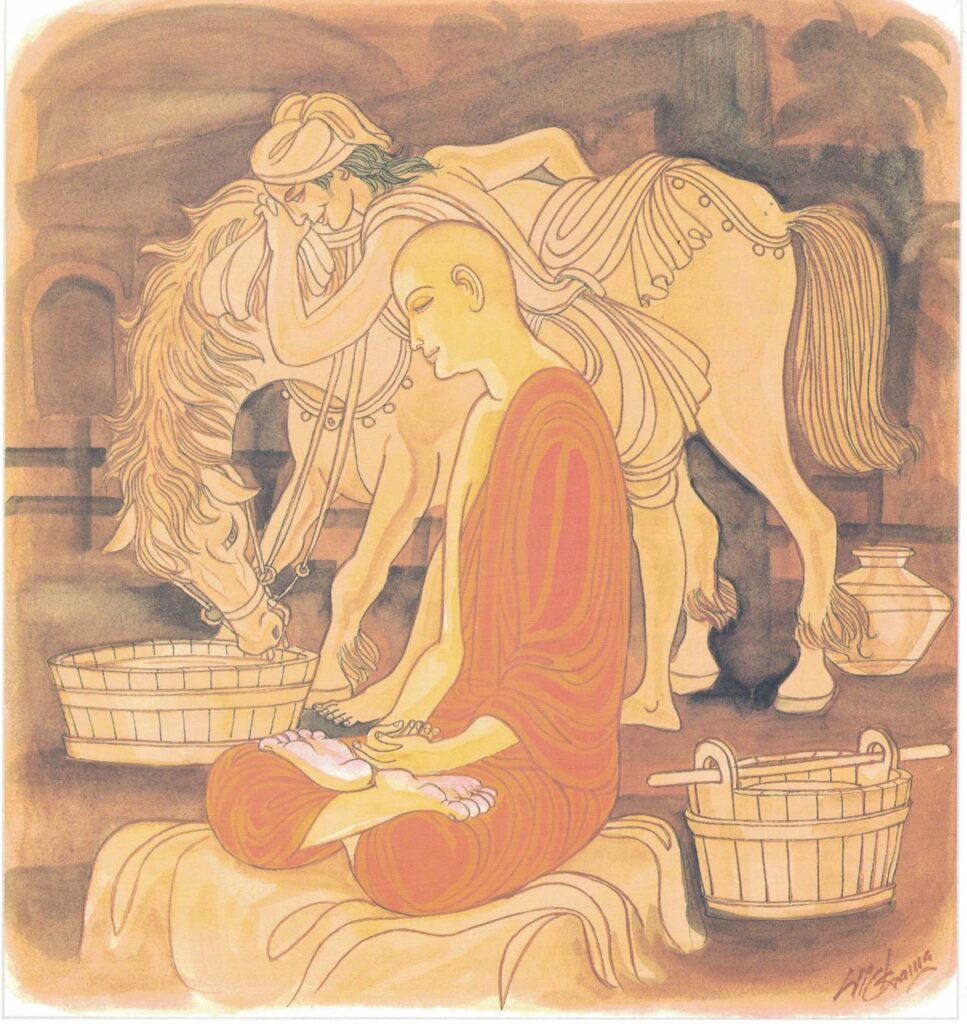 The Story of Venerable Naṅgala Kula (Attachment to Old Clothes)
The story goes that there was a certain poor man who made his living by working for other people. One day a monk saw him going along, clad only in a ragged loin-cloth, with his plough on his shoulder. Said the monk to the ploughman, "If this is the way you make your living, why shouldn't you become a monk?" "Venerable, who would make a monk of a man that gets his living as I do?" "If you will consent to become a monk, I will make a monk of you." "Very well, Venerable; if you will make a monk of me, I will become a monk." So that Venerable took him to Jetavana, bathed him with his own hands, and causing him to stand within the enclosure, made a monk of him. Having so done, the Venerable caused him to take his loin-cloth and his plough and hang them up on the branch of a tree that grew by the boundary of the enclosure. On making his full profession as a member of the Sangha, he received the name Naṅgalakula Thera, Venerable Ploughman.
After living for some time on the rich gifts and offerings which are bestowed upon the Buddhas, Venerable Ploughman became discontented. Unable to banish discontent, he said to himself, "I will no longer go about clad in yellow robes given by the faithful." So he went to the foot of the tree and all by himself admonished himself as follows, "You shameless, immodest fellow! So you have actually decided that you wish to put on these rags, return to the world, and work for hire!" After he had admonished himself in this fashion for a while, his resolution weakened, and he returned to the monastery again. After a few days, however, he became discontented once more. So he admonished himself in the same manner as before, and changed his mind again. And in this manner, whenever he became discontented, he would go to the foot of the tree and admonish himself.
The monks observed that he went repeatedly to the foot of the tree. So they asked him, "Brother Naṅgalakula, why do you go there?" "Venerables, I go there to visit my teacher." After a few days he attained arahatship. Then the monks made sport of him and said, "Brother Naṅgalakula, it appears that you no longer make use of the path by which you used to travel back and forth. Doubtless you go no more to visit your teacher." "Precisely so, Venerables; when I was of the world, I used to go back and forth; but now that I have severed connection with the world, I no longer do so." When the monks heard this, they reported the matter to the Buddha, saying, "This monk tells what is not true, utters falsehood." The Buddha said, "Monks, what he says is quite true. My son has admonished himself by himself, and has thus reached the consummation of the religious life."
Explanatory Translation (Verse 379)
attanā attānaṃ codaya attanā attam patimāse
bhikkhu so attagutto satimā sukkhaṃ vihāhisi
attanā: one's own self; attānaṃ codaya: must prod one; attanā: by one's own self, attam patimāse: should one be examined; bhikkhu: O monk; so: therefore you; attagutto [attagutta]: self-guarded; satimā: alert and mindful; sukkhaṃ [sukkha]: happily; vihāhisi: live
One's own self must prod one's self. You must assess and examine yourself O' monk, this way, you must guard yourself. Be perpetually mindful. This way, live in bliss.
Explanatory Translation (Verse 380)
hi attā attano nātho hi attā attano gati tasmā
bhadraṃ assaṃ vāṇijo iva attānaṃ saññamaya
hi: as things are; attā: one's own self; attano [attana]: to one's self, nātho [nātha]: the refuge; attāhi: one's own self, indeed; attano gati: one's own guide; tasmā: therefore; bhadraṃ assaṃ iva: like an esteemed horse; vāṇijo [vāṇija]: a merchant; attānaṃ [attāna]: one's own self; saññamaya: discipline
Your own self is your own refuge. You yourself are your own guide. Therefore, exert discipline over yourself as a merchant would cherish and retrain a noble horse.
Commentary and exegetical material (Verse 379-380)
attanā attānaṃ codaya: A person must propel himself, or herself, into spiritual action. This is a central concept of the Buddha. Knowing that no external sources, no faith or rituals can save him, the Buddhist feels compelled to rely on his own efforts. He gains confidence through selfreliance. But he must realize that the whole responsibility of his present life, as well as his future life, depends completely on himself alone. Each must achieve his salvation for himself. Achieving salvation can be compared to curing a disease: if one is ill, one must go to a doctor. The doctor diagnoses the ailment and gives proper medicines. He will never be cured by simply singing praise and giving proclamations of what a wonderful doctor he is. Nor will he be cured by holding festivals in honour of the doctor, or by trying to persuade others that he is the only doctor they should consult.
None of these actions will cure his disease. Nor is it enough for him to accept his written prescription, put it in a casket, place it on the back of an elephant and carry it in a procession to the accompaniment of music and dancing. This is not going to cure the patient either. Nor is it enough for him to obtain the medicine from the chemist, put it on a shelf and place before it a vase of flowers, burn incense and light candles to it, proclaiming, "How wonderful is this prescription given by the doctor. By this prescription, may my disease be cured!"
This is not enough. Nor is it enough for his anxious wife to say, "He is old and weak and feeble. And the medicine is very unpleasant for him to take. I will swallow this bitter medicine for him." This also will not cure him.
In order to be cured, he himself must follow the instructions given with regard to his diet and conduct. Only then will he be cured and, at last, realize that he has become healthy. Likewise, each must attain his own salvation by curing his greed, hatred and ignorance, by taking the necessary precautions given by the Buddha, and by taking the necessary precautions given by the Buddha, and by practicing the Buddha's advice. Only then will he be able to obtain his salvation. No one can find salvation simply by praising the Buddha or by offering something to him or by celebrating the occasions.